Friday
Scene and Heard
A Lioness of Africa
Sangha Profile: Janet Shaw
The startup story of a social entrepreneur and her Zulu Beadwork Project
article by Melanie Hawken
originally published here and picked up by the Shambhala Times because we were planning to feature a story about Shambhalian Janet Shaw anyway!
A social entrepreneur creates a Zulu beadwork collaboration that empowers, uplifts and celebrates the talents of South African craftswomen
Upon returning to South Africa in 2002 after 5 years of voluntary work for a non-profit organization in the USA, Janet Shaw felt moved by the continuing poverty and plight of those disadvantaged by the apartheid legacy in the country. Added to endemic poverty was the pandemic of HIV/Aids, further destabilizing communities in an alarming way. In some circumstances, women are often single parents in low income communities, and they are particularly vulnerable.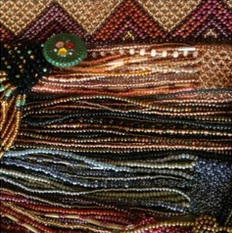 Janet felt compelled to do something to help the situation. She had always had a deep love and appreciation for the aesthetic of South African cultures. Having studied both Fashion Design and Fine Art and always worked in creative fields, she sought to establish a work environment that could be a source of creative pride and income for all.
An auspicious coincidence led to the creation of the Zulu Beadwork Project in KwaZulu Natal, formed by entrepreneur Janet and a group of craftswomen in October 2006. What started originally as a project crafting and offering just three beadwork products, led to what is today a project offering over twenty-five products sold in South Africa, America, and Europe. Janet says she aspires and aims to empower the women involved in the Zulu Beadwork Project by enhancing an African cultural integrity and humanity that finds greater expression through the manifestation of equal opportunity.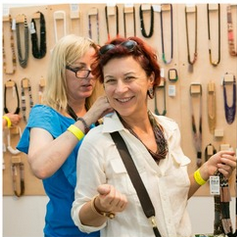 The skills of the bead workers involved at the Zulu Beadwork Project is equivalent to that of a master crafts person. Whilst beadwork is often historically viewed as a pavement or curio craft, the project aims to elevate this skill and thereby income, through design and other innovations, to be more in line with the level of master craftsmanship. Essential to this is a model that creates steady and sustainable income for all involved in the project. This requires continual innovation at the level of product development and the refining of key skills, introducing other jewellery making skills to create a more durable and desirable product to the global market.
The project is based around the ethos of each craftsperson owning their individual creative process, nurturing and cultivating those skills, so that each bead worker becomes responsible for products they produce for bi-annual seasons. The number of orders received by each beader is often reflective in the quality and design of an individual beader's work.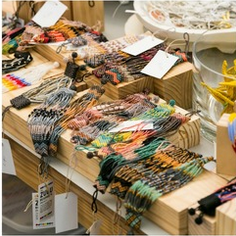 Today, the Zulu Beadwork Project develops two jewellery ranges each year, following the Northern Hemisphere seasons and trends as they occur six months ahead of those in South Africa. This range includes fifteen plus necklace styles, six bracelet styles, and three earring styles in up to forty different colour ways. The number of designs and colours are based on seasonal trends which lend our product an appeal that extends beyond the conventional beaded jewellery market. All the products are made by hand and to order using the finest glass beads imported from Europe and Japan. Semi precious stones, recycled glass and metal beads from Africa are also incorporated into the designs.
Ultimately, the project aspires to reduce the impact of poverty and foster the continuation of a healthy and sustainable family, clan, and cultural inheritance. Many of the women involved in the Zulu Beadwork Project learned their skills from their mothers or other family members. The project aims to keep this a living tradition where the level of master cratfmanship is recognised as being as valuable as that of a tertiary education. Equally important to the Zulu Beadwork Project is to provide the economic circumstances for those involved to afford themselves and/or their children a high level of education, should that be their aspiration.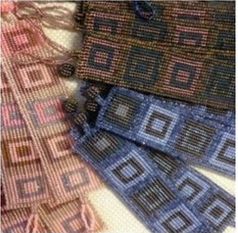 At present, the primary focus of the Zulu Beadwork Project is to create sustainable income and a raised standard of living. The aspiration for the project is that through creating greater economic freedom, it is able to positively impact the communities involved. On an individual level, the project aims to create great pride in one's culture and its skills. Janet's focus is on training in current international fashion and colour trends, advising the craftswomen on how to interpret traditional skills in a fresh and contemporary way. The project also offers continual training on the importance of delivery and quality standard management.
The Zulu Beadwork Project is a fair trade initiative that aims to link accomplished crafters with the global market. The range of beaded jewellery produced is a blend of contemporary aesthetics and traditional skills, showcasing a rich cultural heritage. Each collection is made entirely by hand, using glass beads and materials of the highest quality.
The project generates sustainable income for fifteen women. Click here to read some of their individual stories.
Post Tags:
In Everyday Life
,
sangha profile
,
social entrepreneurs
,
South Africa