Tuesday
Opinion Pieces
Fearless Amidst Barbarian Arrogance
An exploration of what fearlessness means in our world today
by Ron Schultz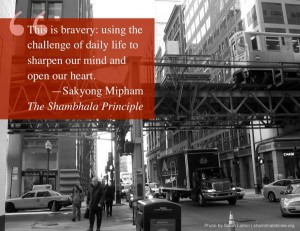 "They are fearless in the midst of barbarian arrogance"
This phrase is chanted in every Shambhala Center on the planet. Within the Invocation and Homage, these words ring out. Fearless in the midst of barbarian arrogance. As Shambhala Warriors it is time to put our practice forward, to meet the world as it is, not as we would like it to be or as we hope it will be, but as it is.
Each of us is being called on to be fearless, and yet how many of us actually feel that we are? Perhaps not many of us believe that we can stand bravely before the barbarian arrogance, when we are seeing the suffering that spawned it, the continued suffering that does nothing to transform it, and how so many only wish to run away.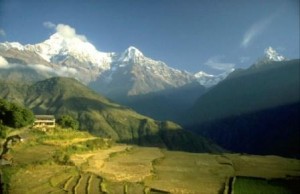 In 1959, thousands streamed out of Tibet when the Chinese created similar terror. And our Tibetan teachers, born within this conflict, fled across the Himalayas and ended up bringing their practice to millions around the world. This practice has flourished because those teachers were themselves fearless in the midst of the barbarians.
In a time of firing Kalashnikovs, exploding bombs, suicide vests and terror we are called on to raise bodhichitta, and recognize loving kindness, yet we are also taught to not fall prey to idiot compassion. We are being given the greatest lesson within our practice.This dark age is a time for us to examine closely the nature of our fear. It is a time to feel the resolve of our compassion and our devotion to the Dharma. This is why we practice, to be able to meet the world exactly as it shows up, and to recognize that we are not separate from it.
If Basic Goodness is our hallmark, then it is time to let it shine with the brilliance of the Great Eastern Sun. Basic Goodness and Great Eastern Sun are not idle symbols. They are living embodiments of our warrior-selves. How we choose to meet the arrogance of our times is a direct reflection of the depth of our practice.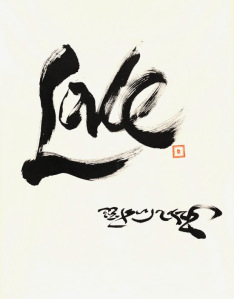 The first thoughts of those who survived the assault on the Bataclan theater in Paris were not hatred for those who tried to kill them, but rather caring about those they love. As one survivor explained, "It's easy to succumb to hate." What isn't easy is a commitment to be fearless in the midst of hatred. These sudden senseless assaults are terrifying and they are meant to be so. But living in these times is also an opportunity, as we have been taught, for us to wake up to fearless wisdom.
In this time of fear and violence, there are those who think our gentleness is a weakness. Yet we know that it is anything but weak. Gentleness is a sense of our personal softness as we begin to face the habitual patterns we have created to protect ourselves from our fears.  Practicing this gentleness is a courageous act, one that comes from the heart. When we can cultivate gentleness, the outcome is confidence. Working with that confidence, with our intelligence, allows us to face our fear, simply by knowing unequivocally that we can face it. Being a Shambhalian is not for the weak. Our strength allows us to come face to face with the barbarians–and not run.
If it's true that every situation is workable, then it seems clear that now is the time to go to work. But what does it mean to go to work in this way? When I ask myself if I could be fearless within the madness, it makes me realize how unstable my mind really is. When I ask myself how I would react if my own child had died in Paris, it makes me aware of how truly difficult it is to meet the world in all its flaming glory, how challenging to actualize basic goodness.
In such times, it is easy to become numb, but authentic presence is not avoidance of feeling. It's being able to feel the pain, suffering and sadness in our hearts, yet still recognize its nature, and work with it. As Shambhala Warriors, our practice is continually coming home to roost. It is always time for us to be fearless in the midst of barbarian arrogance, and actualize what that means it terms of love, compassion and intelligence. It's not just a vow. It's who we are.
Ki Ki So So.
Ron Schultz is the author of The Complex Buddhist – Doing Good in a Challenging World (Emergent Publications), featuring a Foreword by Richard Reoch. He has been a Shambhalian for close to 25 years and The Complex Buddhist is his 25th published book.
Post Tags:
barbarian arrogance
,
basic goodness
,
gentleness