Friday
Featured Stories
Celebrating Spring, and a Birthday!
The Kalapa Court Celebrates Jetsun Dzedron's first birthday and Spring Celebration of Culture and Lineage 
by Norah Murray, with photos by Mike Levy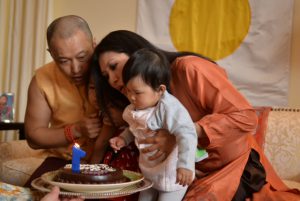 It was  warm and breezy as guests arrived at the Boulder Kalapa Court on Sunday, April 10. The gardens surrounding the Court were bursting with colorful flowers, the space inside still fresh and sparkling from the previous two days of pujas, and were decorated with bright balloons and streamers. The occasion felt very joyful, like the first breath of spring. It was a day for two parties: the Spring Celebration of Culture and Lineage, and the First Birthday of Princess Jetsun Dzedron.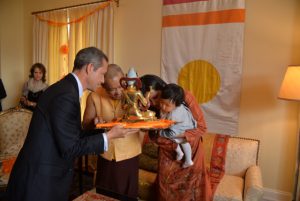 The children gathered in the bright and cheery playroom for face painting, playing, singing, and stories.  Throughout the rest of the house, Shambhalians mingled and were greeted by the Sakyong and Sakyong Wangmo.  The mood was festive and relaxed.
The two parties joined together in the great room for poetry, songs and toasts. Two poems by the Sakyong were read, as well as a proclamation from the House of Nova Scotia commemorating Jetsun Dzedron's birth. The Sakyong Wangmo shared a bit about Jetsun Dzedron as she held her in her arms. Jetsun Dzedron smiled and cooed as her mother told us about her sunny and peaceful personality. Semo Palmo Goldstein gave a touching toast to the Sakyong Wangmo, describing her experience of watching her youngest sister grow into being a wife, a mother, and the Sakyong Wangmo.
After a joyful rendition of "Cheerful Birthday" for Jetsun Dzedron, cake was enjoyed, then gifts from the Royal Family were presented. Earlier in the day, the Sakyong had created an Ashe calligraphy for his youngest daughter, which he presented very sweetly. Lama Gyurme Dorje offered a lovely gift on behalf of Lady Kunckok and Lama Paygal. Alan Goldstein presented Jetsun Dzedron with a golden rupa of Akar Werma, a figure from the mind terma of His Eminence Namkha Drimed Rinpoche.
Cara Rich and James Thorpe delighted the gathered assembly with their songs, and we all joined together for "We Are the Warriors." The festivities ended with the Shambhala Anthem and a warm-hearted thank you from The Sakyong and Sakyong Wangmo.
It was a splendid way to welcome spring!
Post Tags:
Jetsen Dzedron
,
Sakyong and Family
,
Spring