Friday
Community Articles
Somos el Colectivo Ziji
Dear readers, for an English-language version of this article, please scroll down!
por Joaquín Díaz y Andrés Leslie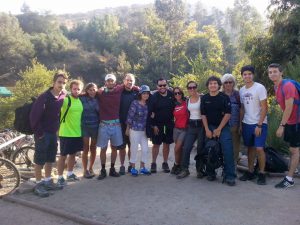 Somos el Colectivo Ziji de Santiago de Chile, un grupo de jóvenes que pertenecemos a la gran sangha de Shambhala de Santiago. Nuestro grupo cuenta con 25 activos, motivados y dispuestos jóvenes, algunos estudian, otros trabajan, algunos incluso viven fuera de Santiago, pero sin importar estas diferencias, nuestro grupo se reúne regularmente para vernos, compartir nuestras experiencias, leer y estudiar las enseñanzas de Shambhala y seguir creciendo juntos. Desde los comienzos del 2016, un de las actividades que hemos hecho es la novedosa meditación social, para esto un grupo de nosotros se juntó regularmente, una vez por semana con la tutela de Marina Kantarovich para ver videos, y aprender de esta práctica. También tuvimos la oportunidad de conversar vía Skype con Nick Kranz, un shastri muy involucrado en la meditación social, para poder resolver inquietudes del grupo. Actualmente nuestro grupo realiza semanalmente esta práctica de manera autónoma y ya hemos podido apreciar los bellos resultados de esta práctica.
Como nuestro grupo tiene un gran interés en la ayuda social, integrantes del Colectivo Ziji de Santiago han estado apoyando con sus propias manos el trabajo de la fundación dirigida por una miembro de la sangha, que está dedicada a restaurar áreas verdes de hospitales públicos. Sacar escombros en el hospital El Salvador, plantar flores y árboles y rediseñar el espacio por completo para cambiar la atmósfera y área a un ambiente más positivo tanto para los pacientes, sus familiares y también para el equipo médico fue una de las labores en las que colaboramos.
Como nuestro grupo está inserto en el centro Shambhala de Santiago, lugar donde llevamos a cabo la mayoría de nuestras juntas, reuniones y por qué no decirlo, fiestas de ve en cuando, hemos ayudado en las tareas domésticas del centro de Shambhala de Santiago, para poder así darle un apoyo juvenil y enérgico a estas tareas.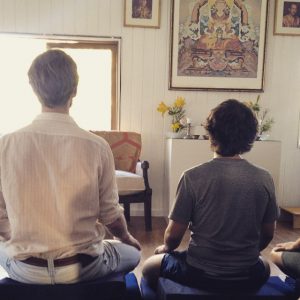 Hemos tenido salidas a terreno, como la subida al cerro Aguas de Ramón, donde además contamos con nuestra guía y amiga  shastri Donna Williams. En estos viajes tenemos la oportunidad de conectarnos con la naturaleza, las maravillosas y gigantes montañas que rodean nuestra bella ciudad de Santiago, y además nos sentimos más unidos como grupo luego de compartir estas experiencias.
Por ultimo está proyectada una primera instrucción de meditación a un colegio de una comuna periférica, y buena parte de la inspiración de esta idea fue gestada en el grupo ziji. Este proyecto consiste en enseñar la instrucción básica de meditación a jóvenes de media de este colegio de escasos recursos, cosa que puedan contar con esta útil y valiosa herramienta desde temprana edad.
Sin embargo, no podemos negar que la mayoría de esas actividades y gran parte de esta fresca e inagotable energía con la que ha contado nuestro grupo de jóvenes Ziji, fue potentemente recargada e innovada tras estar presentes en el garchen llevado a cabo en Cuncumen, Chile en Febrero, donde contamos con la maravillosa presencia del Sakyong. Aquí 18 miembros del Colectivo Ziji pudimos participar y en una oportunidad dialogar como grupo con el mismísimo Sakyong Mipham Rinpoche quien nos llenó de inspiración, motivación, alegría y muchísima energía para seguir adelante como grupo de jóvenes, las banderas de Shambhala como alguna vez lo describió Trungpa Rincpoche.
Es así como actualmente, dos integrantes de nuestros grupo Ziji, Joaquín Díaz y Andrés Leslie, se encuentra preparándose y juntando fondos para poder asistir a la Cumbre Ziji que se realizará en Berlín durante el mes de Septiembre de 2016, para poder así seguir aprendiendo, compartiendo experiencias, ideas e inspiraciones de jóvenes shambhalianos de todo el mundo.
Artículo escrito por Joaquín Díaz and Andrés Leslie
English Version: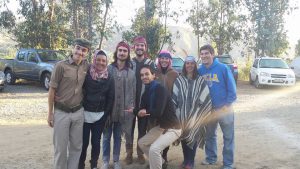 We are Ziji Collective from Santiago, Chile, a group of young adults that belongs to the large and great Shambhala sangha from Santiago. Our goup has 25 active, motivated and willing young people. Some of them study, some of them work, and some even live outside Santiago, but no matter those differences, our group meets regularly to see each other, share our experiences, read and study the Shambhala teachings and keep growing together. Since early 2016, one of the activities that we've been doing is the new social meditation. To achieve this, a group of us would gather once a week under the guidance of Marina Kantarovich, to watch videos and learn this practice. We also had the opportunity to talk via Skype with Shastri Nick Kranz, who is very involved in social meditation, so that we could clarify questions we had. Nowadays, our group performs this practice regularly in an autonomous way, and we've been able to achieve some beautiful results from this practice.
Our group has great interest in social care. Members of Ziji Collective here in Santiago have helped with their own hands at a foundation run by a sangha member that aims to restore green areas in public hospitals. One project we accomplished was taking out debris from Hospital El Salvador, planting flowers and trees, and redesigning the space completely, to change the atmosphere into a better place for patients, their relatives and also the medical staff. As our group belongs to the Santiago Shambhala Center, a place were we hold our meetings, gatherings and parties (once in a while), we also help in domestic work at the center, so that we can support this task with youthful energy.
We've also had outdoor activities, such as trekking to Aguas de Ramon, where we had the company of our guide and friend Shastri Donna Williams. In those trips we have the opportunity to connect with nature, the wonderful and gigantic mountains that surround our beautiful city. We also feel more united as a group after sharing those experiences. Finally, we also have a project of giving meditation first instruction to high school teenagers in a humble school, so that they can have this valuable and useful tool from the beginning.
Nonetheless, we can confirm that almost all of those activities, and a big part of this fresh and inexhaustible energy that our Ziji Colective group has had, was recharged in a powerful way after attending the garchen that took place in Cuncumen, Chile last February, where we had the wonderful presence of the Sakyong. At this garchen, 18 members of Ziji Collective Chile could participate, and had the chance to dialogue as a group with Sakyong Mipham Rinpoche himself. He filled us with inspiration, motivation, joy, and so much energy, so that we as a young group could keep moving forward the banners of Shambhala, as Trungpa Rinpoche once described.
So that's how currently, two members of our Ziji group, Joaquín Díaz and Andrés Leslie, are preparing themselves and fundraising to be able to be at the Ziji Collective Summit that will take place in Berlin during September 2016, so that they can keep learning, sharing experience, ideas and inspirations of young Shambhalians from all around the world.
Editor's note: for more about the Santiago Ziji Collective, and to learn how to support their efforts, you can watch this video:  http://give.zijicollective.com/2016/07/06/zijis-from-chile/
Post Tags:
Santiago
,
Ziji Collective