Thursday
Scene and Heard
Introducing Indigo Poppy!
Celebrating a beautiful summer birth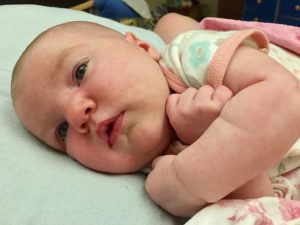 Scott Robbins and Sarah Lipton are thoroughly delighted to introduce their second beautiful baby girl to the Shambhala world. Indigo Poppy Lipton Robbins was born on July 2nd, 2017 after a beautiful and seamless labor and birth at home. She was smaller than her big sister Odessa Rose (who is thrilled to have a baby sister), weighing in at 7 pounds, 14 ounces and measuring 19 1/2 inches. The birth was declared "perfect" by the midwives present, and the expanded family is luxuriating in one another's health, joy, love, and presence.
As Sarah says, "Some of you may remember that the pipes burst in our basement, heralding the beginning of my labor with Odessa. This time, Indigo's arrival was marked by a huge thunder storm that flooded most of Vermont. She came into the world during the calm after the storm. We could not be happier with our great good fortune! I felt incredible peace as I labored to bring Indigo into the world. We are learning the often tricky dance of having a 2 ½ year old and a newborn….but are fortunate to all be in good health and mostly good spirits! Deepest heartfelt gratitude to you all, and we can't wait for you to meet Indigo Poppy."

Post Tags:
Birth Annoucements
,
birth announcement
,
Birth Announcements