Tuesday
Featured Stories
Voice of Dissent
A devoted Shambhalian contemplates the purpose, place, and utility of dissent, the value of disagreeing with the accepted way of things
by Amanda Hester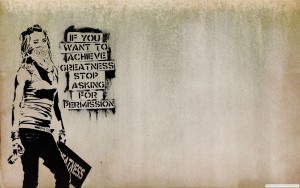 A healthy society depends upon a healthy level of dissent. Without dissent, discipline and form lose their joy and become simply authoritarian. Dissent is one of the primary antidotes to oppression. Without the presence of a critical discourse, even the most enlightened society runs the risk of stagnation, self-absorption, and ignorance. Shambhala is the principle of connection, it represents the notion of a wakeful society, but it also represents an actual society and community of practitioners; it represents an organization.
Our community was built upon slogans from Trungpa Rinpoche, like "A culture of no-mistake," and "If you maintain a sense of humor and a distrust of the rules laid down around you, there will be success." Inherent to Shambhala is the appreciation of the vital role played by dissent within an enlightened society. Yet we do not currently have a clear mechanism by which to cultivate this particular spicy ingredient. Often our dissent devolves into complaint or gossip, or remains hidden in the interpersonal conversations that fill our nights and dinner parties throughout the mandala.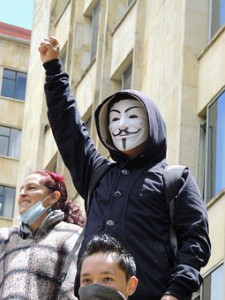 We talk about creating a culture of kindness, but this is insular and ultimately meaningless unless it is paired with a culture of critical awareness. We need to begin to open ourselves to the sharp edges and daring of critical discourse, so that we can grow as a community and meet the challenges that present themselves both from within and without. In the absence of this, we fall into the trap of solidifying our own dissent as either righteousness or negativity. Sometimes, our innate critical intelligence, which Shambhala helps to awaken, causes us to feel so out of place or so crazy that we feel like we may need to step away from Shambhala altogether.
---
Editor's Note: We are currently on hiatus from publishing new articles; in the meantime, please enjoy this classic item reprinted from our back issues.
---
There is a sense, within Shambhala, of not wanting to upset Shambhala with our dissenting voice, with our critical discourse. This is counter-productive to the very principle that Shambhala represents. We silence ourselves, and sometimes, often inadvertently, we silence others. Because of this people leave. They leave because there is a sense of implacability, of being "outcast," even though there is not always a specific person or group to identify as the 'outcaster." As an example, we are hemorrhaging young women in this sangha. I have personally spoken to four young women in the last year who have felt the need to step away from our community, but there are also many others. I myself have gotten to the point where I felt like I needed to leave — not to leave the practice, not the teachings, not the Sakyong, but to leave the organization, the sense of a monolithic Shambhala that I felt was oppressive. I felt that way because of the silence I had imposed upon myself out of fear.

We are vulnerable, all of us, and because we don't yet have a strong culture of dissent, a cultural outlet that embraces and encourages critical discourse and exploration, when a critical view is presented we can often feel attacked, personally or on behalf of Shambhala. Likewise we can feel the need to attack, to find an area or entity on which to lay the blame. We want to be able to fix it, to make problems go away. But that is not what dissent is about. Critical awareness is about asking questions. It is about pointing out incongruities. It is about being self-reflective, and honest.
Let us create a culture of kindness AND critical awareness. Critical awareness, when joined with kindness, can help us step outside our comfort zones. It can even help to civilize how we behave, because we will start to think outside the box that we put around ourselves when there is not a healthy outlet for dissent. Sometimes I feel that we don't even know what dissent means in this community; we think it is something that needs to be attended to, rather than just being allowed and even celebrated. Dissent enriches a society. It strengthens it, makes its principles and actions rigorous.
We need to engage, both as individuals and as a community, in challenging our areas of privilege and ignorance. We need to stand up and speak our truths, and to hear the truths of others. We cannot be terrified of voicing dissent in Shambhala because we are afraid of upsetting people and/or afraid being attacked. I am not doing justice to my teacher, the teachings, or the sangha with that attitude, because that attitude does not reflect an enlightened society. Let us say it: that attitude reflects an authoritarian society. By saying it, I help to move myself, and our community, in a healthier direction.

I trust that creating a culture of dissent will ultimately help us to be kinder to one other. It might even help us learn how to listen to those with whom we disagree, and to respond to them with compassion, curiosity, and respect. I hope to learn that there are truths out there that are valid and important, truths that are completely different from and even contradictory to my own. I hope to open up a space where we as a community can start to look at our pain, disillusionment, and frustration, in a constructive and enlightened way.
I love this sangha and our incredible Sakyong, and I love the Dharma. We need a space for dissent, because there are many in our community who feel deeply wounded, and who struggle. They need an outlet to voice their frustration, and more importantly to voice their critical intelligence. Indeed, we all need that. Dissent does not need to be fixed, it needs to be heard and listened to, it needs to be considered and allowed in order to foster change. We must stop silencing ourselves and each other, and we need to recognize that we have been doing so.
Amanda Hester is a second generation Buddhist who lives in Halifax, Nova Scotia. She has a graduate degree in political science, and is currently working on a second degree in critical criminology. 
Post Tags:
critical awareness
,
critical thinking
,
disagreement
,
dissent