Saturday
Community Articles
Virtual Cushion – A Resource for Meditators Around the Globe
This week's Featured Centres: Prague, Czech Republic + Sky Lake Lodge
View the full Virtual Cushion calendar for December here.  All are welcome at any session.
*Does your Centre or Group offer virtual sessions that you'd like to have featured?
Email Camren at vir[email protected] to have your sessions featured.*
By Camren Von Davis
Welcome back to Virtual Cushion – a space for open meditation sessions and meditation instruction happening throughout Shambhala's global community. The goal of Virtual Cushion is to offer a space where meditators at any level can see and tune into sessions and instructions happening around the world. Since the last story, there have been many new sessions added, and more are added daily. You, your friends – anyone – are invited to attend any sessions in this calendar, as they are open to everyone – new and seasoned meditators alike.
This week's story is about the Central European sangha called Strength of Heart that is being hosted from the Prague (Praha) Shambhala Centre.  The retreat will feature talks and practice guided by the beloved and entertaining Acharya Mathias Pongracz, who will be teaching virtually from Vienna, with a particular focus on mindfulness-awareness meditation as well as White Tara practice.
I had the opportunity to talk with Acharya Pongracz and the Centre Rusung & Coordinator for the Strength of Heart retreat, Alice Buehler last week. It is always such a joy to connect with these two, and the conversation was delightful. Prague, Vienna and Central European meditators have been actively getting together virtually since early in the pandemic, doing the Pandemic Practices and chants that were shared with the sangha from Sakyong Mipham Rinpoche.
See the full Strength of Heart retreat details and register here.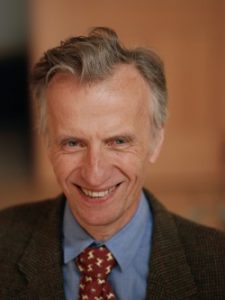 Acharya Pongracz explains, "For me, I would never have imagined the impact of this pandemic rolling over us in such an intense way. I was looking forward to teaching across Europe this year. Myself, I was on site teaching in Paris, and the day after the program ended, Germany closed their borders, so I couldn't cross by train. I was taken out of the train by the police and sent back to Paris because they just closed their borders. Travel was almost impossible. It was quite something. I somehow managed to get home to Vienna and shortly after we began the Pandemic and White Tara practices."
View the full Virtual Cushion calendar for December here.
The Prague Centre nevertheless persevered and in fact, has found that the pandemic has been a time of practice and connection in an unexpected way. Alice explains, "We were really missing the presence of our teacher, the Sakyong. Our centre was very united about this and we were even hoping to invite him to the Czech Republic in 2020. The fact that it was possible to connect virtually and receive teachings in this way, through the Pandemic Practices – this deepened our practice and we were very happy about that. It was very touching, actually. Now we are on the path of studying more. That was one of the joys of this year for us. It didn't work out how we thought, but it still worked out in some way. We continue on having Zoom programs and practices together. So we feel quite fortunate."
Sky Lake Lodge also offers a Winter Holiday Weekthun, where the winter Snow Lion retreat is a yearly tradition. Sky Lake shared with me, "The weather is often cold and snowy while the lodge is warm and filled with joy and good cheer. Sky Lake is in Rosendale, in the Hudson Valley of New York State. Situated on the top of a small mountain, and abuting the stunning Mohonk Preserve, it is a powerful place to practice meditation. People report meditating at Sky Lake is powerful and deep, and stillness comes quickly. We are all hoping this deep stillness can spread virtually to everyone participating in this retreat, and that gathering will also share the joyfulness and warmth of a Sky Lake Retreat.
We are all hoping to be able to return to Sky Lake soon and enjoy its rich environment.
Meanwhile, back in Vienna, though not teaching quite as much since the onset of the pandemic, Acharya Pongracz has continued teaching virtually with Prague, Budapest, and Vienna centres, as well as meeting with and helping centres throughout Europe in finding their way during this time. "It's really all about inspiration. It's about how to find new inspiration in this time of transition where we're not sure if we can keep our feet on the ground in the centres. We need new inspiration and creativity and cooperation. Through that, we can find ways to find like minded people to share this impulse toward transformation on a larger level. That's the impulse of Shambhala. Now we are challenged to face these things and look beyond our own situation to realize that vision."
Acharya Pongracz continues, "Everybody yearns for a way to open up and to find their cheer and strength of heart. How can we do that? How can we bring those talents together and raise some inspiration, cheer, and – maybe the most important of all – humour, to step beyond some conventional ways of doing things that we've become accustomed to? That's a big question. It's something I love to converse about with people."
The Strength of Heart Virtual Retreat is open to all. One can attend the full retreat,  a portion of the retreat, or use the retreat as a support for one's own personal retreat. The centre wants to make the practice and teachings available to those with any level of obligation  to family, work, health or otherwise to attend with ease. Mindfulness-Awareness, chanting, and a beginner-accessible version of the Pandemic Practices, along with teachings will be featured. All will be in English and translated into Czech (translation to other languages can be arranged as well). Opportunities to meet with a meditation instructor are also possible for those registering by December 21.
Sky Lake Lodge's Winter Holiday Weekthun, the Snow Lion Retreat, is taught and facilitated by Acharyas Arawana Hayashi and Gaylon Ferguson. This retreat has occurred for years, and this will be the first time it is offered virtually. During the retreat, the group will take the time to appreciate our struggles, resilience, and tender-heartedness during this year, with opportunity to receive meditation instruction and to practice with others, even as we are in our own homes.
Whether joining with the Central European sangha or Sky Lake, taking time to retreat over the holidays can be fulfilling and clarifying as winter fully sets in and a new year dawns.
To see and attend Virtual sessions hosted by Prague, Sky Lake, and other centres around the world, visit the full Virtual Cushion calendar here.
Want to have your Centre or Group's open meditation sessions featured on Virtual Cushion so that they are available to meditators from around the world? Email Camren at [email protected]
Make a Donation
Please consider donating to support the important work of Virtual Cushion to collect and share virtual sessions and retreats happening around the world.
Donation from the USA        Donation from Canada        Donation from Europe
Post Tags:
community
,
covid-19
,
dharma
,
practice
,
shambhala
,
sitting