Friday
book reviews
My Grandmother's Hands: Racialized Trauma and the Pathway to Mending Our Hearts and Bodies
By Resmaa Menakem
Reviewed by Christine Heming
. . . trauma and healing occur fundamentally in the body, not in the cognitive mind.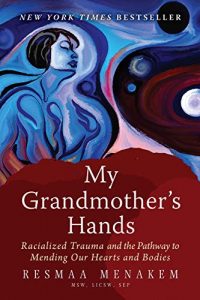 My Grandmother's Hands was first published in 2017 and again in 2021 in a UK Penguin Books edition.  Its first publication escaped me and I cannot recall how I came to order this second edition, but I am so glad I did.  This is an exceptionally important book we all need to read. Resmaa Menakem speaks the truth without blame or shame.  He clearly, and with eloquence, addresses the roots of white-body supremacy and black-body oppression as no other writer I have read has done.  This history, he writes, is not just a narrative, but literally lives in our bodies, our cells, and our genes; and we are all affected by it, whatever our skin tones.  Beyond that understanding, Menakem offers us down-to-Earth body-centered steps for healing ourselves and our communities, completely compatible with Shambhala view and practice.  He writes:
One characteristic that nearly all human bodies share is this profound ability to heal.  These healing energies already exist in our bodies, our cells, and our DNA.  They permeate the world and our lives.  They ripple through us – and are potentially accessible to each of us – in each moment.
Menakem begins by with an admonition called, "Do Not Cross This Line."  Do not read this book unless your beliefs are willing to be challenged.  And if you do not believe that racial tensions are linked to white supremacy, do not read this book at all.  He also tells you to pay attention to your body as you read and reflect on what this book contains: just notice; don't try to change anything; see what images or thoughts arise.  Sound familiar?
When I started reading My Grandmother's Hands I had already been reading about inherited trauma – trauma that is passed on to us from our ancestors in the past.  So the idea was not new to me.  Menakem does a superb job of describing this phenomenon and how it has affected white-bodies, black-bodies, and police-bodies.  Trauma, he says, is a major contributor to many of our physical, mental and social ills, and various sources of trauma often interact and become compounded.  One of the earliest personal explorations in the book invites us to reflect on our ancestors:  When did they settle in America?  What traumatic events affected our mother? Our father?  Our grandparents?  
I had never contemplated these questions and I was surprised to find, in my body, feelings of being the offspring of a Polish émigré father – feelings of being different from others reinforced by some direct personal experiences of prejudice.
Menakem reviews the history of colonization in the US and concludes that it is likely that many of the English colonists were deeply traumatized – powerful white-bodies oppressed, brutalized, and murdered other less powerful white-bodies.  It wasn't until the late seventeenth century that white Americans began in earnest to formalize a culture of white-body supremacy and "blow centuries of white-on-white trauma through millions of Black and red bodies," colonizing the minds of people of all colours.  Menakem calls this "dirty pain."  When we recognize our inherited trauma, own it, and work through it, this is "clean pain" and leads to healing.
To understand the enslavement and assault on black-bodies, we have to understand how white-bodies transferred their pain to black-bodies.  From then on to this day, dirty pain became institutionalized as white-body supremacy in the court system, in governance, in education, in employment and housing, and in policing.  The everyday stressors, micro-aggressions, and lack of regard experienced by black-bodies continue to compound this trauma so much so that many African Americans berate themselves and each other for being Black, or too Black, or not Black enough, or in other ways for being less than perfect, or simply for existing.
But trauma is not destiny.  We can make a deliberate choice not to pass on our trauma to others, and that is when the healing begins.  That is when we protect other bodies from our trauma, offer them safety, and prevent that trauma from being passed on to the next generation.
Menakem addresses the specific circumstances of white-bodies, black-bodies, and police-bodies in separate chapters.  At the end of each chapter there are questions and narratives to contemplate that enable us to explore what resides in our own bodies.  In the second half of the book, Menakem presents body and breathing practices to help us settle our bodies when we are triggered – ways to build our awareness, slow down, and soothe ourselves.  Some of these can be practiced communally, and Menakem encourages us to do so.  At the center of all of these practices must be our willingness as individuals and collectives to be in our bodies, accept and metabolize clean pain, and heal.  Once there is wide-spread healing and growing up in white-bodies and black-bodies, "fingers of love and trust can reach out from one group to another – and start to intertwine."  We begin by offering one another respect, caring, and a willingness to help, and the time to begin is now. 
Reading this book was an eye-opener for me, and a source of my own healing.  Menakem's voice is caring and compassionate, and he speaks from personal and professional experience.  In conclusion he offers five opportunities for healing and personal growth: healing on your own; healing with a trusted, caring friend or family member; healing in a community with those you care about; and healing with the help of a body-focused professional or trauma therapist.  Each of these opportunities is important and can help mend our trauma, create more room for future generations, and heal the world.  Start by reading this book.
---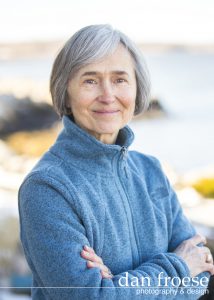 Christine Heming is a writer and educator.  She has been a student of the buddhadharma for over 45 years, and a senior teacher and meditation instructor in Shambhala.  She lives in Port Royal, Nova Scotia.
Post Tags: