Tuesday
Community Articles
Touching the Earth Collective – October 2021 Newsletter
October 2021 Newsletter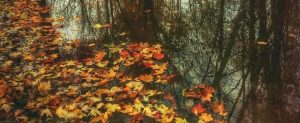 What Do We Want to Say?
by Irene Woodard
What is it that distinguishes Shambhala Buddhists when we are participating in a march? What do we really want to say as we involve ourselves outside of Shambhala Centers? How do we show up on the streets, walking across bridges? What sign do we carry that expresses Shambhala teachings? What do we bring to the global society that resonates and possibly inspires? What banner would we hold and feel proud of?
In early November, the UK will host the 26th UN Climate Change Conference of the Parties, (COP26) in Glasgow. There, participants representing countries and NGOS will come together to accelerate action towards the goals of the Paris Agreement and UN Framework Convention on Climate Change.
Leading up to this annual meeting will be multiple global activist events, speeches, op-eds, petitions, all intending to put pressured focus on the leaders who we want to make responsible decisions at the COP.
GreenFaith, an interfaith partnership for the environment, has planned for actions to be taken on October 17 and 18.  Several Touching the Earth Collective members are mobilizing, and organizing events. The Boulder GreenFaith circle, of which the Boulder Shambhala Center and the Joanna Macy Center at Naropa University are members, were asked to be a kick-off of the wave of activities. GreenFaith hired and sent LookLoud to Boulder to assist in creating the banners for the action, and help strategize the Boulder event. The action was a two-hour walking vigil, holding banners and signs, on an early Monday evening in September, stopping along the way for prayer, and short offerings of music, movement and a lhasang.
During the week prior to the Vigil, the various faith groups were requested to submit the wording for their banners, so they could be prepped for painting. Here are some collected for the Shambhala banner:
Shambhala Warriors Rising for Climate Justice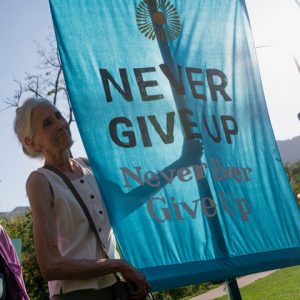 Good Trouble on the Wild Side
Good Trouble for the Sake of the Wild
We Need Trees, Trees Need Us
Shambhala for Climate Justice,
Destination Glasgow
Never give up. Never, ever give up.
Earth Protectors
We Can Do It!
Through emails, "Never give up" rose to the top and was chosen.
Curiously this slogan faces both in and out. The Shambhala community recognizes it as a familiar quote by Chögyam Trungpa Rinpoche, and those outside of Shambhala may simply be inspired by the simple strong words.
Ultimately, it is Bodhisattva action, never giving up, never ever giving up, on anyone or anything… And we had found words that resonated…What we wanted to say.
A very special thanks to the Boulder GreenFaith Circle that jumped in when asked, and never gave up!!!!!!!!!!!!!!!!
---
Shambhala Touching the Earth Collective
— Elemental Expression —
Every month, we offer a space for one of the Collective's members or friends
to share their work, art, or passion…
Karen Iglehart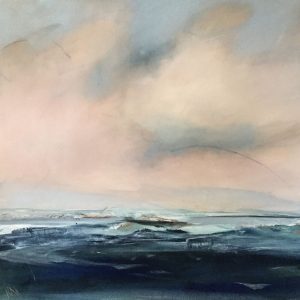 I have been painting clouds and water for quite awhile. In my Artist Statement I always refer to my experience in Buddhism and my wanting to paint without a "storyline"…  attempting to create an open space to breathe into …a space that doesn't have to be labeled or defined.
The subjects are weather, water, air, shoreline. I'm trying to capture the movement within our environment, the relationship of the elements to each other.  Expanse of space that comes with our relationship to the elements. These elements are our treasure as humans on this earth. As a painter I am looking and feeling the sky, water, my garden… and hopefully bringing those experience into my work.
I find it interesting that when I paint I look outward and up. In my photography I am looking downward to find the expanse in the details that are not easily noticed. Both are abstractions and appreciations of our phenomenal world.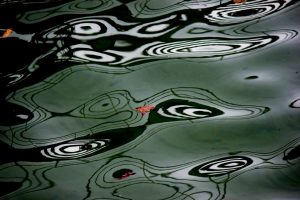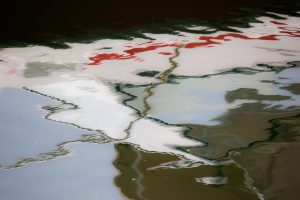 Karen has been a student of Buddhism since 1982 and a professional artist in several mediums since 1975. She has shown work in galleries in Lousiana, California, Colorado, Connecticut, Maryland, New Mexico, New York, Massachusetts, Rhode Island and Vermont.
She lives in Western Massachusetts, working in her studio at home, in a peaceful rural environment. She is also politically active in supporting voters rights, and will soon be involved in support of Afghan refugees.
You can see her work at www.karen-iglehart-art.com
---
A Call to Action!
Testimony from a Nigerian Climate Warrior
By Oluwatosin Kolawole
Irene met Tosin through her GreenFaith work. Tosin leads his life with kindness–a global citizen for good. It was only after knowing him for several years that she heard his story. 
My name is Oluwatosin Kolawole. I'm a native of Lagos in Nigeria, now living in New Jersey. In my preteen years, I was constantly reminded of my toddler experiences by my late grandmother and other members of the community who knew about my childhood stories. My late grandmother would use every opportunity to recount how, as a two-year-old, I would stand in the way of the community waste truck that had come to drop garbage in a nearby wetland. She would then explain how, after so many futile efforts to stop trucks from coming, I became good friends with the city officials and soon started joining them on the dumpsite, forging a sense of camaraderie. This earned me the name of "Baba Town Council," in order words, " Waste man."

My fight against environmental injustice as "Baba Town Council" probably was the earliest sign that life was pointing me in that direction. Those childhood moments helped to shape the person I have become today.
During my teenage years, as I became more self-conscious, I began to detest the name "Baba Town Council" because that name denoted everything that did not fit into the new image I was craving for myself as a teenager. So I would often get angry and was ready to pick fights with anyone who dared call me by that name. With the power of hindsight, I believe those people were placed along my life's journey by fate to save me from complete derailment.
In my twenties, however, I sensed a renewed call to advocate for proper environmental sanitation in my Lagos state. I led a series of community initiatives to sensitize people to the ills of indiscriminate abuse of the environment, by appealing to their values and moral standards. I was lucky to find GreenFaith where I was given resources and training to find my eco-spiritual voice. The training I received actually helped to transform my activism work.
From calling attention to the abuse of the environment, to practical cleanup and tree planting activities, to speaking truth to power, my life has been motivated by a deep sense of the responsibility and a yearning to play my part to protect and preserve the natural world and prevent harm to the earth and its people. I have encountered a series of pushbacks in the process. Being an environmental activist in Nigeria came with repercussions, especially if you are considered uncompromising.  I have endured physical attacks on my person, death threats, and a smear campaign against my personality. For example, I helped to coordinate an anti-coal campaign in 2017 but, as a result, the government came after me with mercenaries. I was fortunate to escape a major onslaught just by the whiskers. That experience was traumatic. My family lived in a state of constant fear, not knowing if I would return home alive each time I ventured from my hiding place.
Similarly, land and environmental defenders across the earth play a vital role in protecting global forests and ecosystems. They speak up against deforestation, promote rights to ancestral homes and territory, fight for river sanctity, stand up against polluting industries and resist government policies, which are designed to sacrifice the health of the land and its inhabitants on the altar of economic gains for the benefit of a few.
It has never been more challenging to take a stand against companies that steal land and destroy the environment. Yet, addressing these issues should be at the forefront of the world's efforts to pause our planet's continuous slide towards the edge of the precipice. As things stand, however, we are in danger of missing an enormous opportunity to build the world we all want to live in–a greener future for our planet and its people. We need strong and selfless leadership, a group of committed activists who will risk all for all. Business as usual spells doom to life on earth and some courageous actors and actresses are needed to stand in the gap. The earth needs you to stand up and be counted for climate and environmental justice.
---
Upcoming Events
EARTH SALON
Sunday, October 10, 2021
Noon (Atlantic time)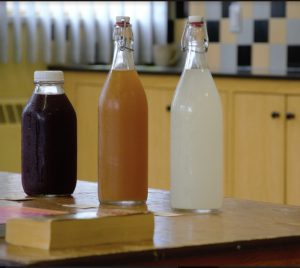 Adventures in Bubbles and Brine:
Fermentation Gleanings from Nova Scotia Masters
with Phil Moscovitch
In this session, author and fermentation enthusiast Philip Moscovitch will share stories of Nova Scotia fermentation traditions and discuss the basics of what fermentation is and how it works. There will also be lots of time for a Q&A session and discussion.  
Click here for more details
https://us02web.zoom.us/j/81262050347
Passcode: Sacred
---
You are warmly invited 
Touching the Earth Collective Community Meeting
Sunday, October 10 at 2:00 pm (Eastern)
https://us02web.zoom.us/j/83543056848
---
Touching Planet Earth: Our Oceanic Heritage
With Cynthia Moku
Saturday, October 23 at 2:00 pm (Eastern)
Addressing current issues on the climate changing,
with knowledge being offered to the world from both ancestral traditions of Polynesian ocean culture and current science & innovation technologies.
How these topics interface with and can inform us
through art & meditation practices. 
Click here to register
---
Did you know you can become a sustaining member of the Collective
by contributing $9/month — $108/year?
Your monthly gift will help sustain the work of the Collective
and allow us to continue in the future!
You can read Irene's letter for more details!
Post Tags: