Friday
Shambhala News Service
Be Part of the Conversation: Sharing Shambhala Part 2 – Moving Forward Together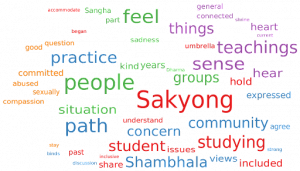 How can we move forward as a community that respects one another's practice paths? What practical steps can we take to strengthen our community?
Through October's Sharing Shambhala Part 1 conversations, we have developed a map of the experiences and aspirations of Shambhalians with different practice relationships to the Sakyong. See transcripts and summaries of those October conversations here.
In Sharing Shambhala Part 2, we will discuss how the Shambhala community will emerge, holding these different experiences and views, and look for practical steps we can take to best move forward together.
In these conversations, we will contemplate the Part 1 conversation summaries, consider what we can learn from them, and identify both guiding principles and practical actions we will need as we share Shambhala in the future. What action steps are called for, and who – in addition to ourselves – can be encouraged to step up?
Four November conversation times are available: click here to view and register.
Post Tags:
care and conduct