Friday
Community Articles
Touching the Earth Collective – February 2022 Newsletter

Pandemic Notes– Early Days in the Karmê Chöling Garden 
By Sara Demetry
At the start of the pandemic in March 2020, when I went for a walk, I would find myself talking to the trees, noticing them, observing them. I thought about kissing the ground with my feet when I walked near them. I wondered, are they feeling the changes in climate as we, in the human realm, are feeling them? A woman in my grief group has a practice of walking with dying trees, which I suppose inspired me.  I have become more aware of the cycles of life and death in the forest. I have become a student of the trees.
And not just the trees. I took on a project of growing herb roots at Karmê Chöling, for the African Diaspora Earthcare Coalition, which distributes herbal teas and tinctures to chronically-stressed populations in the Philadelphia area. Soon, I was talking to the plants on the side of the road and in the garden. I sang to them sometimes. I wanted to know their names and their energies. I renewed my acquaintance with them on the frequent walks that have become a practice of slowing down and attuning to their pace, their frequency. Now that it is winter, I imagine them below ground, dormant, gathering their energy to push up again in the spring.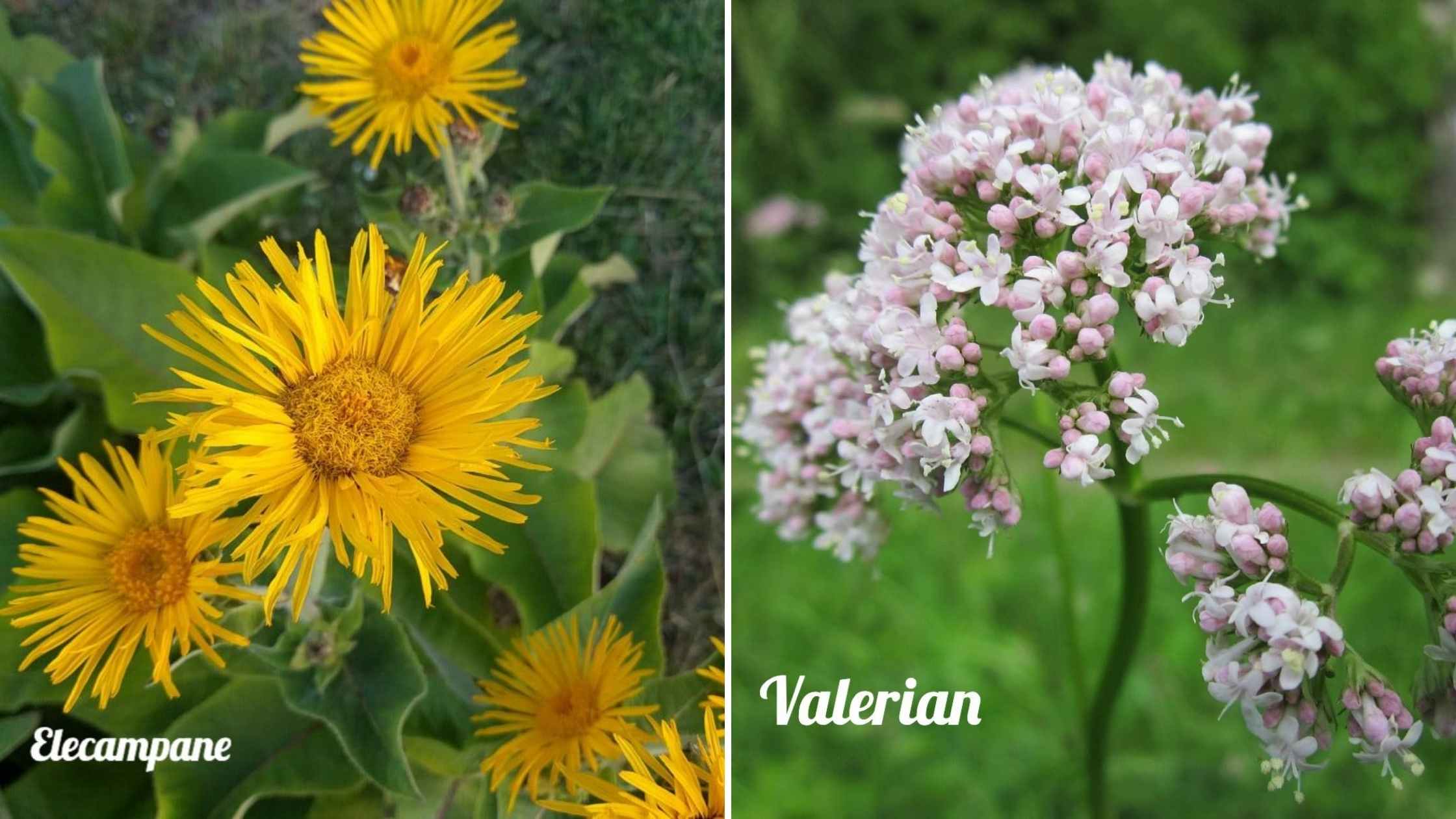 In that first experimental year in the Karmê Chöling garden, a group of us planted 48 Ashwagandha seedlings that Grace, a partner in herb growing, started in her greenhouse. The Dandelion and Valerian seeds that were originally planted in the KCL garden had not germinated, so it was such an auspicious thing to have Grace offer these seedlings, with some Elecampane as well. We planted them, mulched around them, and lovingly set them to growing.
I still vividly remember the unexpected joy and awe I experienced during that first pandemic year, in the midst of so much uncertainty, communing with the Ashwagandha, Valerian, Elecampane, and a few other herbs like St John's Wort and Calendula. The garden is a magical place, radiating light and beauty in more dimensions than I can perceive. There is a good-sized area to grow herbs, and the soil is rich and fertile after being nurtured for so many years by our Master Gardener, Jan, and countless volunteers and staff.  This garden is both lover and loved, giver and receiver, and goes beyond even those dualities.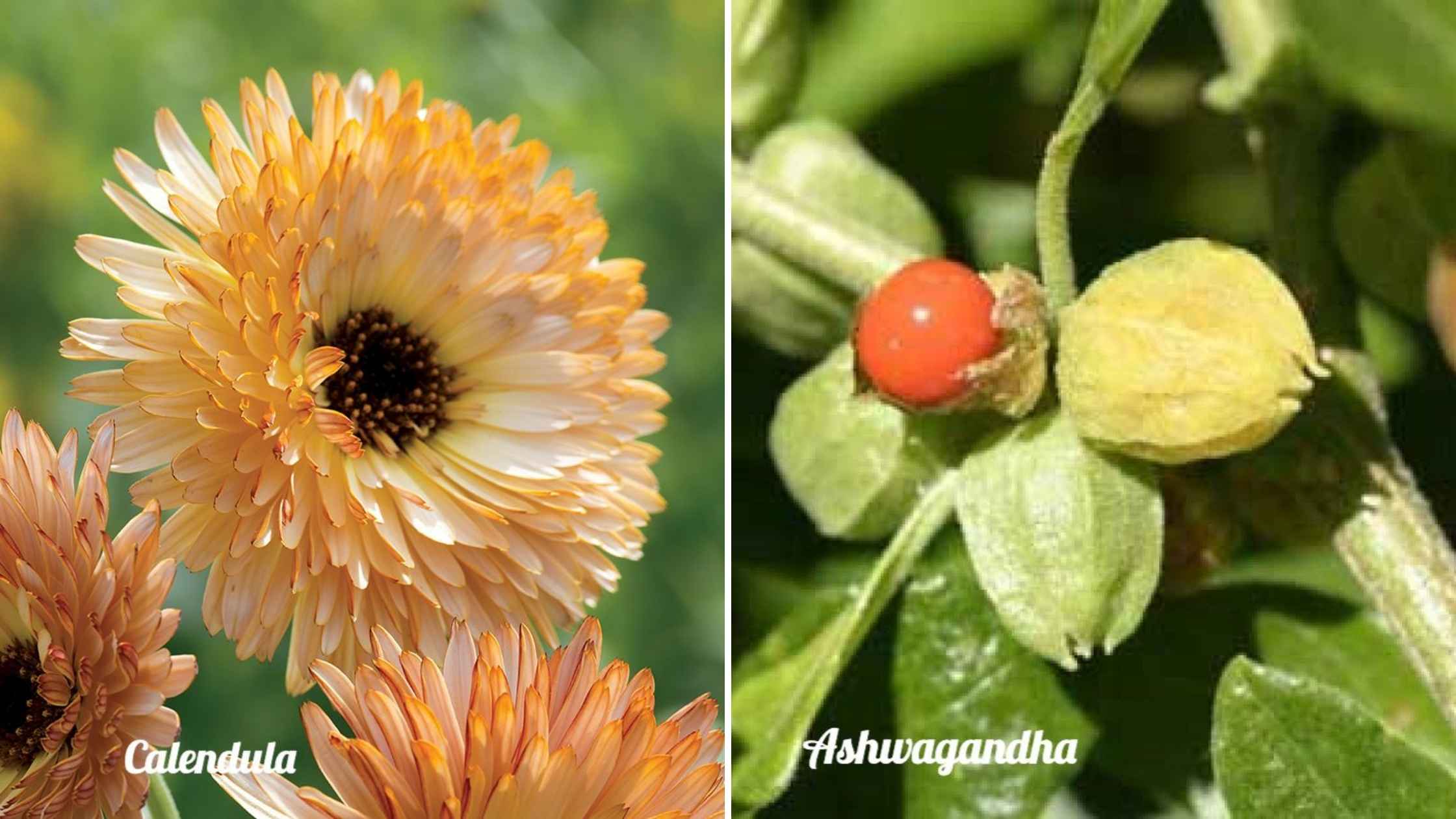 There were some challenges that first year. The Ashwagandha had a difficult start, with some cucumber beetles and flea beetles feasting on them a bit too much.  Fearful for their survival, I overdid the interventions and some of the leaves shriveled. But they rebounded!  Still hosting flea beetles, but without the larger more voracious cucumber beetles, they did fine after that. I learned to trust them.
One spring day, while walking in my neighborhood and talking to the trees, as usual, I was observing new cable wires being put up in our neighborhood. It got me to contemplate how much humans have come to depend on these wires for communication.  I had a felt sense that the trees have similar connections underground, and wondered if humans could develop this ability – to be interconnected and cooperative in a deeper way. For the first time I felt the trees were listening, they were maybe even laughing, they were conscious and aware, and they responded in some way that I am unable to explain.
As we grow and evolve in our practice and awareness, may we follow the example of these wise ones and wake up to our connections, the invisible threads and pathways that link us all. The pandemic, the trees, the medicinal plants, all become teachers in the vision of a good human society, inseparable and in harmony with this larger web of life.

Shambhala Touching the Earth Collective
— Elemental Expression —
Every month, we offer a space for one of the Collective's members or friends to share their work, art, or passion…
Jeff Scott
–Artist Statement–
At the beginning of the Pandemic, perhaps unconsciously, my art turned to bringing nature into my lockdown life. I started to do collages using the free, weekly newspaper and then thought that I could slowly work my way through my copy of the National Audubon Society Field Guide to the Rocky Mountain States.  Each morning, after breakfast and practice, I would create two pages of my journal – it was such a beautiful way to get to know my neighbors (the plants) in a time when I couldn't be out and about.  The nicest part of this project is that my knowledge and identification ability has increased so much since I made the collages. I can see the echoes of this project in the many projects that have followed.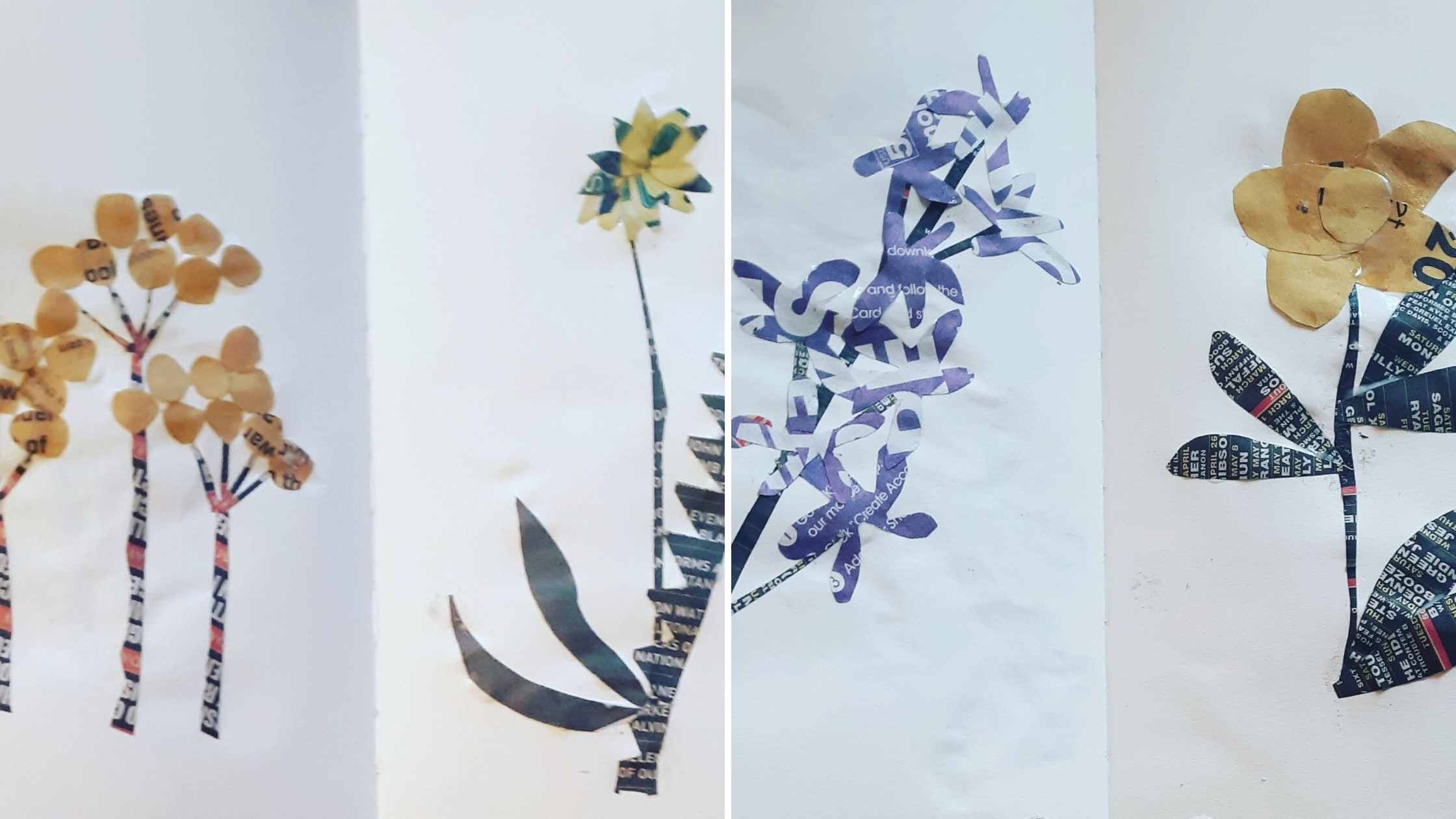 For me, there is a strong connection between our meditation practices in Shambhala, connecting to the elements, to our senses, to the awakened energies of the world, and even a sense of protection.  Fundamentally, my art is an avenue through which I explore relationship… in discovering more about my world, I am discovering more about myself.  I am discovering interconnection, and communication. Discovering that beauty and richness is there, just waiting to say hello, if we pay attention.  I ended up making over 200 flower collages.
My current project is centered around foraging for food near my home in Boulder, Colorado – The website for my year of foraging is: https://mikyocho.wordpress.com
MARSHALL FIRES
'Today's Victims Will Be Tomorrow's Advocates':
A Conversation with David Takahashi on Wildfire Loss, Grief — and Hope
A note from Irene:
When we heard of the Boulder County fires in late December, many of us, having been to Boulder before, could actually picture the place. We knew we wanted to reflect in some way the impact of the fires on our sangha there. Respecting the sangha in trauma, we decided not to push for remarks. Instead, we asked for David's permission to republish the interview below, which he had with Stacy Feldman of the Boulder Reporting Lab. Once again, thank you David, for your giving us a view of your experience of being on the spot.
David Takahashi, the activist and 2021 Boulder City Council candidate, shares the best (and worst) advice he got after losing his home to the Fourmile Canyon Fire in 2010.
The morning of Labor Day 2010 dawned warm and windy, David Takahashi recalls. He was quietly working around his house in Fourmile Canyon when sirens roared. Over the next several hours he watched with fear as Colorado's then-most destructive wildfire unfolded around him.
"I'm seeing flames licking hundreds of yards into the sky like a dragon," he remembers. "I'm seeing trees spontaneously exploding. I'm seeing the black smoke of fires, homes on fire. I'm hearing this cacophony of chaos unleashed. Glass breaking, and just the smoke and the smell of fire."
As Takahashi stood unsure outside, his neighbor crawled down the road in his Jeep Cherokee. "He stops, rolls down the window and says, 'Takahashi, it's time to go.'''
He did, and never went back — at least not to live. The Fourmile Canyon Fire destroyed the home of Takahashi and his wife Emily, and about 170 other houses. After two years of "armwrestling with our insurance company," they moved to Boulder instead of rebuilding.
It wasn't just Takahashi's house that would change. His life's purpose took a turn, he says. A self-described "ex-software guy," Takahashi became a climate activist and later Boulder City Council candidate in 2021, running (unsuccessfully) on a climate platform.
When the Marshall Fire began sweeping through East Boulder County on Dec. 30, Takahashi had arrived at the airport in Denver after a family visit. As he drove home he saw the black and orange of the wildfire, and it brought him right back to 2010.
In our conversation, Takahashi offers practical advice about navigating insurance and personal property inventory while in shock, along with insight into his own path to recovery.
This conversation has been edited for brevity and clarity.
What was it like for you on December 30, to watch the Marshall Fire unfold?
I experienced what I call "post-traumatic climate disorder." And it brought it all back — the smell, the destruction, the chaos, the unsettling. The total unsettling. And the sense that we are powerless.
The victims of the fire who lost homes are only about two weeks in. You're 11 years into your own experience. If you were sitting with them today, what would you tell them?
I would tell them that life has just taken a quick right turn. And that, when you're ready, there will be people waiting to help you, that we're in this together. There have been so many of these fires. And just as we are lining the street to help you, you will be lining the street to help others.
That's really lovely. What about immediately?
I would tell them there's an organization that is active in all fires. It's called United Policyholders. Two days after the fire, they already had a Marshall Fire support page on their website. They take you through everything.
If you're lucky, you have coverage. There are two kinds of coverage. You have your personal property. That's if you took your house, opened all the doors and windows, turned it upside down and shook it. Everything that falls out is your personal property. Everything that's left is your home.
In terms of the personal property, you're asked to do an inventory, and you're in shock. So what United Policyholders does [through its Discovery Recovery Handbook] is take you through every room and give you hints about the typical things that your home had. You're going to be building this Excel spreadsheet. You're going to list the items, and then you're going to go out to Amazon or whatever and get the replacement cost and that will form the basis of your personal property claim. And the book is so helpful.
To read the full article, please click here.
Did you know you can become a Sustaining Member of the Collective
by contributing $9/month — $108/year?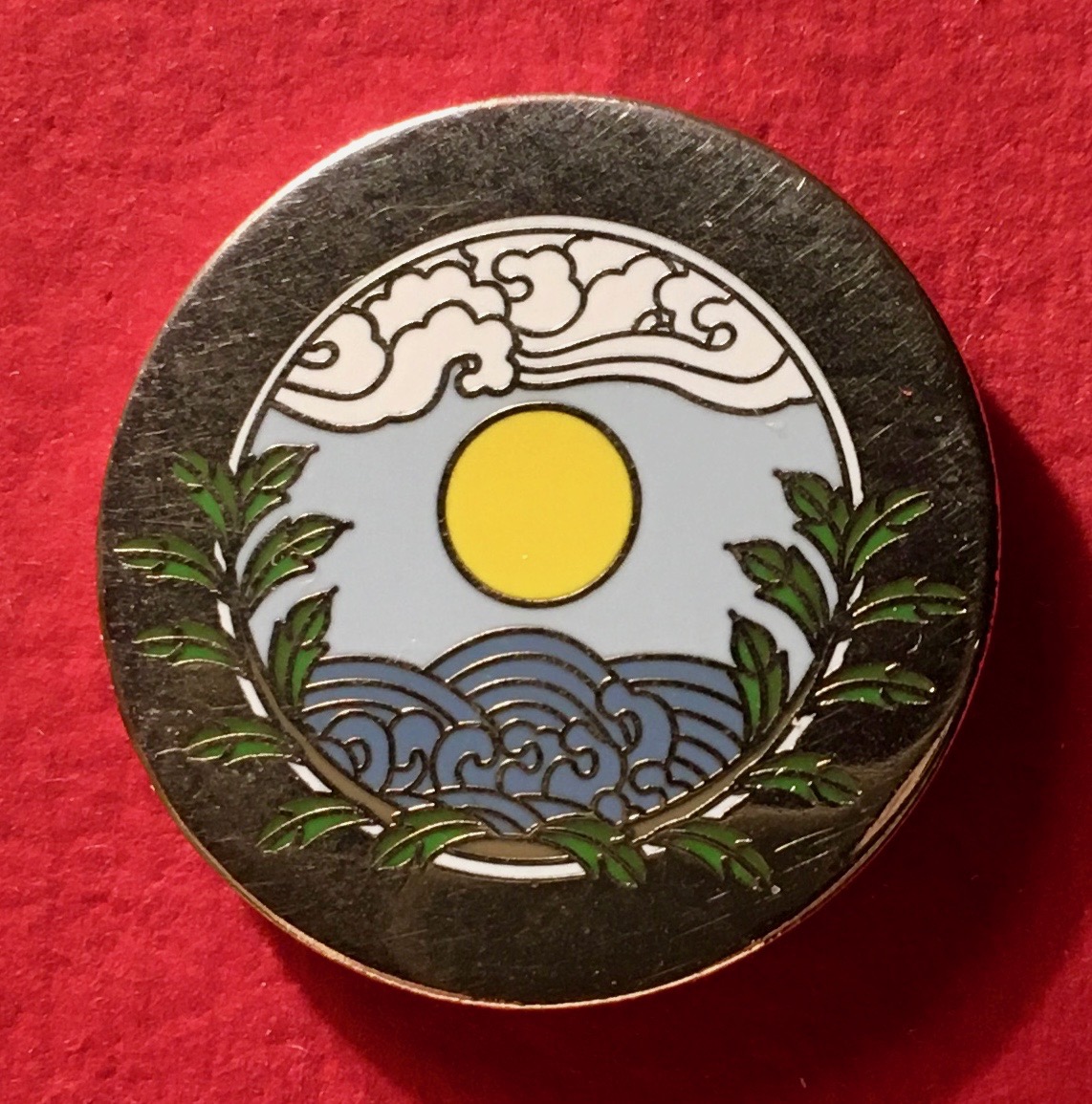 Becoming a Sustaining Member of the Collective is one way
to express your support and protect the earth.
Your monthly gift of $9 will help sustain our work
and allow us to continue into the future.
All Sustaining Members will receive the Touching the Earth pin,
with the elements of earth, fire, air and water, as an expression of our thanks…
And it helps spread the word!
Click here to contribute in US $! / Or here in Canadian $ 
Sustaining Members receive donation tax receipts from Shambhala.
You can also join the STEC mailing list for free and
join the ongoing conversation!
Lots of lively exchange of information and discussion!!
Simply email us at:


[email protected]
Post Tags: