Tuesday
Uncategorized
World of Wonders: A Shambhala Touching the Earth Collective Book Review
By Irene Woodard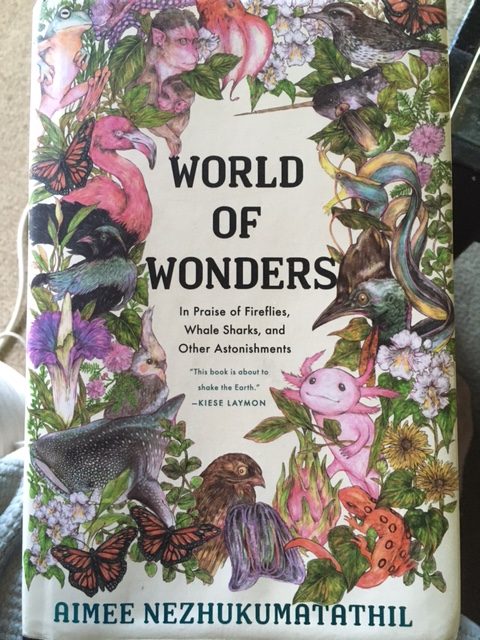 My friend Paul tutors teenagers and so he has his hands in it so to speak, on latest literature.
He is a truly gifted teacher. I know this because whenever I get off zoom I am googling references from our conversation, about words, and books, and simple thoughts. 
He shared a book back in the autumn, when one of his students was writing her essays for college applications. She was writing of the book that most influenced her, "World of Wonders, In Praise of Fireflies, Whale Sharks, and Other Astonishments," by Aimee Nezhukumatathil. I got it from the library, but a few chapters in, I knew this was one I should own, and share. I found a used copy online.
I have wandered through this book. I took my time, read slowly, went slowly, no deadline…And towards the end of the book found this passage… 
"It is this way with wonder: it takes a bit of patience, and it takes putting yourself in the right place at the right time. It requires us to be curious enough to forego our small distractions in order to find the world." READ THIS TWICE!
Thirty-one chapters, thirty-one wonders,  that thread her discovery of both something in the natural world, a firefly, a corpse flower, a potoo, a dragon fruit, a ribbon eel with the discovery and exploration of an inner moment of being a human being. Her description of the vampire squid, with its ability to disappear resonated as my experience of being a teenager. Oh, I could feel it all over again. Nezhukumatathil, describes a year in high school as…
"This was my cephalopod year, the closest I ever came to wanting to disappear or sneak away into the deep sea."
Seemingly this method of appreciation of the natural world felt and drew me closer to the wonder around me. What does a dragon fruit taste like? And how to talk to birds, which is something I have a small ability for. Her description was familiar…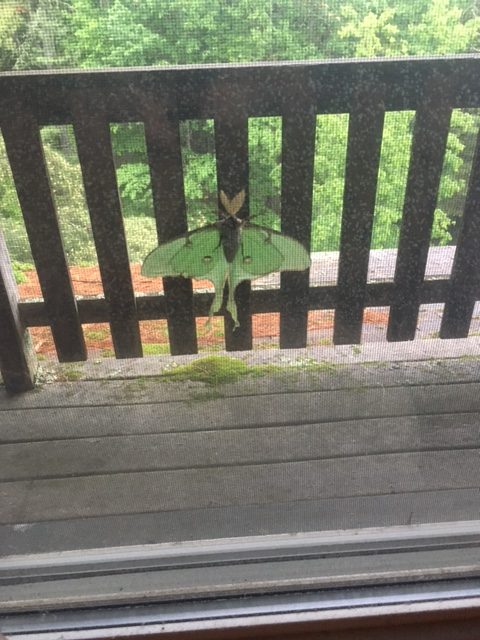 "I'm certain it's not any magic in my mouth, no special twist of the tongue that only I have unlocked. But I think it's the quiet way you settle into the crook of a tree trunk, the still and slowdown of your heart in a world that wants us to be quick and move to the next thing. The secret in talking to birds is in the steadiness of each limb as you make your way into their territory, in the deliberateness of each movement and bend of tree branch and grass blade."
And she introduced me to the ribbon eel with its open mouth awe. Having never met one, now I have. This one she paired with the experience of being a baby, with the open mouth awe of the world, and the dark of the morning as a parent, carrying an infant around a house in that early morning darkness, providing a tour of everything, opening a kitchen drawer to experience the wonder of spoons, and knives and forks…
Several days ago, there was the horrendous shooting at an elementary school in Texas.
This is the awe and wretchedness we are experiencing now, the wonder of now, is tragic. The day after the killings, a luna moth came to my bedroom window, at night, attracted by the only light in acres. The moth is still here, five days later. I have learned they only live for ten days, they have no mouths, no digestive system. Their activity is just to procreate. That is the so said reason. But I know better… it is to teach. At least to this student , that life may be very short, it may be cut short, it may only be ten days, and so what we might do in this short time is to wonder at the world… 
This book, "World of Wonders," opened doors, and as Ursula Le Guin says… "First sentences are doors to the world." Maybe last sentences are doors to the other…
*****
Irene Woodard has been a student of the Shambhala Buddhist teachings for over 40 years. She held the post of Warrior of the Center for the Shambhala Meditation Center of New York, and was the Resident Director of Shambhala Training for five years. In her life outside the center, she is a student of Ikebana, a florist, mother of two brilliant adults, GreenFaith Fellow, Vice Chair of GreenFaith Board of Directors, and Co- Founder of The Shambhala Touching the Earth Collective.
Post Tags:
book reviews
,
Favorite Books