Friday
Community Articles
A Solar Coming of Age Story at Dorje Denma Ling
By Catherine Neill
Reprinted with permission from The Shambhala Touching the Earth Collective Summer 2022 Newsletter
Over the years, there has been quite a bit of innovation at Dorje Denma Ling made by creative volunteers and staff who had the knowledge and skills to implement small environmentally-friendly projects on the land. Some of the artifacts of these projects are still around today, though no longer active, such as the solar hot water system found in our main building used to heat the floor in our main shrine room.
Now, in 2022, we may be turning the corner to take on a more substantial project to add a solar field that will allow us to offset approximately 92% of the KWH used on the site last year. We are looking to install a 30 KW AC – 43.2 KW DC solar power system on the land, the largest system allowable under Nova Scotia Power restrictions. We are not interested in getting off the grid entirely at this time though perhaps in the future. Through a program designed for non-profits by Efficiency Nova Scotia, we are also eligible for a $15,000 CAD rebate based on the size of our system.
The price tag for this system would be in the range of $100,000 CAD after the rebate has been applied. While this amount would stretch our current financial resources, already stretched as a result of reduced program revenues, installing this system would be a step toward economic and energy sustainability. The proposed system would allow us to recover our initial investment through savings on our electricity bills in around four years' time. With additional efforts put toward energy-efficient heating systems that decrease our dependence on oil, there are further possibilities for savings. And of course, there are benefits to the environment from reducing our dependence on oil.
Just imagine Dorje Denma Ling in the future! The world will always need places like this – places where people can practice meditation, experiencing the elements and the vastness of mind. Now imagine a large solar field – generating power from the sun – next to Dorje Denma Ling. I'll keep you posted on our progress in holding this common vision.
+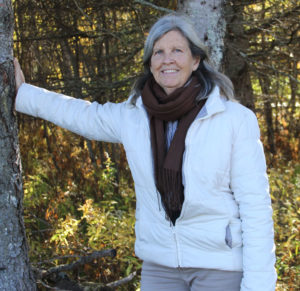 Catherine Neill became the Executive Director of Dorje Denma Ling in February 2019. She has served in the Shambhala mandela in a variety of roles, including as Operations Commander for the Dorje Kasung, as Drala Regional Commander, and as a Resident Director of Shambhala Training. Catherine has been a member of the Shambhala community since 1981 and was a student of Chogyam Trungpa, Rinpoche. She is also a student of his son, Sakyong Mipham, Rinpoche.
Post Tags: