Tuesday
Arts and Poetry
The Shambhala Art Program
By Stuart Rice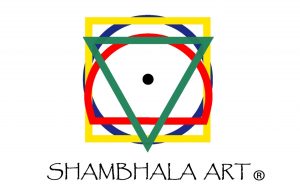 The impulse to imagine, create, and share our innermost experiences is a universal human need. We can learn skills that allow us to express this need in a way that resonates with others and improves our world. The Shambhala Art program provides these skills, giving us teachings and tools to understand and uplift ourselves, the spaces we live and work in, and our world.
The Shambhala Art program grows from the rich soil of Chögyam Trungpa Rinpoche's teachings. Trungpa Rinpoche emphasized art as the primary way people and societies can achieve a good and enlightened existence. He stressed that art was a product of a meditative mind rather than clever ideas, expensive materials or elaborate processes. In a 1980 interview, Trungpa Rinpoche shared:
"Well, I think that dharma art is a sense of paying attention to what you have, what you are, what you have available. When you pay attention, it makes things beautiful and workable, always."
The five-part Shambhala Art program progressively cultivates this ability to pay attention to who you are and work with what you have available. While free from explicit Buddhist terminology, the five parts guide students through the Hinayana, Mahayana, and Vajrayana views of ourselves and our world. The parts allow us to experience the profundity of these views through practical experiences and exercises.
Participants in the program will begin by establishing their meditation practice as a ground for slowing down and seeing things as they are. From this ground, we practice progressively letting go of our storylines and letting in the inherent goodness of the world. As we strengthen this practice of letting in, we understand how the world consistently speaks to us and learn to listen to it without agenda. It then becomes possible for our inherent creative abilities to skillfully and harmoniously work with others' needs.
The upcoming live series through Shambhala Online is a result of 25 years of cultivating these teachings. In addition to the training weekends, you will have the opportunity to connect with teachers and participants in optional continuity sessions. We look forward to welcoming you to these powerful teachings and experiences.
Post Tags: