Tuesday
Filed underArts and Poetry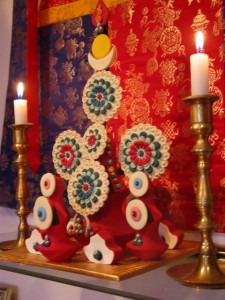 by Phil Karl
While practicing in the three-year retreat at Gampo Abbey several years ago I learned to make tormas. I'd been making tormas for a number of years, but finally got comprehensive training, and plenty of practice in that rather long retreat.
It may be of interest to know that the Tibetan word torma has two parts. The first syllable, tor, is a verb that means to throw out: tormas made of barley flour, butter and other ingredients are literally placed outside as a gesture of making offering—a gesture of generosity. In an inner sense, the notion of throwing out can be understood as severing attachment to desirable things. That is, cutting through entrapment in desire. It may also be thought of as throwing out kleshas—severance of conditioned emotional reactions that cause suffering. Sincerely offering like this can purify the emotions. Continue…
No additional entries found
Website Development by Blue Mandala using Wordpress MU.
All content and source Copyright © 1994-2020. Shambhala International (Vajradhatu), Shambhala, Shambhala Meditation Center, Shambhala Training, Shambhala Center and Way of Shambhala are registered service marks of Shambhala USA
Privacy Policy