Tuesday
Arts and Poetry
On Torma Offering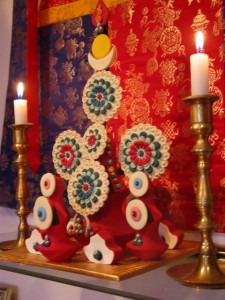 by Phil Karl
While practicing in the three-year retreat at Gampo Abbey several years ago I learned to make tormas. I'd been making tormas for a number of years, but finally got comprehensive training, and plenty of practice in that rather long retreat.
It may be of interest to know that the Tibetan word torma has two parts. The first syllable, tor, is a verb that means to throw out: tormas made of barley flour, butter and other ingredients are literally placed outside as a gesture of making offering—a gesture of generosity. In an inner sense, the notion of throwing out can be understood as severing attachment to desirable things. That is, cutting through entrapment in desire. It may also be thought of as throwing out kleshas—severance of conditioned emotional reactions that cause suffering. Sincerely offering like this can purify the emotions.
---
Editor's Note: We are currently on hiatus from publishing new articles; in the meantime, please enjoy this classic item reprinted from our back issues.
---
The second syllable, ma, is a feminine ending. It evokes the maternal, a nurturing quality. Understanding the true meaning of this simple syllable is a means of cultivating loving kindness for all beings much as a mother feels love for her children. So, in a way, with the first syllable one severs attachment to self-centeredness. Having cut that, with the second syllable one radiates love and sympathy to others. This is the inner sense of offering torma. As you can see, torma is extremely rich with meaning.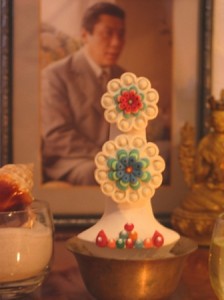 In retreat we learned our torma-making mainly from two teachers, Lama Tashi Thondup and Lama Karma Phuntsok. These lamas were trained at Rumtek monastery in Sikkim, seat of His Holiness the Gyalwang Karmapa, and Sherap Ling,  the seat of His Eminence Tai Situ Rinpoche in northern India, respectively. I found that both of these lamas had great precision and skill. (I believe they had been making tormas since they were children.) While their tormas were different from each other, each lama was consistently representing the way he was trained and, it seemed, representing the traits of uniformity and a lack of individual creativity embraced by monastic Tibetans.
This really struck me. Coming from a western tradition of valuing creativity, artistic expression and individuality, I realized that I had some unlearning to do. I had never really questioned the values of individual expression. This was a deeply ingrained outlook. I had difficulty measuring up to the standards of uniformity that came so naturally to these Tibetan guys. Still, I had to make tormas that were… well, correct.
I tried to understand the deeper logic of making offerings and the symbolic meaning of tormas. The tradition is important to preserve even while the tradition undergoes a process of transformation. That seems contradictory, but any time Buddhism moves to a new culture, it morphs: the outer aspects naturally change while the core understanding remains. This is the sign of a living tradition and was a principle that my root teacher, Chogyam Trungpa Rinpoche, always stressed. In my thinking, torma-making became a metaphor for Dharma in the West.
In making tormas, I work with that idea all the time. The basic shapes are often inspired by the Rumtek style of Lama Tashi. The vivid colors and some of the ornaments are closer to Lama Phontsok's Sherap Ling style. I take a few liberties with some of it, based on what I find appealing, without changing the fundamentals. The result is what you'll see on my website. Take a look.
Post Tags:
art
,
Chogyam Trungpa
,
Gampo Abbey
,
torma