Wednesday
Arts and Poetry, Sakyong and Family
A Mukpo Painting
For those that don't know him, Tagtrug Mukpo, affectionately known as Taggie, was born in Boulder, Colorado on March 9, 1971 to Chogyam Trungpa Rinpoche and his wife, Lady Diana Mukpo. He is half-brother to Sakyong Mipham Rinpoche, Chogyam Trungpa's eldest son. As a young child, Taggie was recognized by His Holiness the Sixteenth Gyalwa Karmapa as one of several incarnations of Surmang Tenga Rinpoche, a tulku in the Kaygu lineage. He currently lives in northern Vermont near Karme Choling.
In early childhood, Tenga Rinpoche developed a profound seizure disorder and was diagnosed with autism and has been living with these conditions ever since. Tagtrug requires 24-hour-a-day care and supervision.
Tagtrug has profoundly touched the hearts and minds of many who have come to know him over the years – not only Shambhala sangha members and the many lineage holders who visit Karme Choling, but many friends and neighbors in the surrounding Vermont communities. With his care-giver Erin Christie, also a Shambhala practitioner and artist, Taggie has offered us these paintings.

As Erin shares with us:
"These pieces are acrylic on watercolor paper. I painted the paper black. The inspiration came from two different sources. One inspiration came from a couple of calligraphy's Chogyam Trungpa Rinpoche had done that Tenga had at Bhumi Pali Bhavan (BPB is the original home of Trungpa Rinpoche in Vermont, and the home of Taggie for many years). The other was observing Tenga and how freely he made his mark! At times I felt as if I had artist's block, fear of making the wrong mark on the clean white paper. Tenga and I used to sit down together and draw or paint. I was so controlling with my hand and full of expectations. Tenga, on the other hand, would pick up the pen or paint brush without hesitation, freely sharing what was there. This mark was usually followed by an ending comment like: "There we go, perfect". Tenga painted the orange and red piece."
In a letter to the Shambhala community last year, Tagtrug's brother Ashoka Mukpo shared this with us:
"Tagtrug, (who just turned 41) is doing remarkably well right now. He is in good health, is psychologically stable and is, by all accounts, enjoying one of the most nurturing and happy times of his life. Numerous observers have remarked on his healthy appearance and strong demeanor, and his regular appearances at Karme Choling reinforce the view of his support team that he is a meaningful and important part of our mandala.
Tagtrug's positive growth has been due in huge part to the efforts of his caregiver, Erin Christie, who has worked with him for almost three years now. Her encouragement to approach Tagtrug respectfully, with empathy for his needs and desires, has allowed many of us to discover communication with him that we never thought possible. Erin has demonstrated how to listen to Tagtrug without pretense. Her creative dietary and health plan has improved his physical condition dramatically; he is in good shape, eats well, and is living a good life for someone in his condition. He's surrounded by people who care about him, and the plan tailored for him by the human services agency that disburses grants for his support emphasizes respect and kindness."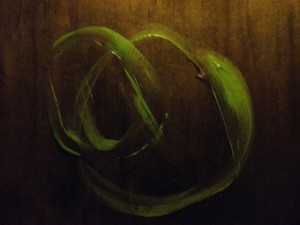 ~~
To learn more about Tenga Rinpoche, see photos and read updates, and learn how to contribute, please see his website: www.taggiemukpo.org.
Post Tags:
art
,
Chogyam Trungpa
,
Tagtrug Mukpo
,
Tenga Rinpoche