Thursday
Sakyong and Family
Tribute to Chogyam Trungpa Rinpoche's Students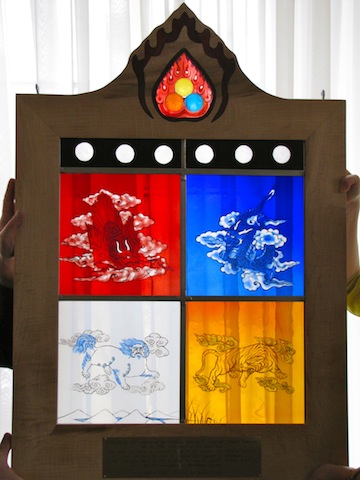 by Sangyum Wendy Friedman,
Director of the Shambhala Office of Culture and Decorum
photos by Terry Rudderham
Last year, as we started to contemplate how we could commemorate the 25th Anniversary of the Vidyadhara, Chogyam Trungpa Rinpoche's Parinirvana, the Sakyong told some of us who were planning the events that there was one element that was very important to him. He told us that he wanted to do something special to honor and thank the Vidyadhara's students for all that they had contributed to establishing Shambhala.
We began discussing the various options for how to accomplish this gesture of thanks. Should we hold an event? Issue an award? Skywriting? (kidding!) When the idea arose to commission a special work of Shambhala art, it felt like the right direction, and the Sakyong was very happy with this idea. Amanda Hester, the Adjutant to the Shambhala Office of Culture and Decorum, suggested that the Sakyong could commission a stained glass piece from her father, Artist to the Kalapa Court, Randy Hester, whose beautiful pieces adorn several centers and many homes.


The Sakyong chose the image of the Mukpo Family Crest for this piece, as the Mukpo clan is what unites all of us in the Shambhala community. This crest features the four dignities of Tiger (meek), Lion (perky), Garuda (outrageous) and Dragon (inscrutable). Above the four dignities is a black band with six white dots, representing the six major clans of Tibet, of which Mukpo is one. The crest is ornamented with the three jewels symbol, which represents the Buddha (or buddha nature in all of us), the Dharma (teachings) and the Sangha (community).
Mr. Hester broke his hand while this piece was still a work-in-progress, so he was assisted by a Halifax sangha artist, Paul Selva. The frame for this piece was crafted in birds-eye maple by St. Margaret's Bay sangha member, Mark Russell.
The beautiful stained glass piece was officially dedicated by the Sakyong during the Sadhana of Mahamudra Abhisheka in Halifax on April 1, 2012, where it was received by the Druk Sakyong Wangmo, Lady Diana Mukpo, on behalf of the Druk Sakyong's students. It will hang in the reception room of the Halifax Shambhala Centre so that as many students as possible can see it over the years.
The engraved brass plate on the piece reads as follows:
Dedicated to the students of the Kongma Sakyong I; Chogyam Trungpa Rinpoche
On the 25th Anniversary of his Parinirvana
This piece is offered as a tribute to all of his students who worked tirelessly
And with great devotion to establish the Kingdom of Shambhala
Gifted with appreciation by the Kongma Sakyong II; Jamgon Mipham Rinpoche,
And the generations of Shambhala warriors.
April 4, 2012, Year of the Water Dragon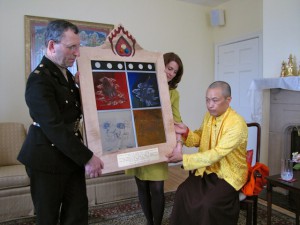 Post Tags:
art
,
Chogyam Trungpa
,
Sakyong Mipham
,
students