Friday
Filed under Regions, Mountain States
Boulder Shambhala Center hosts Climate Change Symposium, September 15-17
by Karen Smith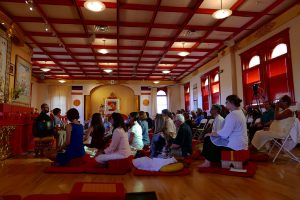 This September the Boulder Shambhala Center will host the second annual Living Beyond Hope and Fear climate change symposium. This year's event carries the subtitle of "Warrior Principle, Climate Action." The symposium is part of an ongoing effort at the Boulder Shambhala Center to provide a space in which the critical issues of our world can be met with insight from multiple wisdom traditions, ideas from enterprising organizations, and the windhorse of gathering together in beautiful surroundings with good food and drink. Continue…
Entries filed under Mountain States
End of the Sky, Songs of Dharma A CD by Lama Karma Chotso Produced by Rachel Faro Special Guests: Steve Gorn, Inner Voice Now available on iTunes! To order a CD or for more information go to www.endofthesky.net Lama Karma Chotso is a fully ordained Kagyü nun teaching and living in ...
continue
Posted March 8, 2009 by
Dorje Khyung Dzong [Vajra Garuda Fortress] was named for the upper retreat place at Surmang Düdtsi-til, one of the main Surmang monasteries that are the seat of the Trungpa tulku lineage in eastern Tibet. Melissa and Bruce Robinson are the resident directors of Dorje Khyung Dzong ...
continue
Posted February 28, 2009 by
I fell in love with Ziji from the first moment I walked in. With its uplifted environment, beautiful shrine supplies, and every dharma book under the sun, it was a joy simply to be there. That was the winter of 1986. Little did I know the ...
continue
Posted February 24, 2009 by Amy Kida
Students are practicing meditation in the unlikeliest of places: a small public school in rural southeastern Utah, USA. Encouraged by a once-a-week meditation group, students have learned to relax, pay attention to their breath and decrease negative emotions. How it Began In 2005, my supervisor at the ...
continue
Posted January 31, 2009 by tom

RSS feed for the Mountain States category
View all posts from authors in Mountain States:
Website Development by Blue Mandala using Wordpress MU.
All content and source Copyright © 1994-2020. Shambhala International (Vajradhatu), Shambhala, Shambhala Meditation Center, Shambhala Training, Shambhala Center and Way of Shambhala are registered service marks of Shambhala USA
Privacy Policy