All entries filed under this archive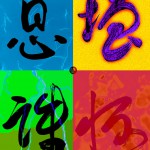 by Yeachin Tsai, Taipei, Taiwan The buddha-dharma came to China from India about 2,000 years ago, and many schools have evolved since then. After hundreds of years of changing scenery, the only things that haven't changed are the minds and hearts of human beings. Despite the countless ...
continue
Posted January 19, 2013 by Yeachin Tsai
Yeachin Tsai has kindly translated Sakyong Mipham's 2010 Harvest of Peace letter into Chinese. 2010年「和平的秋收」薩姜米龐仁波切關中信函 祈願文 在心的宇宙一切皆為可能; 在心的空隙一切皆盡涵容; 在珍貴的身體內,光芒四射的能量搏動; 在世界靈動變化的的巧合裡,吉祥永遠準備就緒。這是多傑札都(創巴仁波切)的贈禮。讓我們這些無愧的香巴拉人每天早上以一顆廣袤的心智、難以稱量的大心、以及一個充滿意向的身體覺醒。讓我們創造一個具有和平與尊嚴、並以吉祥嚴飾的世界。 聆聽香巴拉總裁理查雷奧克(Richard Reoch)的開示,與馬克威利(Mark Whaley)閱讀薩姜的書信全文: 信函內容如下: 我希望你們都有一個深刻美好的「和平的秋收」日。和平是香巴拉活動的基石。正如偉大的聖雄甘地所說:「你想見到世界改變,必須自己成為那改變。」在這個唯物主義氾濫的年代,我們香巴拉人必得欣然接受此一箴言。因為當此充斥無厭的自我滿足之時、我們的手指總是預備好去指責別人的錯誤。因此經由這純粹的英勇行徑,我們必須振奮起信心,確認我們的本初善 (basic goodness)。
continue
Posted September 27, 2010 by Yeachin Tsai
Website Development by Blue Mandala using Wordpress MU.
All content and source Copyright © 1994-2022. Shambhala International (Vajradhatu), Shambhala, Shambhala Meditation Center, Shambhala Training, Shambhala Center and Way of Shambhala are registered service marks of Shambhala USA
Privacy Policy