All entries filed under this archive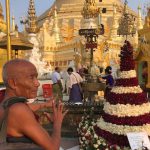 Teachings on loving kindness and compassionate living by Larry Steele The Metta Sutta, the Buddha's discourse on loving kindness, is a key teaching in the Pali Canon. It is chanted by Theravadan monks throughout the Asian southeast. During my recent visit to Myanmar, the social-activist monks Ashin Issariya and ...
continue
Posted June 14, 2018 by CGH
COLUMN: Good Practice by Gordon Shotwell, Toronto, ON As long as I can remember my family had a set of lojong cards on our mantelpiece. I remember reading "Don't transfer the ox's load to the cow" and "Regard all dharmas as dreams" as I walked by without the ...
continue
Posted April 9, 2014 by
What we can learn from the discipline of people whose lives are on the line. By Bindu Wiles I have been getting up at 5:30 am to get to my desk by 5:40. I have never been a morning person — I seem to do my ...
continue
Posted November 29, 2009 by Jennifer Holder
Website Development by Blue Mandala using Wordpress MU.
All content and source Copyright © 1994-2021. Shambhala International (Vajradhatu), Shambhala, Shambhala Meditation Center, Shambhala Training, Shambhala Center and Way of Shambhala are registered service marks of Shambhala USA
Privacy Policy