Thursday
Dharma Teachings
Visit the Metta Sutta
Teachings on loving kindness and compassionate living
by Larry Steele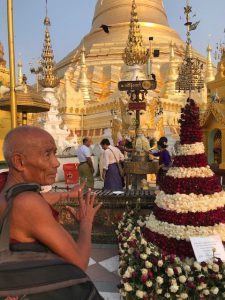 The Metta Sutta, the Buddha's discourse on loving kindness, is a key teaching in the Pali Canon. It is chanted by Theravadan monks throughout the Asian southeast. During my recent visit to Myanmar, the social-activist monks Ashin Issariya and Ashin Kovida both guided me to the Metta Sutta. So did my instructor at a one-day Vipassana meditation course where I joined more than 100 Burmese men and women in their practice.
A neighborhood monastery near my hostel had a loudspeaker on the street. It probably was broadcasting the Metta Sutta.
I was in Myanmar to study the influence of Buddhism on the tragic situation of the Rohingya refugees. How could such human suffering arise in a country that is 88% Buddhist? The experience was a reminder that the earthly realm is filled with confused causes and conditions — spiritual, ethnic, economic, political — and that the Buddhist world is not exempt.
But the Metta Sutta is clear. It resonates for me as a Shambhala warrior.
Below, for you to visit, is a particularly lyrical translation.
Karaniya Metta Sutta: The Buddha's Words on Loving-Kindness

This is what should be done
By one who is skilled in goodness,
And who knows the path of peace:
Let them be able and upright,
Straightforward and gentle in speech,
Humble and not conceited,
Contented and easily satisfied,
Unburdened with duties and frugal in their ways.
Peaceful and calm and wise and skillful,
Not proud or demanding in nature.
Let them not do the slightest thing
That the wise would later reprove.
Wishing: In gladness and in safety,
May all beings be at ease.
Whatever living beings there may be;
Whether they are weak or strong, omitting none,
The great or the mighty, medium, short or small,
The seen and the unseen,
Those living near and far away,
Those born and to-be-born —
May all beings be at ease!

Let none deceive another,
Or despise any being in any state.
Let none through anger or ill-will
Wish harm upon another.
Even as a mother protects with her life
Her child, her only child,
So with a boundless heart
Should one cherish all living beings;
Radiating kindness over the entire world:
Spreading upwards to the skies,
And downwards to the depths;
Outwards and unbounded,
Freed from hatred and ill-will.
Whether standing or walking, seated or lying down
Free from drowsiness,
One should sustain this recollection.
This is said to be the sublime abiding.
By not holding to fixed views,
The pure-hearted one, having clarity of vision,
Being freed from all sense desires,
Is not born again into this world.
…….
(Sn 1.8 PTS: Sn 143-152
translated from the Pali by
The Amaravati Sangha
© 2004
Alternate translations: Ñanamoli | Buddharakkhita | Piyadassi |Thanissaro )
---
For similar teachings from a Shambhala perspective, see Pema Chodron's book "Start Where You Are: A Guide to Compassionate Living." The book presents a contemporary version of the Tibetan Buddhist teaching on "lojong" or "mind training" which can help us create happiness and peace in our lives.
---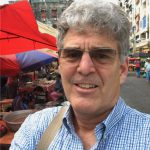 Larry Steele meditates at the Seattle Shambhala Center. He worked and traveled as an international business person and retired last year as a high school world history and business educator.
Post Tags:
compassion
,
kindness
,
lojong slogans
,
lovingkindness
,
metta