Wednesday
Opinion Pieces
Friendliness and Forgiveness 
Thoughts on loving-kindness and our ability to forgive 
by Elaine Yuen
This is what should be done by those who are skilled in seeking the good, having attained the way of peace:
They should be able, straightforward, and upright, easy to speak to, gentle, and not proud,
Content and easily supported, with few obligations and wants,
With senses calmed, prudent, modest, and without greed for other people's possessions.
They should not do anything base that the wise would reprove.
Many they be at their ease and secure — may all beings be happy.
Metta Sutta, Nalanda Translation Committee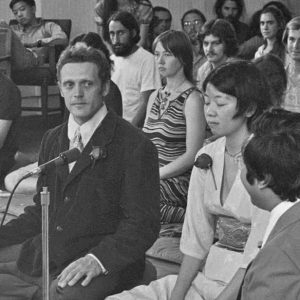 I'm cleaning up my shrine room/home office at the end of the 2018 spring semester at Naropa. I find an envelope labelled "For Elaine" in shaky handwriting; inside are five crisp one hundred dollar bills, wrapped in red tissue paper marked "for the bell." With this, I am reminded of how the arc of time allows practice, maitri, and forgiveness to intersect in one's life.
Recently, at a community gathering at the Boulder Shambhala Center, one of the elders of the community asked me, "So how's Herbert? Is he still alive?" Herbert Wickenheiser, for those of you who may not know, was my first husband. We were married by  Chögyam Trungpa Rinpoche in 1974. In the early and mid-1970s we were the caretakers of Karma Dzong on Pearl Street in Boulder. In that role, we were the service, shrine room, and maintenance staff. We lived in the center, and opened the door to greet community members as they arrived. We polished the shrine, created the undue schedule for nyinthun, made mahakala offerings, in addition to emptying the garbage, serving sake to Rinpoche, and cleaning up after receptions. When I enter the Boulder Shambhala Center main shrine room, I am still reminded that the double dorje adorning the throne was carved by Herbert in our hotel room during the 1974 Seminary.
Herbert and I moved to Karmê Chöling in 1977 with Gampo, our first son. We had our second child Aaron while we lived there, and subsequently moved to Philadelphia in 1980. While there, we were a tumultuous household, and in 1984, Herbert and I parted ways. I was never physically abused by Herbert, but those of you who knew him were acquainted with his sharp and sometimes hurtful tongue. The breaking point was when we had an argument, and I left with the boys to spend the night at a friend's house. Herbert, in his anger, broke the ghanta (bell) of my Vajrajana ritual implement set. After writing to Rinpoche, I received a note back that it was time for me and Herbert to separate.
I spent those decades in Philadelphia first as a single working mother, then partnered with Bob Haaz, my current husband. During that time, I accumulated advanced degrees, taught meditation and public health, and trained as a hospital chaplain. These aspects brought me back to Boulder many years later, to teach at Naropa University starting in 2012. Here at Naropa, we acknowledge that the ongoing work of genuine conversation must take into account collegiality as well as respect for difference. The role of maitri, friendliness — towards oneself as well as towards others — is key in making these gestures genuine, and not just politically correct politeness.
So it is with a penetrating and personal acknowledgement that I write now, as I've contemplated how I might forgive Herbert — and how he might make amends — for breaking that ghanta. Part of it was no response: giving space. Bob and I did not respond to the years of angry letters Herbert sent me. For a while I didn't even open them, but simply gave them to Bob, and he read them, not always sharing the contents with me. But now, over 30 years later, we've changed to be different people than we were then.
Herbert is now nearly 80, and has Parkinson's Disease. He lives in East Orange, Vermont, an hour's drive from our son Gampo, who lives in Montpelier. We last saw each other in 2016, at our son Aaron's wedding in New Hampshire where Herbert was welcomed as the father of the groom.
The $500 Herbert has sent me for the ghanta is a karmic gesture of his remorse, and I share his sadness. In doing so, I am softening the rigid wall that I held up for so long against his letters and phone calls. It is my acknowledgement that maitri is an ongoing practice: friendship towards myself, and therefore to him. It opens a tiny gap for space between us, and although I'm not sure what will enter into that uncertainty, I feel it has acknowledged our relationship: the pain, our children, the difficulty, and the accomplishments.
I am reminded of the Buddhist Dedication of Merit, in which we commit to the happiness of all beings. That seems to include everyone, even ex-spouses for whom anger is the go-to emotion. And we acknowledge that for us, in the human realm of samsara, we traverse the tumultuous waves of birth, old age, and death, with only the remnants of our aspirations and dedications to practice kindness for each other. We try as much as we can.
---
Editor's note: 1974 wedding photo by Hudson Shotwell; other photos by the author
---
Elaine Yuen is an Associate Professor at Naropa and an Upadyhaya (Buddhist minister) within Shambhala, as well as a member of the Diversity Working Group. 
Post Tags:
Family
,
forgiveness
,
kindness
,
lovingkindness
,
marriage