Friday
Opinion Pieces
Sit Here Now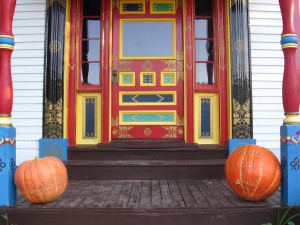 by Anne-Marie Keppel, Montpelier, Vermont
My ten-year-old daughter is trying to understand how her mind works. She is becoming curious of her frustrations and anxieties and becoming aware of how they sometimes take over and cause stress and unhappy feelings. Slowly and solidly, she is creating a world of beliefs that only she will be able to unravel and decipher.

I am 35 and am trying to understand how my mind works. Through motherhood I have been able to watch how belief systems are formed and often I wonder when looking at one of my children, "Hummm, did I create that stress in you or is that your own creation?" From there, we try to examine it as a family. I am fully prepared (not always joyful) to accept that I may have been the one who initiated the ball-rolling-process of doubt or fear. However, I am very thankful that my children and I are brave enough to examine the possible origin and look into fibers of the roots. We are so much happier because of it.
The first time I set foot on the Karme Choling property was nearly 20 years ago. But it wasn't until another 10 years later that I would make Shambhala a part of my life. One of the biggest gifts Karme Choling (and life) ever gave me was my position at the front desk. For better or worse, from klesha attack to numbed-out, while at the reception desk you are in the in the hub of all the action. For a couple of years I welcomed participants from first-timers to tantrikas and was witness to their entry onto the grounds and into the community and then waved them goodbye on their way out. Sometimes after a program there was such an immense difference in their attitude and energy that they actually looked like different people. But no matter what level of practice they had under their belt, there was nearly always a noticeably softened and strengthened… Je ne sais quoi.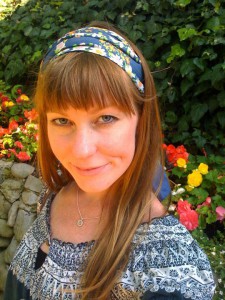 I worked through septic beliefs and behaviors while sussing out my mind and probing through my heart at Karme Choling. A lot of this work was done through the teachings of Dorje Kasung. But it was not until I left the working community that I understood that what I did or did not believe about my thoughts and actions was only half of the freedom elixir. I took to the streets as a kasung and eventually met and actively worked with my 80-year-old homeless friend Frank. Along with multiple bags of newspapers from years ago, and a sleeping bag hanging off of his walker, Frank also carried a catheter with him. I would keep him company on the city benches during the day and drive the streets on cold nights to see if I could locate him to make sure he was not freezing. It was through these conversations and encounters with Frank that my heart burst into a zillion tiny crystals of broken-love-exhaustion through which I found a greater joy. It turns out that a determined, strong and clear mind is not a thing without a broken-open heart.
I discovered the importance of service, of working for something bigger than myself, of mind/heart curiosity, and the desire to help others find the value in this exploration as well. I know that meditation is an important tool to begin this endless odyssey and I wish to share the possibility of a gentler way of life with others.
Imagine a community where our children, our elders, the wealthy, the homeless and all in between enjoyed the brave investigation of learning their mind. Imagine what our political system would look like if politicians delved into the origin of their fears and doubts and their desire for control, and began the removal of their heads from their arse! Imagine if mediation became such a hot topic that people were becoming realized right and left and it was making the evening news. Perhaps then the Sakyong's wish of meditation becoming "a new American past time" would come true.
Well, let's give it a whirl.
~~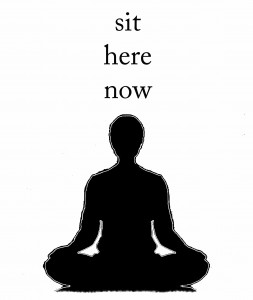 On Sunday September 30th on the State House lawn in Montpelier, Vermont there will be a sitting meditation assembly. The event called Sit Here Now is for the 10-year-olds who are trying to learn their minds, the 80-year-olds who are trying to recall their minds. It's for those who think they know their minds, and all who desire a wiser and kinder society. Regardless of religion, lineage, level, or particular style of practice this assembly's purpose is to make a gentle but powerful statement of interconnectedness and awakened mind on the Capitol lawn. It is to ask the world to awaken through meditation, to encourage a more compassionate and conscientious society for ourselves, our community, all living beings and the planet itself.
Thank you to my partner-in-basic-goodness, Pablo Coddou. Thanks also to Irini Rockwell and Kate Crisp who will hopefully attend Sit Here Now and whose work inspires me greatly.
For more information about Sit Here Now visit www.sitherenow.com or email [email protected]
Post Tags:
Family
,
Karme Choling
,
meditation