Thursday
Community Articles
Motorcycle Meditations
After 10 years of service Pam Linnell retires this year from Karmê Chöling Meditation Center. She also "retired" in 2015 from 42 years of riding a motorcycle: 20 years as a passenger on her husband's bike and 22 years of riding her own bike. 
interview by Cara Thornly
In this first installment of a two-part interview, Pam shares how she came to love motorcycle riding, and how it has informed her learning of meditation.
How were you first attracted to riding motorcycles?  When I got out of college in 1973, I moved to Rockford, Illinois. One evening I went to a local music venue, Charlotte's Web, to hear Martin Bogan and the Armstrongs, a great neighborhood blues group from Chicago. I was sitting at a back table and this guy walks in and "clunks"  his motorcycle helmet down on the table next to me – ka boom!
Later, when I was trying to light a cigarette but couldn't find my matches, I tried to use the table candle which I put out, spilling wax all over. He chuckled and tossed me a pack of matches, and we end up talking. Then he offered me a ride home. And he had this gorgeous emerald green motorcycle. And I still can't believe what I said when I saw it: Wow what a big bike!  But it was big – a big BMW. It wasn't little like the bikes people I knew rode. I just loved it.  I ended up loving him too and for the next 20 years we were together, we went everywhere on the bike.
Q. Where was "everywhere" ? Often, we rode after work on back roads that went from Rockford to a nearby state park.  On weekends we could ride 100 miles a day. It didn't matter where. Just riding was good. We also took camping trips. Our biggest one, from Rockford to Jasper and Banff in the Canadian Rockies, was a month long–wonderful.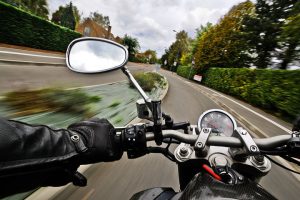 Q. So you were fine with riding as a passenger for 20 years?  Yes. It was great.  But there was this myth that I couldn't really do it myself somehow, which turned out to be wrong. Sometimes you just know that something suits you; that is something I can do, and vice versa.  I looked at people downhill skiing and knew that was not something I could do. I would have killed myself on those things, but I just knew I could ride a motorcycle. It's not a thing to do lightly. You have to pay attention. It has some risk with it, but I have always felt equal to the risk. I just loved doing it. And, if you get good training you know how to do it. So in my mid-forties, I decided to try it out. And it was like: oh yeah – riding as a passenger is good, but riding as a driver is better!
I will put in a pitch for the Motorcycle Safety Foundation classes. Every state has a land grant college that takes responsibility for the program, which is often run at local community colleges.
It begins Friday night with watching videos.  Then you get experience with a small bike. And, at the end of the weekend if all goes well, you have gained some street smarts; you know the basic maneuvers and you have your motorcycle license. The thing is, it was all familiar to me because Dave, my husband, who was my ex-husband at that point, was a good rider (sometimes going too fast for my taste, but a really good rider.) So what they taught was familiar. It was like, oh yeah, that's how Dave does it!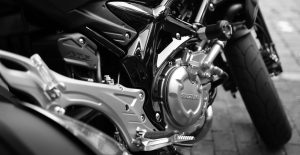 Q. Did you go right out and buy a bike? First I studied bike magazines. I had seen women riders on their tiptoes when they stopped, and I wanted my feet to be on the ground.  There were only a few affordable bikes (Kawasaki, Yamaha, Suzuki) that low to the ground. I bought a Suzuki model 650, which was called a "Savage."  I have ridden that model ever since because it just suits me, but now that same model is called a "Boulevard" — I think they are going for a different market at this point!
Q. How did your parents react? It's not like every daughter comes home in their mid-forties with a motorcycle. I lived just down the road from them when I first started riding by myself. We would always joke about my taking "Dave's Motorcycle Road Readiness Course" from my ex-husband. He was helping me transition from the class to riding. I'd ride behind him or in front of him, and we'd  discuss handling this or that. Once we were riding, a little faster than I was comfortable, on a road that kind of sloped down and had an S curve.
I had moved over to the right side of the road to avoid a dead animal. When I got around it, there was gravel–and gravel really scared me.  I just froze. All I had to do was roll on the throttle and go through the curve but when fear took over, I hesitated, and the bike headed across the road. I thought: OMG I am straddling a rocket and heading for a cornfield! I should not be here! Then I thought: Well, okay I am here. What do I do?  Hold the handle steady, slow down. Afterwards, the police told me I rode the length of a football field down the ditch beside the cornfield, before I lost it.  The front wheel went into a hole and the rest of the bike twisted and catapulted me into the field. I broke my wrist.  Dave was ahead of me when this happened, and he couldn't find me right away. He said his main thought was, "What am I going to tell her mother?"
So when we get to the hospital I am lying there with my feet toward the doorway of the room, and suddenly my parents are in that doorway. And in a true, old- fashioned way, what they did not say was: "Sooo you are going to be riding your bike again…aren't you?" And what I did not say was "Yes, I am." And we had this little look between us, me and my parents. And they never said anything. It took the wrist a while to heal, and the next season I could hardly wait to be back on the bike.
For me the lesson I learned from that accident was "ride your own ride"!
Q.  What does that mean? Ride your own ride means that if someone else is riding faster than I am comfortable with–I just say bye-bye!  I'm riding what feels good–right for me. So I never rode the bike when I didn't feel I was 100% there. I would never drink and ride the bike. I was always careful, which included watching and anticipating the actions of other persons on the road. You just have to be alert.
I remember once riding in the rain, when someone in front of me stopped suddenly.  I had to stop quickly and I fishtailed. I have a tendency which actually serves me pretty well when I am riding, which is to momentarily hold or wait before doing anything. And in that moment of waiting, the bike righted itself. My husband always used to say "The bike really doesn't want to fall over. Just don't get in its way."  And I found that to be so. You have a relationship with the bike.
Sometimes I think about the Sakyong describing his relationship with his horse, Rocky, in Chapter 1 of Turning The Mind Into An Ally. The bike is not alive, of course, but it is being acted on by forces and you need those forces in the riding, and that relationship is part of what is so pleasurable about riding.  I am sure the forces must have something to do with physics, but not knowing much about it, I don't know the language to use. But speed and leaning has a lot to do with how stable it is.  If you are going too slow or too fast the bike is not as stable.
Q. When you began riding your own bike where did you go?  I rode it in the Rockford area: to work, back from work, after work, on the weekends. Then I took a couple of trips to Cape Cod, and to Alexandria, NY for family reunions. For one reunion, because I didn't have enough time to ride the bike both ways of the trip, my lovely parents rented a U Haul and we towed the bike there, and I rode it back
Q. So your parents always supported you? They did – bless their hearts!  They understood how much I loved riding the bike.
Next time, we explore why Pam recently stopped riding motorcycles, and ask about her experience of being at Karmê Chöling, holding the post of Chagdzo.
---

Cara Thornley has been a resident of St. Johnsbury, Vermont since 2010 and previously lived in Barnet where she was employed by Karmê Chöling Meditation Center. Cara served as Director of the Atlanta Shambhala Center during the planning and building of the new meditation hall. She has been practicing meditation since 1978.
Post Tags:
Karme Choling
,
meditation
,
motorcyles
,
retirement