Saturday
Community Articles
More Motorcyle Meditations
Pam Linnell, who retires this year from Karmê Chöling, shares a few thoughts about the connection between motorcycle riding and meditation, and her service as Chagdzo at KCL.
interview by Cara Thornley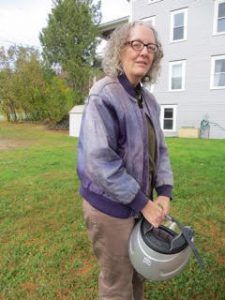 Q. Did you have something you would describe as "The Most Memorable Bike Ride" you have ever taken?  When I read The Perfect Vehicle, a bike book written by a woman, I started thinking about the "perfect" ride. And I realized every ride is the perfect ride. I guess I never met a road I didn't like – well maybe gravel, but I even started making friends with that.  So there were many "memorable" rides. Once Dave and I went onto this expressway ramp. Ramps are all banked in different ways: some are tighter and some are more relaxed. This one was just perfect, not too tight and not too loose. Dave hit that angle through the curve perfectly and there was this moment of suspension going around that curve that lasted forever and ever and then shoooo. Everything was just in the right relationship for that moment of suspension to happen.
When I was working in Chicago, there was often a ride I did for pleasure at night after really hot days.  About 10:00 p.m. the city traffic drops off, and I would ride out east toward the lake, past Wrigley Field to Lakeshore Drive, which has no traffic lights on it. It's not fast; there's a 45mph speed limit, but there are several miles of road with no stopping.  You could ride with the dark lake on one side, except for when there was a big old moon, and on the other side were the towers with all their lights. When I was ready to go home, I got on I-90 where I could go faster. At my turn-off, I went past the Korean bakery/grocery store which had all these interesting smells. It was a cooling and beautiful ride!
A lovely little ride near Karmê Chöling is Route 5 between St. Johnsbury and Barnet – nice curves, ups and downs and swoops.  It's about 10 minutes one way so you can do a 20-minute drive after lunch. I'd take the "long way" to my Church Street office from them main house – riding to "St J." and back. Actually, going up the Karme Choling driveway can be pretty memorable: getting over the lip of the hill, stopping before you're on the main road, and not sliding on the large rocks.
Q. When did you start to meditate?  In June of 2000, five years after I began riding my own motorcycle, I was dreaming of taking a year off to ride around the country. I thought I might want some places I could stay briefly in exchange for work, and in searching the Internet I came across Shambhala Mountain Center. It sounded great. Their website recommended having some experience meditating before volunteering, so I looked to see if there was a Shambhala Center in Chicago and found a Shambhala Training Level One offered that very weekend. Auspicious! I had always had an interest in meditating, so I thought I would give it a try. I didn't take that ride around the country after all, but flash forward 17 years, and I'm still meditating.
Q. Could you connect your experience of riding the bike with meditation?  I always used it as a point of reference when I was learning to meditate and not sure what it was all about.  I would hear "good head and shoulders" and think: that's how Dave looks when he sits on his bike. That is how I feel when I sit on my bike. That's what good head and shoulders is. And when 360 degree awareness was taught, I knew what that meant. Yes! It's like every pore is taking in information, paying attention, alert.  There is so much about simple presence and celebration, too, which I could always use as a way in, if I got lost in my thoughts while meditating.
Q. Could you say more about that?  Part of it is about knowing what to do. Once I was riding down the expressway in Chicago, where I usually stay in the right hand lane. I had to move to the left for some reason, and so I am in the center lane, and this car starts moving over into the center lane because I am in his blind spot. He doesn't see me, and he is going to clip me.  Just like that (Pam snaps her fingers) I honk, I move my bike over, but not into another lane – I stay where I am supposed to be, and I yell, and he hears me; he sees me; and he pulls back.  And it's like I didn't think about what to do. "What to do" just came out of me, without any hesitation.
Q. It's confidence, isn't it?  It is. It is not arrogance. It's just confidence – presence.
Q. Can you talk more about the "feeling of riding" which helped connect you with meditating?  It's about sensory appreciation.  The feeling of being outside.  The feeling of riding in the wind. The way the road feels: the texture of it, the angle of it. Going down into the low spots where it is cool and then up into the high spots where it is warm. The flash of flowers growing by the roadside.
Q. Why did you stop riding your bike when it clearly gave you so much pleasure?  Things started to shift in the summer of 2015 when I was returning to Karmê Chöling from a motorcycle trip through Vermont.  My experience began changing from being right there – present – to a feeling of tentativeness, hesitation, being a little out of the zone and back a little bit, watching. I ended up doing the last 3 days of that trip in 50 mile chunks because I felt that was enough riding for one day. I thought: I got through that safely, let's call it quits. Totally different! I had not ever felt that way before. I rode the bike back to Karmê Chöling, got off and didn't ride it again the rest of that season. The usual "gotta be on the bike" wasn't there anymore. I thought I would see if that were true in the season of 2016, and it was.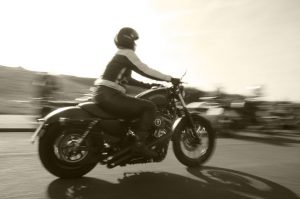 Q. How's "not riding" been for you? It's fine, just fine. It was time to stop riding because I know it's not safe to keep riding if I can't be right there. I can't be holding back. What I do miss is the cool factor. You are among the coolest creatures on God's green earth when you ride the motorcycle. It's just the truth. So it's hard to give up being cool.  I have a lot of memories, and the memories are very much about body – the body component of how it feels to be riding. So I am content that I have those memories. And if I need a dose of cool, I can carry my helmet and walk to the grocery store – that will be pretty good! (Laughter)
Q. How has living at Karmê Chöling been for you? It's been the best years of my life.  I had an intuition that I was going to work there. On my office wall at Performing Arts Chicago, I had that beautiful fall photograph of Karmê Chöling. I felt like the line from one of Marpa's dohas in The Rain of Blessings where he writes about going to India even at the cost of his life. I knew with that kind of certainty that I was going to Karmê Chöling. In retrospect, I think living at Karmê Chöling was what I was looking for in the arts.  In Chicago I had made a career out of working for non-profit theatres in financial difficulty. I was interested in a particular kind of performance that used presence and improvisation, which is like living. So being at Karmê Chöling has been everything: frustrating, annoying but largely just joyful. The lifestyle suits me. The work makes me feel like I am doing something of benefit and something that serves me well. It's been great!
Q. Can you comment on the work you do at KCL?  I was hired to be the Finance Director. A few years into my "tour of duty" I was appointed to the post of Chagdzo. I took an oath to be sane about money and to propagate generosity. (It was initially said the Chagdzo did not have to be the hands-on finance person, but I think it's become that in most city and land centers.) I heard Michael Greenleaf, the Wealth Acharya, give a talk about Dharma and Money. I remember he started out by saying "Live Within Your Means." It is that simple, but how do you properly realize the aspiration to do that? I understand the Chagdzo as guarding "living within our means" and also "speaking to realizing aspirations" which is more nuanced, because Shambhala is more than a conventional organization. We also can work with auspiciousness.
If we are paying attention, and it's the right time to do something, somehow the way begins to open and things are possible. For example, you have a little bit of cash reserve built up and it feels so good to have that reserve. Then you use it, and it's not there anymore, but it was there when you needed it!  It's an experience of "just enough."  There can always be more, but there's a certain kind of paying attention that makes things possible.  Living in the challenge! This is a big part of my experience of holding the post of Chagdzo.
Q. Sounds like there were similarities between your work and your riding.  My own story is so entwined with the motorcycle, because it has been such a source of pleasure – such a big part of my life.  As I mentioned, I have a lot of body memories from riding, and they can always come back to me. I am riding down the road of life and I am 'fishtailing.' Okay! Just hold, let the bike right itself and come back into harmony with it. Whether you are 'fishtailing' on the bike or 'fishtailing' at work, the felt experience is the same.  It is being present basically, on the spot, and paying attention so whatever occurs, so you are able to meet it.
Q. Do you have plans for your retirement? I plan to make a good transition from Karme Choling, and then be open to what might arise.  I know I will be staying in the area, volunteering at Karmê Chöling and the St. Johnsbury Shambhala Center.
---

Cara Thornley has been a resident of St. Johnsbury, Vermont since 2010 and previously lived in Barnet where she was employed by Karmê Chöling Meditation Center. Cara served as Director of the Atlanta Shambhala Center during the planning and building of the new meditation hall. She has been practicing meditation since 1978.
Post Tags:
body
,
Karme Choling
,
meditation
,
Mindful Awareness