Friday
Shambhala News Service, World, other
Earth Mouse | Year in Review
A year of pageantry and proclamation, celebration of the feminine principle, and renewed aspirations for peace. In the Earth Mouse (2008–9), the Shambhala mandala had plenty to celebrate with the enthronement of the Sakyong Wangmo; the first visit of His Holiness the Seventeenth Karmapa to America; the Speech Empowerment of the Great Stupa of Dharmakaya; the Gesar Festival at Dechen Choling; the 30th Anniversary of Magyal Pomra Encampment and more. In June, Sakyong Mipham Rinpoche proclaimed that the time is ripe to further unfurl the terma of the Vidyadhara, Chogyam Trungpa Rinpoche, and to train students for the Scorpion Seal Retreat through a series of programs to commence this summer.
The year also witnessed challenges on a global scale with Tibetans rallying for freedom and a worldwide economic crisis. In these troubled times, Sakyong Mipham Rinpoche reached out to the public at large in his Compassionate Leadership Tour with Queen Noor of Jordan and Rabbi Irwin Kula. Additionally, the Viva Peace website launched as a place to share ideas and videos on living peace; a Peace Day Trail Race took place at Shambhala Mountain Center to raise money for education projects in Tibet; and Shambhala inaugurated a Zone of Peace during election night in Washington DC and other cities in the United States.
The year ended with celebration in Orissa, India where His Eminence Namkha Drimed Rinpoche bestowed the Rinchen Terdzo. Here are highlights from the Year of the Earth Mouse: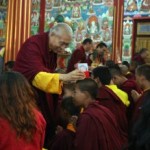 Rinchen Terdzo in Orissa, India
His Eminence Namkha Drimed Rinpoche bestowed the Rinchen Terdzo on Sakyong Mipham Rinpoche, Khandro Tseyang and members of the Ripa Ladrang and Shambhala sangha over the course of three months from December 2008 to February 2009. Read Walker Blaine's blog about the Rinchen Terdzo.
.
.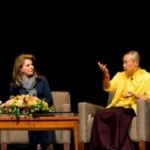 Compassionate Leadership Tour
In September 2008, Queen Noor of Jordan, Sakyong Mipham Rinpoche and Rabbi Irwin Kula came together at Goldman Sachs, NYU and Tufts University to discuss compassionate leadership. Read article about the tour on SunSpace, the new Shambhala Sun blog, or watch a video on the Viva Peace website, launched in conjunction with the Compassionate Leadership tour.


Sakyong Wangmo Empowerment in Halifax
Khandro Tseyang and Lady Diana Mukpo were installed as the Sakyong Wangmo and Druk Sakyong Wangmo of Shambhala in dignified and joyful ceremonies conducted in Halifax in mid-August of 2008. See photo essay by Marvin Moore at Chronicles Project.
.
.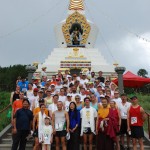 Peace Day at Shambhala Mountain Center
Two events were held on Peace Day at Shambhala Mountain Center on July 20: the first annual Shambhala Peace Day Trail Race and the Speech Empowerment of The Great Stupa of Dharmakaya. See photo essay on shambhala.org.
.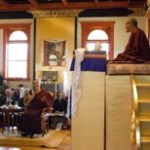 Seventeenth Karmapa Visit to America
The Shambhala Mandala welcomed His Holiness the Seventeenth Gyalwang Karmapa, Orgyen Trinley Dorje on his historic first visit to North America, May 15 to June 1, 2008. Formal tea and rice ceremonies were held when His Holiness arrived in New York City and again in Boulder, Colorado where Sakyong Mipham Rinpoche formally greeted His Holiness. See photo essay on shambhala.org.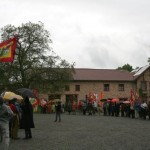 Gesar Festival at Dechen Choling
A landmark event at Dechen Choling with teachings on the life of Gesar of Ling, the great warrior-king of Tibet and ancestral sovereign of Shambhala, by His Eminence Namkha Drimed Rinpoche, Sakyong Mipham Rinpoche, and Gyetrul Jigme Rinpoche. See video and photos from the Gesar Festival at Dechen Choling's website.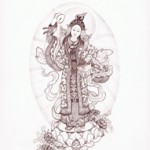 Yeshe Tsogyal Banner
Sakyong Mipham Rinpoche requested a new banner for shrine rooms in centers throughout the international mandala. Designed by Cynthia Moku, this banner depicts Yeshe Tsogyal, the mother of Tibetan Buddhism, and renowned symbol of the feminine principle. Read more on the Shambhala Europe Newsletter.
Post Tags:
year in review