Saturday
Featured Stories, Pacific Northwest
Sharing Insight and Aspirations
On the last Saturday in September 2008, almost sixty people from two countries met to discuss working together regionally, to support each other and to share insights and aspirations. All attendees actively keep their centers functioning and happy, from the holders of big vision to the people who pay the bills or find staff for a program. Richard Reoch, president of Shambhala, inaugurated our event by offering a vast yet earthy perspective of what we could achieve. After first leading us in a contemplation of the Six Ways of Ruling, he reminded us that trust is the key to working together.
And trust blossomed. In the morning, groups met based on people's roles and then representatives reported back to the full assembly, sharing their group's insights on current happenings and potential for the future. In the afternoon the focus changed, and people met in small groups based on their interests: event planning, schedule coordination between centers, cultivating sangha, genuine leadership, social action, and envisioning a land center for the region.
This process helped us realize that the Northwest, an area stretching from Alaska and Yellowknife in the north to Oregon in the south, is also a region. This understanding has freed centers to think not just big, but with big heart. Issues of helping out smaller centers, of centralizing monthly donations based on the European model, of sharing the costs of teacher visits, and much more became simplified and made elegant by the idea that we are all able to work together when we combine our efforts and align ourselves with the center of our mandala: our Sakyong and his vision of a world based on enlightened principles.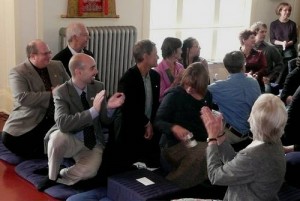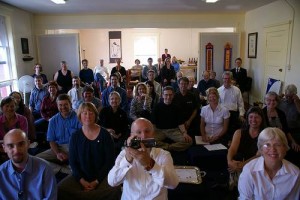 The day concluded with ten people from various centers taking vows with President Reoch. The atmosphere of heart in the room was palpable, and few eyes stayed dry.
At the end of the conference, people were so eager to stay connected and to share with their local sanghas that plans began immediately for follow-up discussions within each center as well as between center leaders.
Post Tags:
governance
,
leadership
,
regional
,
Richard Reoch
,
Six Ways of Ruling