Sunday
International Programs
Sun Camp: When You Lose Your Mind, Come Back!
Sun Camp was the most important part of my life as a young adult. It felt as though I did all of my growing up during two short weeks in August, and then spent the rest of the year processing. I was obsessed with camp. I thought about it all the time, I wore the t-shirts all year round and practiced drill with my friends after school. When I went back to staff Sun Camp three years ago, I noticed that everyone there had the same basic relationship to the program. It was the jewel of their year.
Sun Camp was established as a way to transmit the Shambhala vision to young people. Initially, there was a lot of discussion about filling up the camp's curriculum. There were proposals for a sort of dharma arts camp and various other themes, but what we've ended up with is extremely simple.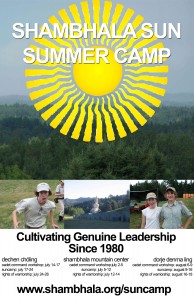 Participants arrive at a blank field and build a container for themselves. They put up their tents, raise the flagpoles and dig firepits. The camp itself is basically an exercise in relating to the space that they have set up and to each other. Campers meditate, prepare meals, maintain the camp and synchronize their body with their mind through drill and skirmish practice.
Relative to the life of a 21st century teenager, Sun Camp doesn't have a lot of entertainment. The question is: Why do all of these children and young adults give up their iPods and cell phones, go work and practice in the woods for two weeks and reliably have the time of their lives?
The answer, I think, is that Sun Camp is a genuine practice program which is truly theirs. There's a story that's told about the first Sun Camp in Colorado. A small group of teenagers arrived at the empty Kasung grounds at Shambhala Mountain Center, and Will Ryken gathered them together and said, "Alright, lets put up the tents, and dig the firepits and cook dinner." The teenagers, being teenagers, gave him a snarky look and said, "What? We're not going to do that. That sounds like a lot of work!" To which Will responded, "Well, we need you to. There's no one else." The group then realized that if they didn't create the space and fill it, nothing would happen. There wouldn't be a camp. Like hundreds of Sun Campers since, they cheerfully began to help out.
This is the fundamental appeal of Sun Camp: as a young person you are needed there. There are many times in a child's life when their parents ask them to take on some responsibility, but they don't often really need them too. They don't often trust their children to grow up and connect with themselves and their world; there's always a fallback plan. After staffing camp, you realize that that sort of fallback plan doesn't exist there.
The magic of camp belongs to the participants. The staff can, of course, provide food and shelter. But if the campers don't connect to the practice, if they don't exert themselves and take care of one another, the magic of camp won't arise. The camp will be an empty vessel. Every year, the staff stages these camps, and every year we gamble that 10- to 16-year olds will come there and really practice, really connect with their basic goodness and build something marvelous. And we always win.
Sun Camp takes place this year in three locations:
Shambhala Mountain Center, July 2-14
Dechen Choling, July 14-26
Dorje Denma Ling, August 6-18
For more information, visit shambhala.org/suncamp
Post Tags:
Children
,
spring equinox
,
youth