Tuesday
Eastern, SE Europe, International Programs
Family Programs in Prague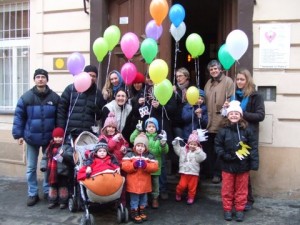 For the original Czech article, click here.
Prague is a pretty new Shambhala center with quite many young people. Lots of them have little children now and it has changed the energy of the center a lot. We are now focusing on offering programmes for families and trying to include children in the sangha.
Thanks to our sangha member, Alice Buehler, we brought a special children´s programme to the schedule of the center to support the families. We also offer babysitting for some Shambhala levels and other programmes, and a summer retreat with a family program.
Everything started four years ago when Kerry MacLean taught our first ever weekend programme for children and parents. This was a wonderful occasion to learn how children may be equal sangha members and not only someone who disturbs the practice. It helped us to realise that they are the future of everything what we are trying to build.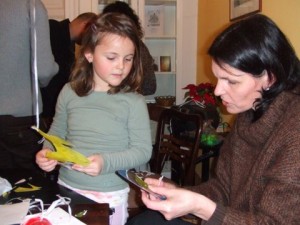 Since that time we have had two other weekend programmes with Sophie Maclaren (Kerry's daughter and Families and Youth Coordinator for Shambhala Europe) and many weekends which we organised by ourselves. We try to keep kind of rhythm – once every 2 months, on the weekend with a Nyinthun.
In the winter, we started to organise the Children's day before Christmas and it slowly becomes a nice tradition now. A very nice summer tradition, is also to invite children and their parents for longer summer programmes which we usually organise somewhere in the Czech mountains.
The first one was in 2006, where it was a side part of the Sutrayana and Vajrayana group. Second one was last summer where children and parents had, for first time, their own shrine room and programme specially made for them!  Since the other group practiced Kyudo there, children also had the possibility to make their own bow and try shooting.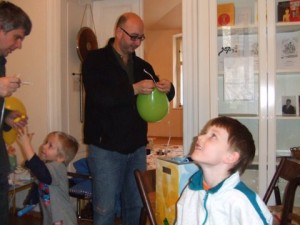 For this summer we are also planning a family programme, it will be the same place – Krkonose mountains from 24th of July till 1st of August and we are very happy that Sophie Maclaren will find a few days in her very tight schedule and will come to help us and teach. We would also like to invite everyone who is interested to join us and taste the Czech atmosphere- parents with children, future parents, and anyone interested in working with children.
We would like to share with you a short movie and photos from this January when Sophie taught her second programme here. We had  9 parents and 9 children in age  from 15 months till 9 years. We did a wonderful practice of sending balloons into the sky with calligraphy wishes we wrote for unknown people in the world to find. The creativity of the children- and also parents, was amazing and we had lots of fun – and also tears- from letting them go. Not always easy!
For more information please contact [email protected]
[kml_flashembed movie="http://www.youtube.com/v/C7xWfKb2_h8" width="425" height="350" wmode="transparent" /]
Post Tags:
Children
,
Czech
,
Family