Tuesday
International Programs, World, other
Detska sangha v Praze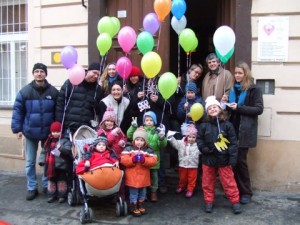 Anglicky preklad – kliknete zde.
Praha je pomerne nove Shambhala centrum s velkym poctem mladych lidi. Mnoho z nich ma male deti a to velmi promenilo energii celeho centra. Zamerujeme se vic na nabizeni programu pro rodiny a snazime se zahrnout deti do cele sanghy. Diky Alici Buehler, clence nasi prazske sanghy, jsme pro podporu rodin vytvorili specalni detske programy do celkoveho programu centra. Pro nektere Shambhala stupne a dalsi programy nabizime take hlidani deti, poradame i letni retreat s rodinnym programem.
Vse zacalo pred 4 lety kdy Kerry MacLean ucila nas vubec prvni vikendovy program pro deti a rodice. Byla to uzasna prilezitost se ucit, jak mohou byt deti rovnocennymi cleny sanghy a ne jen nekym, kdo vyrusuje z praktikovani. Pomohlo nam to uvedomit si, ze oni jsou budoucnosti vseho, co se snazime vytvorit.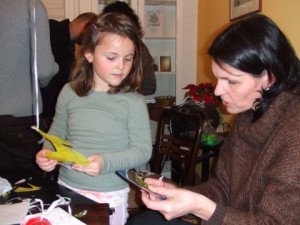 Od te doby jsme meli dalsi dva vikendove programy se Sophii Maclaren ( dcerou Kerry a koordinatorkou pro rodiny a mladez pri Shambhala Europe)  a mnoho dalsich vikendu bez ucitelu. Snazime se udrzet urcity rytmus – zhruba jednou za 2 mesice, stejny vikend jako je nyinthun.
V zime pred vanocemi jsme take zacali organizovat Detsky den a ten se jiz pomalu zacina stavat hezkou tradici. Dalsi, pro zmenu letni, hezkou tradici je pozvani rodicu a deti na delsi letni programy, ktere obycejne poradame nekde v ceskych horach. Prvni byl v roce 2006, kde byl jakousi vedlejsi soucasti sutraynoveho a vajrayanoveho programu. Druhy byl lonske leto, kdy rodice a deti meli poprve svuj vlastni meditacni prostor a program specilene vytvoreny jen pro ne! Druha skupina praktikovala ve stejnou dobu Kyudo, proto si deti meli moznost vyrobit vlastni luk a vyzkouset si strileni.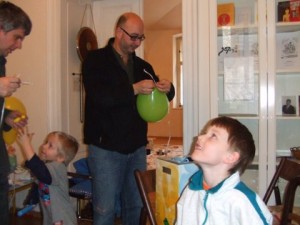 I na tento rok planujeme Rodinny program, ktery se bude konat na stejnem miste  – v Krkonosich a to od 24.cervence do 1.srpna. Jsme velmi poteseni, ze Sophie Maclaren nasla par dni ve svem velmi nabitem programu a prijede nam pomoci a vyucovat.
Radi bychom pozvali kazdeho, kdo chce ochutnat ceskou atmosferu – rodice s detmi, budouci rodice a kazdeho, koho zajima prace s detmi.
Radi bychom se s vami take podelili o kratky film a fotky z tohoto ledna, kdy zde Sophie ucila svuj druhy program. Seslo se 9 rodicu a 9 deti ve veku od 15ti mesicu do 9ti roku. Delali jsme uzasnou praxi posilani balonku do sveta s kaligrafii a pranim napsanym pro nekoho neznameho, kdo ho najde. Kreativita deti – ale i rodicu, byla uzasna a byla to nejen velka legrace, ale i mnoho slzi z toho nechat je jit. Neni to vzdy snadne!
Pro vice informaci prosim kontaktujte [email protected]
[kml_flashembed movie="http://www.youtube.com/v/C7xWfKb2_h8" width="425" height="350" wmode="transparent" /]
Post Tags:
Children
,
Czech
,
Family