Wednesday
Community Articles, International Programs, World, other
Doing Ngondro in Bodhgaya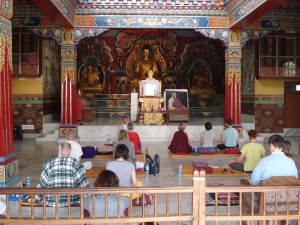 Kurt Hofstetter, a member of the Shambhala Centre in Vienna, describes a recent group ngondro retreat in Bodhgaya and shares a gallery of vivid photographs from the experience.
During Vajrayana Seminary in 2009, the Sakyong mentioned that doing prostrations in Bodhgaya would be very special and precious. He effectively planted a seed in some of the participants that would ripen later in France, and grow into a complete ngondro group retreat in Bodhgaya. In early November of 2010, five brave practitioners from Paris and Besancon went to India to pave the way for another 23 tantrikas to follow from France, Germany, Austria, the Netherlands, Switzerland, Spain, the UK, Poland, Slovakia, Canada, Mexico, and the United States. Amongst them was Acharya Barbara Martens, who was courageous enough to accept our invitation to lead this retreat, enduring challenging circumstances and the effects of entering India for the first time. Which was the case for most of the group.
A few months earlier, Jo Francis from Dechen Choling lion-heartedly started to plan and organize the journey for everybody: from our arrival at the Tibetan refugees colony in New Delhi (called Majnu Ka Tilla), to the overnight train ride to Gaya, to securing our housing in the middle of a small settlement near Bodhgaya. She even arranged for the pilgrimage bus tours.
Due to this expression of perfect preparation by the French group, we could all enjoy practicing–not only at the Mahabodhi temple and in the shade of the bodhi tree, where the Buddha was enlightened– but also in the most beautiful Shechen monastery of Dilgo Khyentse.
When we were still at home and thinking of the upcoming retreat, we might have associated some conditions with it like peacefulness, silence, insight, etc. But once the retreat had begun, we had to add permanent construction noise, extreme air pollution, loudspeakers broadcasting from roofs (even in the Mahabodhi temple), and becoming an attraction on many tourists' sightseeing agendas as they sought impressions of the Shechen monastery. In the midst of all this mess, we found an intense, open hearted, and devotional practice situation amidst bunch of Shambhalians who easily became friends while doing both Rigden and Kagyu ngondro as a group. Living outside of the center as we did, among the local people, was not always easy in terms of logistics. But it brought us in contact with everyday life in India, and also with the friendliness, hospitality, and cheerfulness of the people living there.
To enrich our pilgrimage we visited the Mahakala caves in an area near Bodhgaya where the Sakyong was born, the remains of Nalanda university, and Vulture Peak Mountain were we chanted the Heart Sutra 21 times. One of the highlights was a short group interview with HH the Gyalwang Karmapa, Ogyen Trinley Dorje, which was followed by three days of teachings as more than 5,000 participants gathered for the 900-year commemoration of Tusum Khyenpa.
Click on the photographs below to enlarge them and read what they capture.
Post Tags:
Bodhgaya
,
Kagyu Ngondro
,
karmapa
,
ngondro
,
Rigden Ngondro