Thursday
Community Articles, World, other
Shambhalian Leads Others to Kagyu Monlam
"What was your most profound moment of the trip?" I ask Laura over margaritas in Los Angeles a few days after she gets back from India.
She pauses a moment, looks down at the table, a flash of emotion crossing her face.
Laura Durand describes to me how she stood in a small private sitting room, knees aquiver, in front of His Holiness the Seventeenth Gyalwang Karmapa, relying on the buoyancy of centuries of tradition to hold her up. A group of four practitioners nominated her to be their spokesperson, to formally and humbly request that the Karmapa accept them as his students.
"I'll try," the Karmapa answered in English, and flashed his already-famous grin.
"I'll never forget it," she says, going on to describe the Karmapa's palpable strength and power coupled with what she calls a "complete openness and softness."
Laura is one of those rare creatures for whom ordering wine in a fine restaurant comes just as naturally as riding in third class on a train through the Indian countryside with her suitcase shackled to her leg. She is a businesswoman, entrepreneur, dedicated Buddhist practitioner and the consummate adventurer. She has traveled extensively for more than 20 years. She worked as a hairdresser in New York City and San Francisco, fully immersed in an urban lifestyle while her meditation practice and involvement in her Tibetan Buddhist sangha quietly grew to take up more and more of her time, energy and heart. She volunteered tirelessly for Shambhala, Nitartha and Tergar institutes and became one of the most sought-after coordinators of events due to her devotion and tremendous work ethic. When I met her she was doing her part in the massive effort to facilitate the Karmapa's visit to the U.S. and working for a Boulder businessman who was so impressed with her that he offered to invest in a business–any business she wanted to start–because he had so much faith in her ability to succeed.
As tempting as this offer was, Laura was feeling a strong sense that she needed to put every aspect of her life in alignment with the dharma, and felt that her decades of wanderlust could benefit others. She wanted to go back to India for the Kagyu Monlam and decided that she would make her vast experience as a traveler in the East available to fellow practitioners and organize a trip for a small group to attend this festival in Bodhgaya. Her organization opened the door for 26 practitioners–none of whom had ever been to India–to arrive in Delhi last January for the ultimate pilgrimage. She shepherded the group from Delhi to Bodhgaya and back, with side trips to Sarnath and Varanasi, and provided them with the opportunity to meet some of the most revered and profound teachers of the Kagyu lineage. She arranged personal interviews with Thrangu Rinpoche, Mingyur Rinpoche, Jamgon Kongtrul Rinpoche, Kalu Rinpoche, Gyaltsab Rinpoche and the Karmapa.
Participants from Laura's group blogged about the fun, the fear and the "complete and total awe." The opportunities to volunteer with the Karmapa's sister to feed beggars, to meet a man who had built a tiny school with a dirt floor for the impoverished children who live in the vicinity of Tergar Monastery, and to practice under the Bodhi tree with the Karmapa for world peace created a deep feeling of gratitude within the group, and a desire to help. Comments on the blog for the trip are replete with the words "blessed", "lucky" and "life-changing."
Of course, the trip was not without its trials and tribulations. The richness and utter destitution of India provided plenty of opportunity for accumulation of merit and for purification of negative karma. There was illness, a 20-hour train delay with the inevitable readjustments for this group of first-timers to somehow digest this monumental experience, the beauty and horror–the bald intensity of life and death in every breath.
Struggles aside, Laura Durand feels deeply blessed and filled with enthusiasm for the future. Her vision has only been expanded by this experience. Not only is she planning more trips but she also envisions a database with resources, connections and logistical information for those who want to plan their own retreats in Asia.
"I want to do more," she says. "I want to help people to experience the all-pervading devotion that surrounds Buddhism in the East. I want to help fulfill their dreams to travel to India, to do pilgrimage in a group or as a solitary retreat in India or Nepal, and I want to make it affordable. Monlam Journeys will take care of everything. They just have to get on the plane." She sits back in her chair, the busy L.A. street reflected in her sunglasses. "It feels right," she says. "I guess maybe it is my karma."
Laura is currently organizing two upcoming trips to India–a late October trip to Northern India, incorporating many days of solitary retreat for a small intimate group, giving each person a taste of retreat in various places so that they will be able to plan a longer retreat on their own for the future, and a second trip to Bodhgaya and the Kagyu Monlam in December.
For more information about Monlam Journeys, please visit www.monlamjourneys.com
For more information about the Kagyu Monalam, please visit http://www.kagyumonlam.org/
All photos by Laura Durand unless otherwise noted.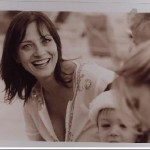 Alison Campbell lives in Los Angeles with two dachshunds. She is a recent graduate of Naropa University and a Vajrayana practitioner in the Shambhala Buddhist tradition. She is currently working on a novel, in addition to her non-fiction projects.
Post Tags:
India
,
Kagyu
,
Kagyu Monlam