Friday
International Programs
Being Brave: families on retreat with Sakyong Mipham Rinpoche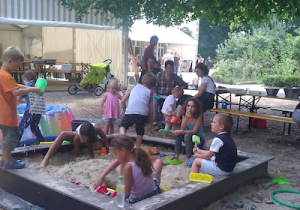 by Liesbeth Scholten
Last week at Dechen Choling, the "Being Brave, Transforming Your World" retreat took place with Sakyong Mipham Rinpoche and Acharya Adam Lobel. It was very well attended. There were more people on the land of great bliss than ever before. Among them were 17 children coming from Austria, Czech Republic, the Netherlands, France, Spain, Canada and the UK with their parents, having the time of their lives.
The 'Families Track' prepared by the European Family Working Group worked out really well. The children could attend the Aloka children's program offered by Dechen Choling and had lots of space to run around and play.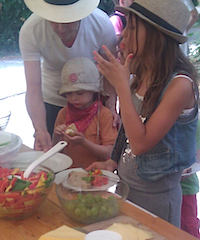 The parents organized a family rota system for cooking child-friendly food in a separate small kitchen, which had the pleasant side effect of taking pressure off of the main kitchen. And a pleasant main effect as well: every child actually ate at every meal. With no quarrels about food whatsoever!
Parents also helped each other looking after the children outside the regular Aloka childcare times. Shastri Beate Kirchhof-Schlage led a 'Parenting as Path' discussion group one evening. This event was open for all participants interested in parenting or bringing up children. In a lively discussion we explored many ways in which the teachings on basic goodness and enlightened society are related to parenting.
What was very special for all families was that the children were able to attend most of the talks by Sakyong Mipham Rinpoche, together with their parents in the main shrine tent. Far from being disturbed, many participants really enjoyed the communal feeling the children brought to the retreat.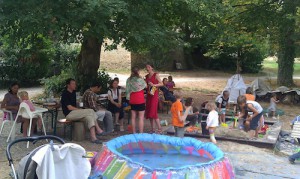 The Sakyong also met with the children and their parents and gave a children's blessing. Enlightened society no longer felt far away. Families enjoyed the retreat together and helped each other with kindness and practical insight.
Here is some of the feedback parents gave on the last day, translated to English:
"I appreciate very much that my daughter could be here with me. Without her I have more space for my practice, but with her everything is more intense. For my daughter the biggest experience was to see the real Sakyong!" (Dagmar, from Czech Republic)
"I was really touched by the generosity of parents and the straightforwardness of the relations we had." (Henri, from France)
"Joy! Being together with other parents and children. I feel gratitude for so much care; creating more space for the children, arranging our own food situation and last but not least to have a professional childcare person in charge." (Hans, from Austria)
"It was hard to do the retreat and relate to the other parents because my English is not so good. I am inspired to practice the main principles, basic goodness, in daily life, but I am not sure if I can do it." (Caroline, from Spain)
"There has been great improvement in Dechen Choling from last year, how we are binding families, sangha and the great teachings of the Sakyong. This is for me the absolute way how to connect ordinary life and dharma." (Jitka, from Czech Republic)
"The experience of being with all my feelings – having fear for being judged, insecure, not knowing how – in front of other parents, that you trust in their trust in basic goodness, that is so valuable!" (Alma, from the Netherlands)

For more information about the European Family Working group have a look at www.shambhalawiki.eu
Post Tags:
Children
,
children and families
,
community
,
Enlightened Society
,
Family
,
Sakyong Mipham