Wednesday
Community Articles, Scene and Heard
The benefits of not knowing (or of briefly forgetting)
After a frustrating search the other day, I gave up and decided to ask the Sangha administrator's list, center-talk2, for help:
I saw a video on Youtube some time ago that I can't find any longer. It was of Khandro Rinpoche, sitting on a throne, talking to community leaders at the Berkeley Shambhala Center (I think). She was saying, "you need to be friends, have dinner together…"
Can anybody point me to it? I've looked and am giving up.
John
By the next morning I'd gotten helpful answers from David Stone, George Free, Helen Berliner, Laurie Bodley, Marcia Oberg, Nina Jones, Pam Turner, and Tharpa Pladron. Some helped establish historical context, responding to the whole list:
That was from the Bay Area. Ask Amy Conway or Charity Martin (who asked the question that got this response).
Some just answered the question:
Found it!!

It's a Google video,
not You Tube….
http://video.google.com/videoplay?docid=7248965622078417393&hl=en

She rocks!!
And some people actually thanked me for asking the question and drawing their attention to the video.
When I went to the video and tagged it, I realized that I'd tagged it with the word "shambhala" almost a year ago and for some reason could not find it in my bookmarks. (You might be interested in all the other things that are tagged "Shambhala" out there http://delicious.com/tag/shambhala by the way.) That made me think: lucky I forgot because apparently several people heard about it for the first time when I asked about it!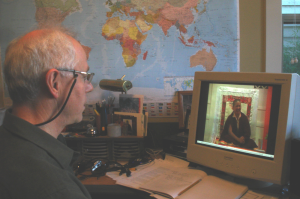 Then, watching the video again (muttering about my forgetfulness a bit) I got to thinking about how important it is to hear stories about the practice of administration—as well as other people's questions about "making a Shambhala center". Having gatherings like the Pacific Northwest Regional Congress where we get to practice together and swap stories is not only fun, it seems essential. Charlotte Linde, a sangha member and anthropologist in Palo Alto, has written a wonderful book about just how important telling stories is. In fact it suggests to me that creating the situations where people can tell stories may be a key administrative activity in Shambhala. Her book is called Working the Past; Narrative and Institutional Memory (New York: Oxford University Press, 2009) http://isbn.nu/9780195140293. In it she mentions that "how you came to the Dharma" is a typical and very important story that Shambhalians learn to tell and it's a way of defining our culture and our community. (It's right up there with "what seminary you went to…") I loved the book: it's not a simple-minded "how to" book that you just breeze through. (In a way it's more practical than a how-to book because it lets you draw your own conclusions, based on her really careful study.) My only complaint was that she didn't tell more stories about Shambhala or about "her seminary." :-)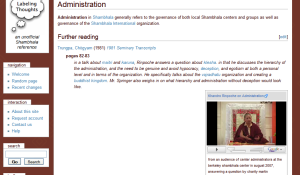 I got no further emails about the videos for a couple of days. Then I got an email from Davee Evans who said that he'd watched the video because of the mention on center-talk2 and so he'd completed a page on his wiki on the subject of administration: http://labelingthoughts.org/wiki/Administration. His wiki is a really big project: to help teachers in Shambhala track down resources (including videos) they could use when preparing to teach. Coincidentally, it shows Khandro Rinpoche's video on a page that references a talk by the Vidyadhara at "my seminary" in 1981.
And the day after that, I got a nice note from Charlotte Linde, wondering just how useful "how to" books can or can't be.
What's the moral of this meandering story? First, that the center-talk2 email list is a useful "digital place" in Shambhala. When I look at the list of people who responded, it made me think that people working those much disparaged arts of administration are really pretty cool. That all the places (digital or physical) where our Sangha gathers to swap stories along the path need care and attention and deserve our gratitude. And, that asking a question in one of those places can have surprising outcomes—including getting an invitation to post a story on this blog!
Post Tags:
administration
,
stories