Monday
Community Articles, Scene and Heard
Celebrating Our Warrior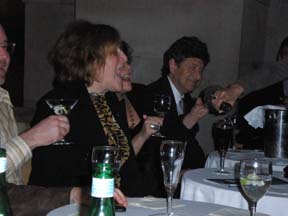 By Jennifer Holder, photos courtesy of Paulette Graf and Sascha Ascher
When asked how she would like to mark her retirement as Warrior of the New York Center, Irene Woodard said she wanted to tour the Metropolitan Museum of Art's exhibit on the Art of the Samurai: Japanese Arms and Armor, 1156–1868.
We arrived at the museum individually or in groups, and everyone was in awe of the arms and armor. There were rooms filled with sword blades, colorful armor that expressed the qualities of the wearer, sword mountings, hilts, and sheaths decorated in both subtle and overt ways, archery equipment and firearms, and wooden saddles that — however beautiful — seemed incredibly uncomfortable to everyone who saw them.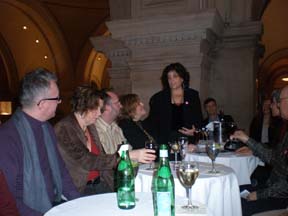 After our tour through warrior history, we gathered on the mezzanine for drinks and toasts. When I arrived, the core New York group was assembled, having brought many small round tables together into a single gathering place. With a waiter's help, I added two more tables and many chairs before I sat down, and within five minutes every seat was filled and even more were added. Because what was thought to be a very local affair turned international as members of the Shambhala Trust began to arrive, who were in New York for a meeting. Then, people who were visiting family for the American Thanksgiving began to arrive.
Laura Simms roused the gathering, our director Katherine Lieberson toasted the spaciousness of Irene Woodard, Angess Au explained her nickname "I.I.I." — or "Auntie I" — and Daniel Naistadt read a poem celebrating the outer, inner, and secret qualities of our retiring warrior. It was a spirited occasion, even when it was cut short by a museum guard who insisted it was time for the MET to close. But he clapped along to a rendition of "You Are My Sunshine" — though it was clear he wouldn't sit through our anthem.
As I walked through the lobby of this grand space, I had one profound wish — that the sound of our anthem echo through its walls.
Irene, we've loved you as our Warrior, and we'll love you forever. A warrior by any other name is still as brave.
Post Tags:
Warrior of the Center