Saturday
Arts and Poetry, Community Articles, Scene and Heard
Expressing Love of Food in Jewellery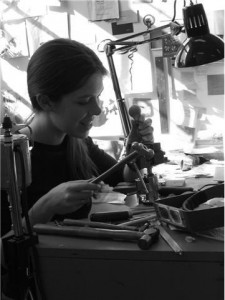 Berkeley Brown reflects on the jewellery she creates on the occasion of her first solo exhibition in Halifax, titled "Whisked Away."
The value of food in our society is fascinating; I am intrigued by the way our relationship to it allows food to transcend its practical role as nourishment, becoming passion, desire, comfort, metaphor, art, chore, social interaction, delight, tradition, or profession. My interest in these issues has led me to make jewellery that comments on them, creating pieces to adorn ourselves in our passions for cooking and food.
Using the aesthetics of cooking utensils, abstracting their function and form, I strive to explore our relationship to food in daily life. I use utensils as a means of evoking our interactions with food because they are connected with tradition and culture. We relate to food through the utensils we use to make food and eat food; for example, the specialized equipment that we rely on to make a cake, from whisk to egg beaters and whether we like to eat the cake with a fork or a spoon. These objects' beauty of design and function inform my work.
Primarily, my inspiration lies in philosophical and humorous writings on food and cooking which reflect the passion of the writer and carry food into all areas of life. The pleasure and comfort of baking or eating that is reflected in these writings, is the feeling I hope to bring to the wearer of my jewellery.
While exploring food utensils through jewellery, I encourage personal response and interaction: Paper and text are employed to reference the passion surrounding food as expressed in food writing and moving parts allow the wearer to interact with the pieces. My jewellery is informed by the mechanics of utensils, though I leave the practicalities of the original utensil behind, instead creating functional jewellery. Connections, movement, clean lines and repeating forms are all brought into my work.
My jewellery reflects an investigation of our passion, relationship and the rituals we create around food while integrating my love of technical precision and movement in jewellery.
~ ~ ~ ~ ~ ~ ~ ~ ~ ~ ~ ~ ~ ~ ~ ~ ~ ~
EXHIBITION VIDEO
[kml_flashembed movie="http://www.youtube.com/v/Yu4P4C_2fCs" width="425" height="350" wmode="transparent" /]
~ ~ ~ ~ ~ ~ ~ ~ ~ ~ ~ ~ ~ ~ ~ ~ ~ ~
A SAMPLING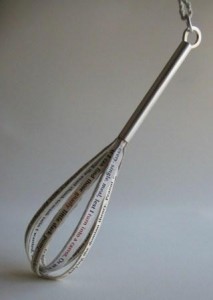 Whisked Away is a pendant playing with metaphor and joy of baking. The inspiration is food writing and its ability to bring food into all aspects of life; we are whisked away by our daydreams and musings.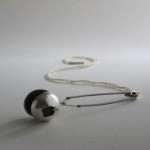 Traditional Comfort is inspired by the rituals and comforts of the tradition of tea time. The beauty of a cup of tea is the break it provides in a busy day and the rejuvenation that that brings; the comfort that I receive while making a cup of tea on a dreary winter day; feeling its steam on my chilly face, cradling warm smooth ceramic mug, its physical and mental restoration. Tradition has changed from loose tea to the convenience and disposability of a tea bag. This locket commemorates the slower process while cradling something precious.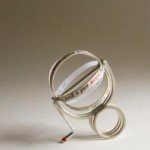 Inspired by a flour sifter, this ring incorporates quotes from food writings. The wearer can turn the handle, spinning the words as if comfortably lost in thought while baking.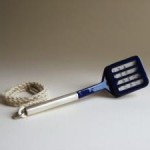 A pendant fashioned after a spatula, Flipping Pancakes comes apart to reveal my father's pancake recipe, a reference to the comfort, familiarity and tradition that a meal can provide.
~ ~ ~ ~ ~ ~ ~ ~ ~ ~ ~ ~ ~ ~ ~ ~ ~ ~
Berkeley Brown was born in Halifax, Nova Scotia. After becoming interested in jewellery and metalwork through an apprenticeship at a local jewellery store, she applied and was accepted to the Nova Scotia College of Art and Design, where she is currently completing her fourth year in the department of Jewellery Design and Metalsmithing.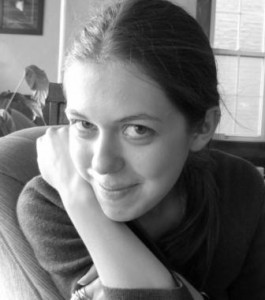 Berkeley Brown has gained valuable work experience in the jewellery field as an assistant to a local jeweller and has spent a semester on exchange at the Glasgow School of Art. She has participated in a series of group shows while attending NSCAD, the most recent being the juried exhibition Connection at Zilberschmuck Art Jewellery in Toronto and Secret Identity at the Ontario College of Art and Design.
Brown's recent jewellery is inspired by the passion surrounding food and cooking. Necklaces inspired by whisks, tea infusers that function as lockets, and rings that spin like flour sifters, all turn this concept into jewellery. Brown enjoys making precise technical pieces, incorporating movement, interaction, repeating forms and alternate materials. She aspires to set up her own studio upon graduation, showing her work in exhibitions and galleries internationally.
Post Tags:
food
,
jewelry