Wednesday
Community Articles
Ready to Work
COLUMN: Kitchen Wisdom
Exploring the Wisdom of the Kitchen in a New Way

by Judy Sachs Sullivan, Column Co-Editor
I met Chef John Trejo in the large and spacious commercial kitchen of the non-profit Community Table Kitchen in Southeast Boulder. He is the Executive Chef of the Ready to Work program that teaches homeless men and women the basic culinary skills and knowledge to work in any commercial kitchen setting.
Chef John has a 30 year background in the culinary world, training under renowned chefs in America, as well as working as a Chef himself throughout the U.S. and Mexico. A "local Coloradan", Chef John wanted to return to work in Boulder and found a perfect fit when he was hired as Executive Chef for the Ready to Work program, serving as chef, teacher, trainer, and mentor to this newly developed program. This concept of training homeless to work in a kitchen setting is not new, as it has already developed large and successful roots in cities such as Washington D.C., New York City, Seattle and Chicago. Chef John has a large presence, and his interview mirrors his style of teaching which is clear, organized, efficient, yet comfortable and amiable. I came prepared with my list of questions which became unnecessary the moment Chef began to describe the program.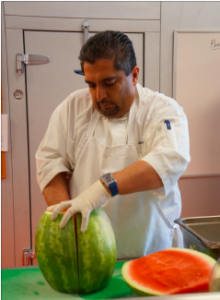 The Ready to Work program is available to the local homeless, who are determined to change their lives and inspired to apply. There is a careful selection process before anyone is accepted. They must be clean and sober and pass through a 30-day "testing" period where they may wash dishes part time in the kitchen or help out at the local homeless cafeteria. According the Chef John, about 50% make it through this testing period.
Once accepted into the 9-month training program about 1 in 3 applicants make it to "graduation". If one can make it into the program, it affords a great opportunity to learn needed skills to get a job. The program helps applicants get housing (which is free for a year), gives them paid training which is 4 hours a day/5 days a week, and helps them find jobs after graduation. Ready to Work has a close relationship with the restaurant community/chefs/owners. In fact, the whole local community is interwoven with this kitchen. Community Food Share donates 80% of the food, Boulder Food Rescue brings food donated from Whole Foods, the produce leftover from the Saturday Boulder's Farmers Market is donated, the local Community Gardens donates fresh produce and Panera Bakery donates baked goods.
The kitchen prepares daily fresh meals from "scratch" for over 400 homeless and has started to cater private events. The program has also begun doing "commissary work", making salsas, guacamoles, etc for a local grocery store. If that were not enough, the Ready to Work group will soon be cooking for a local YMCA daycare that serves over 60 low income children.
There is so much to say about this wonderful and growing progra. Ready to Work has been transformative for many of the "trainees". A soon-to-be graduate has become a great mentor to the new students, and says, "we are seriously considering hiring him to work with our future trainees." As Chef John expounded, "It is a give and take situation. They have to give 100% and we give 100% and hopefully that's enough to sustain them through the program, then they can graduate and get out on their own again."
Thank you Chef John Trejo and the Community Table Kitchen for all your wonderful work! The Ready to Work program shows how "it takes a village" to create a program that helps others help themselves. I hope you find this program as inspiring as I do, and perhaps moves you to help develop this concept in your own communities.
~~
Do you have a story about the kitchen, food, sharing food, growing food or eating that you want to share? Contribute your Kitchen Wisdom! Please contact Lisa Harris, Column Host at: [email protected].
To read other entries in this column, please see: Kitchen Wisdom.
Post Tags:
food
,
homelessness
,
Kitchen Wisdom