Saturday
Community Articles
Learning to Cook for the Guru, or, "Watch the Schmaltz"
COLUMN: Kitchen Wisdom
by Judy Sachs Sullivan
Serving in the household of the guru is both a precious opportunity to be in the center of the mandala, to spend time with the teacher (albeit in a formal setting with a prescribed position), and serve in a courtly environment. From 1981-1985, as personal chef for the Vajra Regent (and household), there were always challenges and obstacles. There were many evenings when the scheduled 8pm dinner turned into the midnight dinner, and the challenge of trying to keep the meal "alive" (as in not overcooked, dry, or mushy!) for an unknown number of hours and last minute guests.
I recall basting some Cornish hens for hours on end in a warm oven, waiting for word that dinner was to be served.  Those hens were falling apart tender by the time they were eaten!  The Vajra Regent was a passionate and magnetizing person, full of "joie de vivre." He came from an Italian-American background and enjoyed good food. He also, went on (and off!) countless diets such as what I call the "vegetable soup diet" (a vegetable stock filled with a variety of vegetables, rice-shaped pasta, and sprinkled with parmegian regianno cheese). I remember cooking up large potful's of this soup again and again! I was not a formally trained cook at that time, just someone who enjoyed cooking and had a passion for cooking.
I learned to cook as a child, watching my Jewish mother prepare meals and dinner parties (she was quite an accomplished cook for her time), my grandmother baking her famous apple pies and "S"-shaped ginger cookies, and by watching countless Julia Child cooking shows on public television. When auspicious circumstances arose in 1981-82, I became the personal chef/cook for the Vajra Regent. On my first day as cook the Vajra Regent made a point of asking me to "watch the schmaltz" in my cooking. This was a nod to my Jewish heritage and a reminder to keep the use of fats to a minimum (Schmaltz being a Yiddish word that specifically refers to the rendered fat from chicken).
Cooking at the Kalapa House (as it was referred to in those days) was a great joy for me. The Vajra Regent was a very warm and playful person with a sharp mind, and a passion for life.  Serving in his household provided many wonderful (and some painful too) teaching moments for me. Those first years of cooking were a learning curve–learning to cook for large groups, special dinner parties, last minute dinners, and various diets of the times (soup diet, macrobiotic diets, etc.), or simply learning how to make a good pot of herbal tea.
I think that the most important lesson I learned was to let go of "my ideas" of what to cook and how it should be prepared. It is not that I left my experience or judgment behind, but I learned to simply listen and learn how to cook for the teacher. Letting go of my ideas of how things should be and learn how to prepare food that was both enjoyable and nourishing for the teacher.
I've learned that cooking can be an expression of generosity and love, whether we are cooking for our guru, our family or friends. We are literally serving others! We keep in mind what people enjoy eating, what their diet permits (especially these days!), and what will be both nourishing and delicious. We spend time looking at recipes, preparing menus, shopping for food, as well as cleaning and preparing our food for cooking. We then bring those elements all together with spices, sautéing, frying, baking, roasting, etc. Finally, we plate and present our food to others, whether it may be a simple family style meal, or the most formal of presentations. In our world, we may offer our food to the three jewels and/or the Rigdens, and this offering may be a simple pot of tea or a formal courtly dinner party. These offerings always come from generosity, love and devotion. Serving others through cooking is not necessarily a Buddhist or Shambhala offering, but a very human and heartfelt way of serving others that is shared in all traditions.
Vajra Regent's Vegetable Soup
(Thanks to Don Milani for the recipe)
Serves about 6-8 people
Cookware
5 qt. saucepan for Chicken Broth
8 qt. stockpot for soup
Ingredients:
¼ to 1/3rd  Cup Extra Virgin Olive Oil
1 large yellow onion, chopped
2 leeks, cleaned well and chopped
4 cloves garlic, minced
12 cups homemade chicken stock /organic chicken broth (or vegetable broth- (Better Than Bullion brand)
½  teaspoon dried oregano
½ teaspoon dried marjoram
1 ½ tablespoons chopped fresh parsley
1 bay leaf
2 ½ tablespoons chopped fresh basil
1/8th teaspoon dried dill
3 carrots, chopped bite size
3 celery, chopped bite size
Optional: Fresh green beans (cut off the ends and cut into thirds)
1 head of cauliflower (cut into small florets and stem discarded)
2 zucchinis quartered (i.e., cut into quarters lengthwise and chopped into ¼" pieces)
1 cup frozen corn
1 cup frozen baby peas
Optional: 12 mushrooms (baby bella), cut off stems, then quartered
One 28oz. can whole peeled tomatoes (Muir Glen Brand), reserve liquid and chop the tomatoes
Optional: 1-2 Tablespoons Tomato paste (adds richness and thickens the soup a bit).
1 head of cauliflower (cut into small florets, stem discarded)
Orzo rice-shaped pasta (8 oz. or desired amount)
Salt and Pepper to taste
Parmesan Reggiano cheese grated
Directions:
Make homemade chicken stock, or measure out canned chicken broth or vegetable broth.
Add Olive Oil to large stock pot and sauté onions and leeks over medium heat until soft and translucent.  Lower heat and add garlic. Stir a couple of minutes. (Do not brown)
While onions are cooking, chop the vegetables.
Add dry herbs and stir a minute (leave fresh parsley and basil for later).
Add all frozen and fresh vegetables (reserve optional mushrooms for later).
Add chopped tomatoes (and optional tomato paste) and stir.
Add reserved tomato liquid and stock/broth, stir and bring to boil.
Reduce heat and simmer (uncovered) for ~50 minutes to 1 hour, stirring occasionally.
Meanwhile, cook pasta in a separate pot until al-dente, drain.
Add optional mushrooms after soup has cooked about 30 minutes.
When soup is done (after about 1 hour) add pasta, fresh basil and parsley.
Add salt and pepper and adjust seasonings if desired.
Ladle soup into large bowls, and sprinkle generously with grated Parmesan.
ENJOY!
~~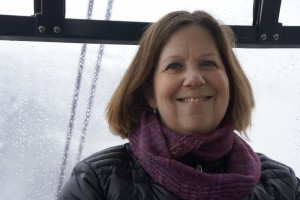 Judy Sachs Sullivan is a proud student of the Vidyadhara, Chogyam Trungpa Rinpoche, and Vajra Regent. With an M.A. in South Asian Art History, she has worked in various Museum settings in Chicago and Massachusetts. She has also gone on to graduate from the Professional Chef's Program at Cambridge School for the Culinary Arts in Cambridge, Massachusetts. Judy has worked in many kitchens as a personal chef and caterer and has had the honor of cooking for many Tibetan Rinpoches over the years, including supervising the kitchen of His Holiness, the 17th Karmapa during his Boulder visit.  
Post Tags:
cooking
,
food
,
Kitchen Wisdom