Friday
Arts and Poetry, Community Articles
Confidence by Steve Clorfeine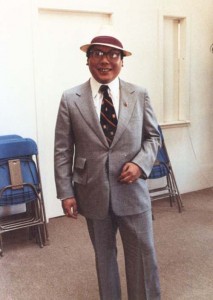 I still reflect on some of the things the Vidyadhara said 30 years ago, about: the uplifting of education, the development of self-confidence and most of all the confidence he placed in us particularly the artists (who were always questioning themselves).
It was in the years of the Naropa Summer Institute, 1974-1979 specifically.  Trungpa Rinpoche would occasionally convene or attend a faculty meeting.  It was a great honor to be part of those meetings and to take in both Rinpoche's presence and his vision for Naropa.
He had respect for the faculty whether they were interested or not in Buddhist teachings, wary of his style or "on the fence."  His advice and admonishment were always direct and challenging.   The confidence he placed in us, inspired me to have more non-judgmental confidence in the potential of people I work with, as students, participants and practitioners.
Being on the spot in every way in and around Trungpa Rinpoche added a richness to being on stage, and to preparing to be on stage.  Lanny Harrison and I would raise windhorse in the wings, before the opening of any of our performances.  I had a tattered typewritten copy of how it was done in the Mudra Theater practice, long before the practice became part of the Sacred Path curriculum.
Similarly, when I came to direct Shambhala Training, every time I took the director's seat, I felt his presence, and still do.  The recollection of phrases (or paraphrases) of his like, "you can't fool people," resonate with me in teaching, rehearsing and performing.  
The challenge to accept oneself – one's brilliance, one's limitations, one's mistakes – and put that on the path, changed both the way I prepared as a performer, and the way I presented as a teacher.
Post Tags:
Arts and Poetry
,
contemplative art
,
Parinirvana