Saturday
Arts and Poetry
Preface to Aspiration Highway: 108 Poems by John Castlebury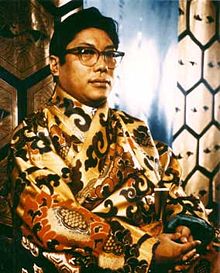 My written request for an interview with my beloved wisdom teacher Chögyam Trungpa Rinpoche was granted one evening in the Tenno Room at Kalapa Court.
About a dozen of us students were meditating in an anteroom awaiting our turns. And when my turn came – did I prostrate, did I bow, how did the exchange begin?
Soon I was asking Rinpoche's advice, saying that after writing poetry for a long time with a bodhisattvic view of dedicating the poetry to benefit others, doing whatever for a living to make ends meet, this activity seemed not to be really helpful to anybody as I had little success publishing and it hardly was read where it might do any good. 
So my question was whether it might be better to go back to school and learn something more practically helpful like nursing, for instance, secretly dreading but half-expecting Rinpoche to say, Yes, go back to school.
"Keep writing, with diligence and …"
I didn't like having to ask Rinpoche to repeat the last word, but what was the alternative –pretending to have heard when I hadn't?
Rinpoche said the word again. But listening closely, I heard gibberish.
So I had to ask Rinpoche again to say what it was that I should keep writing with, diligence and what else?
Then Rinpoche said, "Delight," so sweetly, echoing Rinpoche, delighted to hear what Rinpoche said, soaring with delight at this advice.
"And just do whatever for a living?"
And Rinpoche nodded once.
Boulder, Colorado, ca.1982
John Castlebury is the author of Aspiration Highway [2007] and the recently published  White Clouds: 108 Poems [2009], which can be viewed at http://users.eastlink.ca/~castlebury/.
Both are available from Samurai Press, 677 Pembroke Road, Yarmouth, NS Canada B5A 4A7, or contact [email protected]
Post Tags:
Arts and Poetry
,
Castelbury
,
Parinirvana