Monday
Arts and Poetry
The Charm of Etegami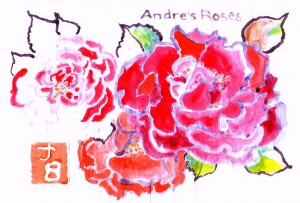 Celebrating the Arts
Etegami: traditional Japanese art form involving postcards
by Judy Bond, Pittsburgh Shambhala
I was googling a recipe for pickled cherry blossoms for sushi and came across the blog of Debbie…..who runs the Etegami Fun Club on Facebook. Even though I am conversant with ikebana, haiku and Japanese calligraphy, etegami was a new form to me so I visited the Facebook group and promptly joined. First off it requires no training or talent, second it is an example of the Heaven-Earth-Human principles taught in Shambhala Art weekends, and thirdly it is an easy, quick, inexpensive and fun thing to do. And it makes other people happy when they receive a card via snail-mail. Plus you are keeping the US Postal Service afloat and you are happy too when you receive such a card in the mail yourself or view the work of others online. Four hundred people all over the world are Fun Club members and somebody somewhere posts a card occasionally so there are lots per day on the Etegami Fun Club site.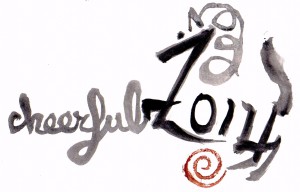 Typically one is inspired by an occasion (a birthday, anniversary, or holiday, maybe) or something seasonal like a flower or piece of fruit or branches covered with snow. So one creates an image using a brush and sumi-e ink with touches of color and a smattering of words on a 4″ x 6″ card. Then the card is sealed with one's personal chop using vermillion ink. When the card is dry, one addresses the back side, maybe writes a few more words, then adds a postage stamp and off it goes in the mail. Before you send it off, you can scan or photograph the card and post it on the Etegami Fun Club site. And send a copy to the recipient so they have a double treat in seeing the card online and actually getting it via snail mail.
On the Etegami Fun Club site there are files where you can view the rudimentary rules of the traditional form. One draws and writes with a brush and sumi-e ink holding the brush at the very end and sitting upright with good posture and elbow raised. It is good to settle the mind a bit while you wait for inspiration to arise, so one practices vertical and horizontal and spiral lines. When you are settled and inspired, one traditionally paints something from life, using sumi-e for the outline and filling in the image with a bit of color. Then one adds a haiku perhaps or a greeting again using the brush, and finally joins heaven and earth with one's red signature using the chop.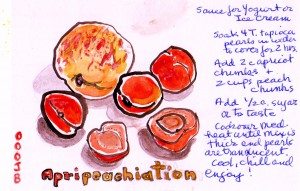 Your local art supply store will carry books of water color paper postcards or you can cut your own from stock that is heavy enough to make it through the mail. Traditional Japanese paper for this form will have varying degrees of ' bleed ' to it so your black lines will have a life of their own once you touch the brush to the card. You can also buy very thin calligraphy paper and then mount it on a post card. And 4″ x 6″ index cards from the drugstore also work. And you can depart from the traditional paints and ink and use markers, crayons, stickers and glitter.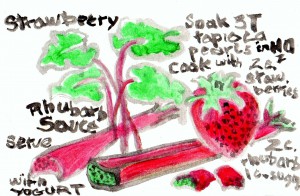 I typically carry a simple set of watercolor paints and some brushes in my purse along with a book of blank postcards. Thus if I'm having lunch with a friend and service is slow, we can dash off cards of steaming cups of coffee or the flowers gracing the table. One restaurant took pictures of us painting our desserts and posted them on their website. Or it is fun to break out the supplies at a family gathering and mail the cards later to the hosts or someone special who was honored at the gathering. My husband is a Hubble Space Telescope astronomer and at an astronomy open house at a college observatory we had etegami supplies and Hubble pictures to use as subject matter. Thus 'astrogami' was born, which the children present enjoyed. People had fun, even those who don't consider themselves artists. That is the charm of etegami.
~~
Please share updates on your community Shambhala Art Day events with us at: [email protected]. If you have any questions at all about Shambhala Art Day, please also get in touch.
*Please Note: Shambhala Arts, as distinguished from Shambhala Art, is the moniker that many in our community give to specific art forms and disciplines that appear to share and manifest Dharma Art principles.
Post Tags:
art
,
Arts and Poetry
,
Shambhala Art