Thursday
Arts and Poetry
Why art, why now?
The third in a three-part series about art, creativity, and the creative process
by Katey Schultz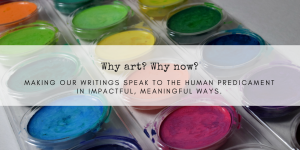 I want to wrap up this three-part series helping writers and creative types "come at" their imaginations and their creative practices in new ways, by touching on a big topic. I began by sharing ways to engage the imagination in mindful flow to stay out of ruts, then an analysis of the parallels between meditation and revision. But in the end, why does art matter? Why now? This final installment looks at making our writings speak to the human predicament in impactful, meaningful ways.
These are trying times. We're surrounded by uncertainty. Art is under attack. These are the sentiments I keep hearing, and while I have my anxieties about the future, a wavering faith in the significance of writing is not among them. I'm inspired by this quote from Margaret Atwood, writing for The Nation: "…it may be enough to cultivate your own artistic garden—to do what you can as well as you can for as long as you can do it; to create alternate worlds that offer both temporary escapes and moments of insight; to open windows in the given world that allow us to see outside it. With the Trump era upon us, it's the artists and writers who can remind us…we are not, finally, the sum of our politicians. Throughout history, it has been hope for artistic work that expresses, for this time and place, as powerfully and eloquently as possible, what it is to be human."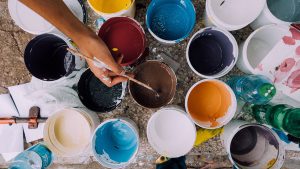 But voices of optimism have been growing all along. If you're reading this, you're likely one of them. I also hope that if you're reading this, you care about continuing to cultivate your artistic garden and exploring what it means to be human, no matter where you fall on the political spectrum. Flash form writing has always been my favorite genre to teach online, because of its ability to so concisely speak to the human situation, while also requiring craft techniques on the page that demand our very best. I can think of no better time than right now to commit to achieving our "best." Humanity needs it. Society needs it. Is it possible to change the world one story at a time? One painting at a time? I believe that it is.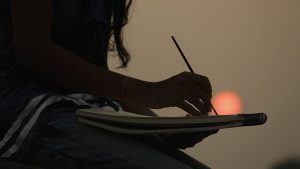 Will these small, individual efforts change politics? Will they make everyone happy? Will they be upsetting, disturbing? Will they provide challenge or provoke change? Maybe yes. Maybe no. But what's certain is that fully engaging with your imagination and creativity will hone your observational skills as a creative person, which can only mean living a more engaged and uplifted life. Yes, that manifests on the page, but it also manifests at the grocery store, at the post office, and when speaking to loved ones.
So why art, why now? I answer that question by turning it on its head. Why not art? Why not always? We're all angling toward the same (Great Eastern) Sun, and there are infinite ways to get there. Each tiny step adds up. Word by word, brush stroke by brush stroke, hope and purpose can indeed manifest.
---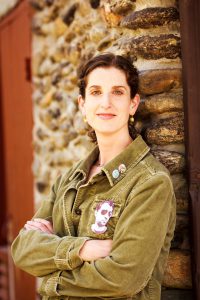 Katey Schultz's story collection, Flashes of War, was awarded IndieFab Book of the Year from Foreword Reviews and received a Gold Medal from the Military Writers Society of America. She has won more than half a dozen flash fiction contests, been awarded writing fellowships in 8 states, and is currently working on a novel. Ten years ago, Katey founded Maximum Impact, a mentoring service that provides transformative online curricula for the creative writing process, helping writers articulate precise language and authentic meaning in their work. Explore her resource guides, ecourses, and writing at www.kateyschultz.com.
Post Tags:
art
,
Arts and Poetry
,
meditation
,
mindful writing