Sunday
Arts and Poetry
A Shambhala Day Poem
by Reed Bye

This poem was presented to the Boulder Community after the Sadhana of Mahamudra on Shambhala Day, on the occasion of our good-bye celebration for Ulrike Halpern, our outgoing Center Director.  
Shambhala Day  2015
How lucky to live in the light of this center's
Warm red pulse that calls
Come forward whatever you are
Receive yourself in this place in your brilliance
Take off your shoes
Your hat of crusted tiresomeness
You don't have to hold an umbrella under this rain
How lucky to live in the light of this palace
And bow at the gates of its elements
How they were gathered, refined through the practice
Of many vows to free us
From limiting ourselves
To all the ideas we dress up in
How lucky we are to live in this light
That shines through us
We are all transparent HO!
HO HO!
A terrible trick has been played
But we're learning to lift it
Over our heads
And expose dreams and schemes
Of little desires HO HO!
This ground has been warmed for our seats
To see through the light of our goodness
At the cusp of another year
For those who have made a path
Out of the simple truth of being
And the wind in its woods
And the scent it leaves, how lucky
HO
~~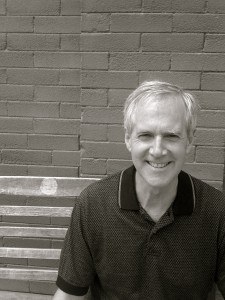 Reed Bye's most recent books include Catching On (Monkey Puzzle 2013) and Join the Planets: New and Selected Poems (United Artists Books, 2005). A CD of original songs, Broke Even, came out from Fast Speaking Music in 2013. He teaches courses in writing and poetics at the Jack Kerouac School at Naropa University and has practiced Shambhala Buddhist meditation for many years.
Post Tags:
Arts and Poetry
,
Reed Bye
,
Shambhala Art
,
Shambhala Arts Month
,
Shambhala Day 2015