Wednesday
Arts and Poetry
The Need to Feel
A Shambhala teacher explores the meaning of "Environmental Melancholia" and its connection to meditation practice, through the work of artist Regan Rosburg
by Shastri Christine Heming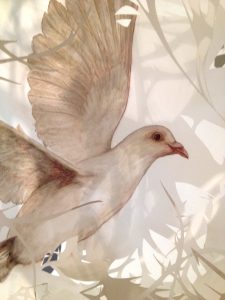 I recently participated in Proclaiming Basic Goodness:  Shambhala Meditation with Sakyong Mipham Rinpoche at the Halifax Shambhala Centre. Once again I was struck by the simplicity and the power of the practice of Feeling, and the recognition that without that foundational connection to our humanity, our actions to create a better society have little chance for success. Feeling is what informs our conduct, how we live our lives, as Shambhala warriors. This came home to me this morning as I reflected on a Master of Fine Arts thesis written by Denver artist and friend Regan Rosburg.
Rosburg describes being at an intersection – her "deep reverence for the Earth's limitless diverse species and interwoven, highly evolved ecological environments" on one side and her "grave concern from witnessing environmental exploitation, pollution, and lack of conservation" on the other. Her work investigates the psychological responses we have to notions of a worldwide ecological collapse, referred to by Renee Lertzman as "environmental melancholia."
Rosburg tells us that it was Sigmund Freud, in Mourning and Melancholia, who wrote about melancholia, a persistent state that occurs when a person is not able to properly mourn a loss, and instead becomes "tethered" between love and hate, between desire and aversion, between confusion and certainty. Freud noted that the grieving process is made easier when there is a tangible way to subject the lost love to the test of reality (seeing the dead body of the deceased, or having a conversation that ends a relationship).
Rosburg writes that melancholia is not limited to love relationships or dying relatives, but can also occur in response to mass deaths in the environment – loss of species, ecosystems, and natural resources – hence the name environmental melancholia: "Rooted in human psychological theory, environmental melancholia is an arrested state of mourning related to overlapping events of environmental destruction."
It comes as no surprise that among many groups, including social and environmental activists, there are feelings of disappointment, confusion, and despair. In spite of years of increasing scientific data on the calamity facing our planet, and the ever-increasing evidence of widespread social injustice, humanity has been largely inactive or ineffective in stopping the growing environmental devastation.
After countless discussions with all kinds of people about environmental collapse, Rosburg began to notice a pattern. She describes how people would discuss the unsettling reality of environmental changes with fear and anxiety in their voices, but then there would be silence, often followed by a shrug. She realized that people had seen the horror; they were not ignorant, but they were responding by locking it away somewhere inside themselves. That's when her work took a turn.  Instead of adding to the invaluable artistic work that highlights the growing threats to humankind and ecology, she chose to create artwork "intended to provide a place of contemplation and mourning."
Rosburg asks: "How does one mourn the loss of bees, or melting glaciers, or plastic-filled birds? How does one bury a body that does not exist?" One way is through symbols, and artists are "comfortably versed in symbolism." She feels that the urgency of our collective human response to ecological collapse can be mediated with artworks such as her thesis piece, Relentless Memorial.
How do we grieve a loss that can feel so abstract to us? I recall a conversation I had with a dear friend about climate change. She was very forthright: "I read about it, and I understand it, and I don't like it. I even want to help, and I try to do things to help the planet. But when I step outside every day, I don't see it. I don't feel it."
Today's issue of Resilience had an article entitled, "The World at 1°C – January '17." It reported on the "crisis felt around the world" – Africa, Asia, the Pacific, Central and South America, Europe, and North America. Not all the news was bad; there were some good news stories. But the devastation described around the globe was sobering.  Scrolling down, I found the final headline: "Loss of Comrades." Photos of five beautiful faces, so human and endearing, and five names:  Emilsen Manyoma, Aldemar Parra Garcia, Isidro Baldenegro Lopez, Veronico "Nico" Lapsay Delamente, and Arther Manuel. Four shot dead for their social and environmental activism.
It was only by scrolling down to the end and looking at these faces that I began to feel the sadness and grief that Rosburg is inviting. And something shifted; a new window opened on my world. Will it stay open? I do not know. Will it lead to action? It led to this writing. Allowing ourselves to feel creates a shift, an opening, and a possibility.
In Proclaiming Basic Goodness, the Sakyong writes that when we come in contact with how we feel, this allows for sympathy and gentleness to arise. It is a moment of acknowledging and connecting with our humanity. He writes, "In that energetic moment, we move from conceptual preoccupation and numbness to visceral contact with our aliveness."
I invite you find a sit spot on the earth and take a moment to feel. Allow yourself to feel your goodness and the goodness that is all around you in the natural world. Then open a window on the loss, devastation, and inhumanity that is also in our world. I believe this intersection to be the starting point for healing both the earth and ourselves.
In the words of the Dorje Dradul: "Hold the sadness and pain of samsara in your heart and at the same time the power and vision of the Great Eastern Sun. Then the warrior can make a proper cup of tea."
---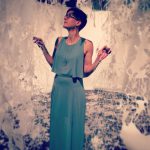 Regan Rosburg is an artist, naturalist and educator living in Denver, Colorado. She received her BFA from the University of Colorado in Boulder, and her MFA from Lesley University College of Art and Design at Cambridge, MA. Recently, her work has been an investigation into society's collective grief, melancholia and mania which manifests as consumption and distraction.  Rosburg works in a variety of materials. Her resin work contains precious artifacts: plant and animal relics, bones, insects, lace and painted imagery. These objects are suspended in incredibly laborious, three dimensional resin "paintings." The use of resin poignantly addresses her growing concern over plastic pollution in the environment, while presenting the beauty of plant and animal species.  Regan's artwork and thesis can be found at reganrosburg.com .
---
Shastri Christine Heming has been a meditation instructor and teacher in the Shambhala community for many years. She was a student of the founder of Shambhala, Chogyam Trungpa Rinpoche, and is now a student of his son, Sakyong Mipham Rinpoche. She is a board member of the Centre for Local Prosperity, a nonprofit society based in Nova Scotia promoting new economic models that invite a balance between economic development and the preservation and restoration of natural systems. She lives with her husband Gregory Heming, and their dog Bonnie, on a farm near Granville Ferry, Nova Scotia.
Post Tags:
art
,
arts
,
Arts and Poetry
,
climate change
,
Environmental Initiatives
,
experiential feeling
,
Genuine Heart of Sadness and Joy