Thursday
Arts and Poetry
Visiting Shambhala
A five-act comedy that takes us to the court of the Rigden
by Walker Blaine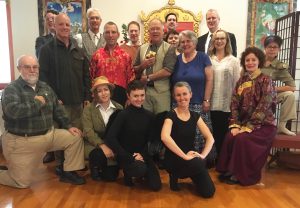 A year ago in the spring, I had the most surprising thought: I could write a five-act Shambhala comedy. It was as though a light physically turned on in my head, and within a few weeks I had a working draft of Norbu and the Mystery of the Missing Ratna. Friends joined my wife and me for readings in our apartment, and Liz Richardson, a professional actress, offered to co-direct a production. We soon had auditions and a cast of 17 preparing 23 parts for a staged reading at the Halifax Shambhala Centre last fall. 
Norbu and the Mystery of the Missing Ratna tells the tale of a humble man named Norbu who journeys to the mythical kingdom of Shambhala in order to return a gold coin, a ratna, to the Rigden King, ruler of the world of goodness. Along the way Norbu encounters male and female warriors, gods, animals, soldiers, ministers, a king, and two queens. None of us realized it at first, but the true magic of the play was that everyone—cast, crew, and finally the audience—became explorers of the kingdom of Shambhala, the land of goodness and dignity.
We offered three performances to a total of 180 people during the Harvest of Peace weekend. The entire audience, even children, found the script humorous and meaningful. I was especially touched that non-Shambhalians enjoyed the play and that so many people were smiling in the coatroom after each performance.
Please enjoy three gifts from the magic of last year:
Terry Rudderham's wonderful pictures of the players at the matinee to give you a flavor of the actual performance.
And finally, the first act of the play in ebook format that can be read on a computer, iPad, or Kindle. At the end of the ebook, you will find information about how to obtain a full script and how you might go about staging a local production if so inclined.
Link for Kindle version of Act One:
https://drive.google.com/open?id=0B7Lfbdb6D7DOVFpCc3FPWjhtcWM
Link for Mac version of Act One:
https://drive.google.com/open?id=0B7Lfbdb6D7DOUkRnenZEYjZtZWs
---
Walker Blaine is Master of Liturgies to Sakyong Mipham Rinpoche and a Herald of the Kalapa Court. He has been part of the Shambhala community for more than 30 years. Walker's ebook, The Great River of Blessings, an account of the Rinchen Terdzö received by the Sakyong Mipham Rinpoche in the winter of 2008-2009, can be downloaded at the Sakyong Foundation. His two CDs of Buddhist music can be sampled on iTunes. He lives with his wife in Halifax, Nova Scotia. [email protected] 
---
Photos:
1. Tim Walker, Norbu McBurns and Anna Shotwell, Lance Corporal Gillian McGillicutty 
2. Torgny Vigerstad, Patient Bear and Jeff Miller, Miraculous Dove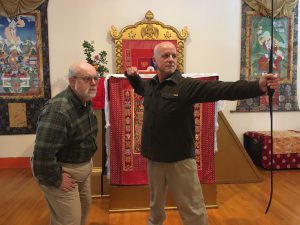 3. Brin Jones, Plus and India Gailey, Minus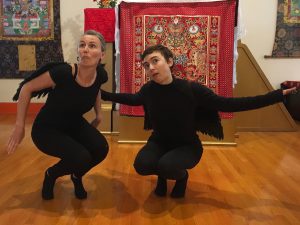 4. Dan Corbett, Bravery, Torgny Vigerstad, Patient Bear and Jeff Miller, Miraculous Dove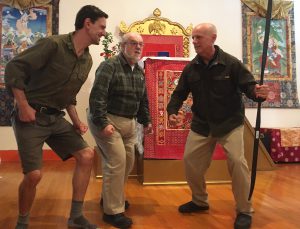 5. Sarah Cox, Firefly Dignity, Aaron Manier, Garuda Vase and Tim Walker, Norbu McBurns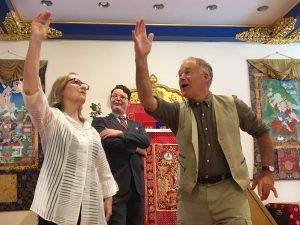 6. Tim Walker, Norbu McBurns and Richard Peisinger, Rigden King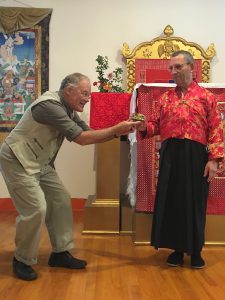 7. Brin Jones, Plus, India Gailey, Minus, Tim Walker, Norbu McBurns and Anna Shotwell, Lance Corporal Gillian McGillicutty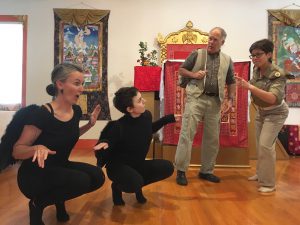 8. Tim Walker, Norbu McBurns and David Brown, Transcendent Virtue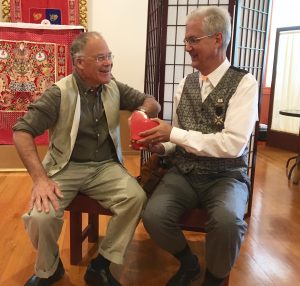 9. Tim Walker, Norbu McBurns and Meg Vigerstad, Singing River McBurns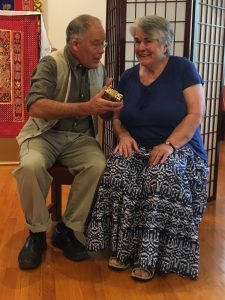 10. Tim Walker, Norbu McBurns and Walker Blaine, Guard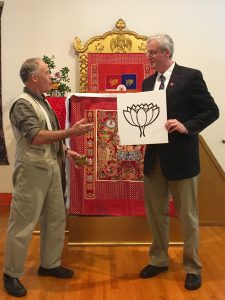 11. Tim Walker, Norbu McBurns and Liz Richardson, Drukmo, Queen of Ling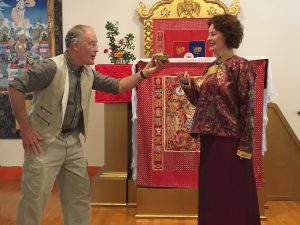 12. Tim Walker, Norbu McBurns and John Odenthal, Nonthought Lightning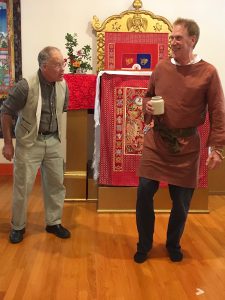 13. Patricia Blaine, Narrator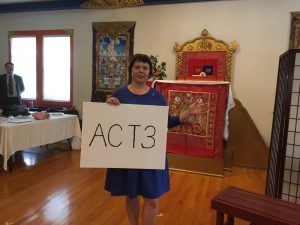 14. Rear: Aaron Manier, David Brown, John Odenthal, Dan Corbett, Patricia Blaine, Walker Blaine. Middle: Jeff Miller, Richard Peisinger, Tim Walker, Meg Vigerstad, Sarah Cox, Anna Shotwell. Front: Torgny Vigerstad, Maggie, India Gailey, Brin Jones, Liz Richardson. Not pictured: David Cox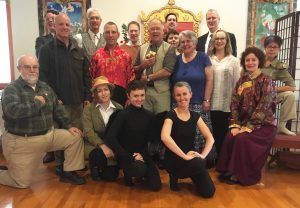 Post Tags:
arts
,
Arts and Poetry
,
theatre