Tuesday
Featured Stories
Michael Baime on Stress Management
By Wendy Jill Krom
Michael J. Baime, MD could see right away that his teacher had been right: "What people needed was not another medication, but really a glimpse of their own sanity."
In a recent conversation with Michael Baime, Founder and Director of the UPenn Program for Stress Management, I asked him about his Buddhist background and how it informed his choice to become a doctor and teach meditation in the context of stress reduction.
Michael replied that he started studying Buddhism in earnest at the age of fourteen after practicing meditation "as a little kid." In 1978, he became a student of Chogyam Trungpa Rinpoche, and by the 1980s Michael was enthusiastic about his spiritual path and ready to consider becoming a monk. However, knowing that meditation was not just for the cushion, Trungpa Rinpoche encouraged his students to become engaged with the world. He advised Baime to stay in Medical School. In 1986, with his formal medical training complete, Michael started to practice medicine.
What he saw, first as a boy, and then through intensive Buddhist practice and study under the guidance of Chogyam Trungpa Rinpoche, he was now able to offer to his patients.
Dr. Michael Baime began teaching meditation in medical settings before he had heard of the work of Jon Kabat-Zinn on Mindfulness Based Stress Reduction. In 1990, Michael had the opportunity to meet the Founder and Director of the Stress Reduction Clinic at the University of Massachusetts Medical Center, who he claims to be "a genius in this area." And he began to adopt many of the principles of Mindfulness Based Stress Reduction in his own work at the UPenn Program for Stress Management.
The 2009 Applied Mindfulness Conference will take place July 23 – 26 at Karme Choling. This year, conference theme is Integrating the Wisdom of Mindfulness Meditation into Work, Organizations and Everyday Life. Hosted by Tail of the Tiger, the conference is gathering mindfulness practitioners to dialogue and share the skillful means they are using to integrate these teachings into their work lives such as educators, health care professionals, business professionals and those involved in social action.

Michael Baime, MD is one of three keynote conference speakers. Watch a video interview of Dr. Baime on NBC 10 describing the use of meditation to reduce stress.
Currently, Michael is co-teaching a course at UPenn with Amishi Jha on the Cognitive Neuroscience of Meditation. As homework, students are required to practice mindfulness meditation for at least ten minutes each day. In class, they look at research studies on meditation and brain function. The studies report that cognitive improvements can be measured, and even regional brain function can be determined, i.e. which areas of the brain are activated through meditation practice. This innovative course, combining the study of neuroscience research and the practice of meditation, produces some unexpected results.
Students learn through practice that "meditation is about training attention." They report enhanced sense perceptions and clarity. And they begin to look more deeply into their own being.
"What has continued to surprise me," says Dr. Michael Baime, "is the amount of change that can happen in a very short time. Laboratory measures of cognitive focus will show how quickly one can start and sustain the focus of the mind, but what really matters is that people feel more alive, wholesome, balanced and integrated. Although they come for stress management, what they discover is "a deeper anchor in the turbulence of their lives."
As one who has successfully integrated his work and spiritual paths, Michael shares the following insights for someone who wishes to move in that direction: "You have to follow your heart," he says, "and be realistic about the sacrifices. It's really hard. Go slow, be patient, and take one step at a time."
View the 2009 Applied Mindfulness Conference flyer.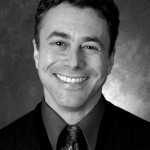 Dr. Michael Baime is Clinical Associate Professor of Medicine at the University of Pennsylvania School of Medicine and the Founder and Director of the UPenn Program for Stress Management. The program was founded in 1992 and has trained more than 5,000 people in mindfulness-based stress management. Dr. Baime is currently involved in research on the relationship between meditation training and learning; the cognitive neuroscience of meditation; and clinical applications of mindfulness training. In addition, he is published widely in medical journals on subjects as varied as screening for certain cancers to the aging of the gastrointestinal system.
Post Tags: