Monday
Community Articles, Northeastern States, Sakyong and Family
Baltimore and DC Host the Sakyong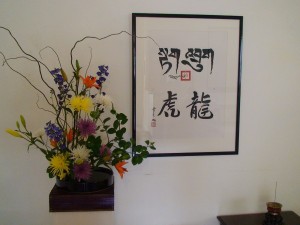 By Julie Heegaard and Jayne Sutton
On May 9, the Baltimore and Washington, DC Shambhala Centers were blessed with an afternoon of teachings by Sakyong Mipham Rinpoche at the Baltimore Center.
One month prior, David Brown had contacted Center Directors Jayne Sutton of DC and Julie Heegaard of Baltimore with the message that the Sakyong would come to Washington for a meeting with Queen Noor of Jordan and might be available for a visit with the two sanghas in Baltimore if there was enough interest.
It took maybe three seconds before we responded with an unequivocal: YES!
A week later, the visit was confirmed and both communities began a flurry of activity to prepare for the arrival. The Baltimore sangha put finishing touches on a Tenno room, creating a beautiful space to present to the Sakyong. We also built a new throne, appropriate for the holder of our lineage. And a big sign welcoming the Sakyong was installed in the front entrance.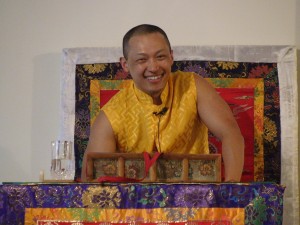 Riveting Talks by the Sakyong
When the day came, it was somewhat dreamlike…
We had a total of three hours scheduled with the Sakyong, from 2pm-5pm. The Sakyong arrived a bit late, but then stayed until 7:30. During that time, he met with the two Center Directors, gave a talk to 120 advanced practitioners, met with 20 Bodhi School children, gave a talk to 100 newer members and friends, performed a blessing line, and met privately with a few individuals.
For many in our communities, this was their first opportunity to connect with the Sakyong, and it was an extraordinary experience. The talks were riveting, both centering around how to properly balance personal practice with building community as the basis transforming society. During extended question periods after both talks, the sharing was open-hearted and the Sakyong's answers were both loving and precise.
Despite being tightly packed into the shrine room with no air conditioning in the sweltering heat, no one grumbled. The dralas had descended. The environment was magical. Everything was perfect. The Sakyong was here with us. What more could we possibly ask?
The visit ended with the children making an offering of songs written by a sangha member and then a large crowd gathered on the front lawn to sing the Shambhala Anthem as the Sakyong departed from the Center.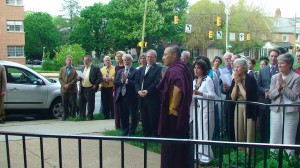 Enjoying the Glow
Time re-connect with our extended sangha…
Afterward, there was a fabulous celebratory reception, prepared by Baltimore Sangha member Peter Manchiocci. Many participants from both Centers stayed on well into the evening, enjoying the glow of our time with the Sakyong, as well as connecting and re-connecting with new and old friends in our extended sangha.
The visit was also special because it gave the DC and Baltimore Centers a chance to once again come together as a united sangha, to extend kindness and generosity to one another and to build the bonds between us.
Photo Credit: Tony Bouret
See comments from participants in Baltimore and Washington DC posted below:
Post Tags:
Sakyong Mipham
,
travel