Wednesday
Featured Stories, Sakyong and Family
Royal Couple Visits Gampo Abbey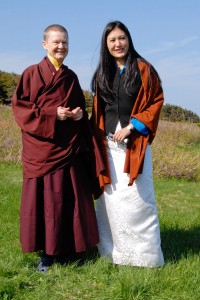 On an exceptionally warm and brilliant May day the Sakyong and Sakyong Wangmo visited Gampo Abbey for an overnight stay following their retreats at the Kalapa Valley.
About an hour apart by road, the Kalapa Valley and Gampo Abbey are separated by Cape Breton Highlands National Park. All of Cape Breton island seemed to be bursting with spring flowers and bird song for their arrival.
At a formal gathering in the shrine room, both the Sakyong and the Sakyong Wangmo spoke to the residents and community of the Abbey, including some of the three-year retreatants at Sopa Choling who the day before had ended a portion of their retreat.
The Sakyong spoke about the responsibility the residents of Gampo Abbey carry, as the monastics of the Shambhala tradition. He also presented the Abbey with a gift of a beautiful Guru Rinpoche rupa, which was accepted by Gampo Acharya Pema Chodron and placed on the central shrine.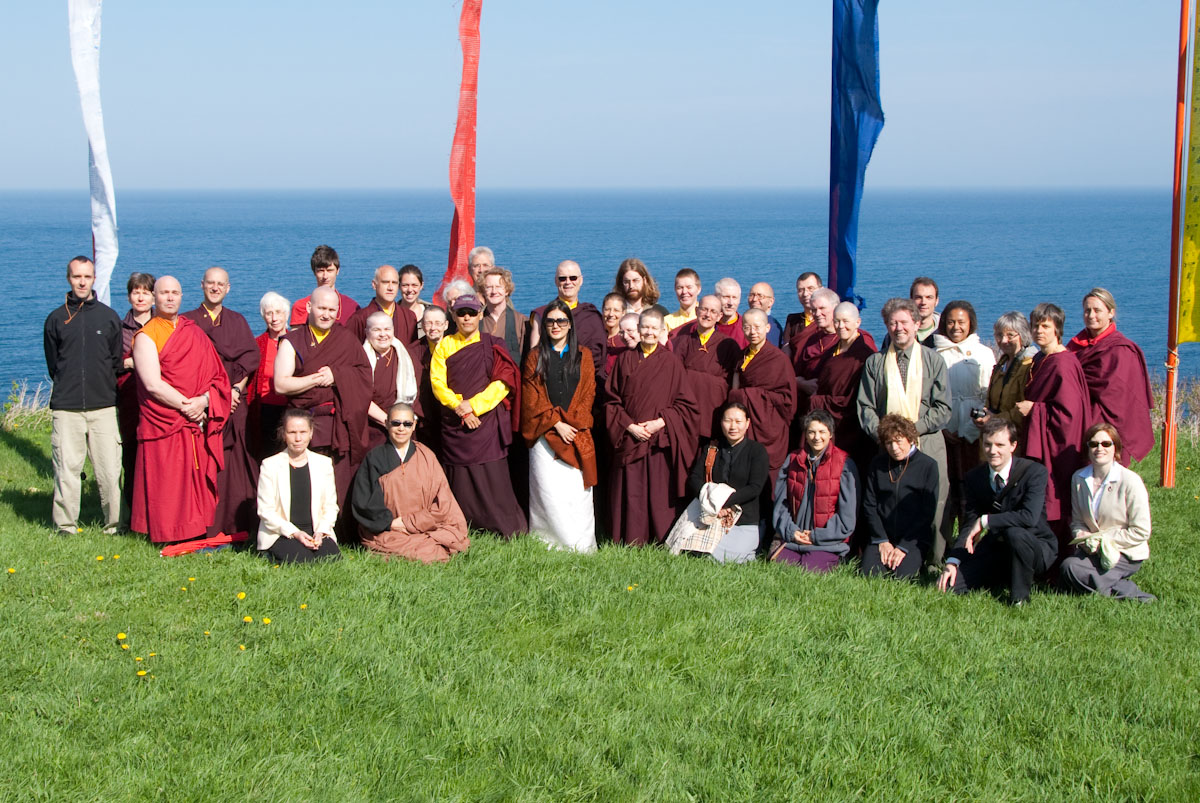 Later in the day the Sakyong met with the Leadership Council and shared the view of enlightened society as a culture of courageous Shambhala warriors who appreciate the various forms of enlightened path — one in which monks and nuns don't see business people as "samsaric" and in which lay students don't see monastics as "hiding out," but rather as gaining merit for the whole society through their virtuous actions.
The following morning the Sakyong and Sakyong Wangmo gathered with the entire community around the lhasang hearth overlooking the Gulf of St Lawrence for a celebratory lhasang. After the Gesar liturgy was chanted to the accompaniment of drums and cymbals, the Sakyong and Sakyong Wangmo led a circumambulation of the lhasang fire. The Sakyong then distributed protection cords from the Rinchen Terdzo and the Sakyong Wangmo gave everyone some delicious kaptse, Tibetan fried sweets. All delighted in the visit.
Photo Credits: Christoph Schoenherr
Post Tags:
Gampo Abbey
,
Khandro Tseyang
,
Pema Chodron
,
Sakyong Mipham
,
travel