Wednesday
Featured Stories
"First, I Will Love Me for Me More"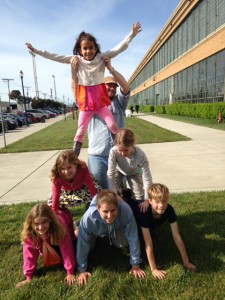 Reflections on the Being Brave Children's Program
photos and report by Leslie Gossett
Last weekend's Being Brave and Creating Enlightened Society event with Sakyong Mipham Rinpoche and Ani Pema Chodron was an event that represented Shambhala's broader vision and goal to create enlightened society. The quest asked the following questions:

Is enlightened society possible?
What is good human society?
What can we do to be of benefit to the world?
Not only was this an event for the adult practitioners in our community, but this was a multi-generational exploration. The children's program also asked these questions and dove deeply into these contemplations, and I had the joy of helping to facilitate it.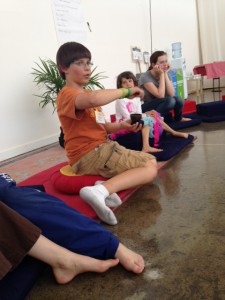 During the retreat, participants were encouraged to write down aspirations for how we could be brave in our lives, how our understanding of basic goodness could manifest in our work and hobbies, and what we could offer to the world. Many of the aspirations were read aloud at the closing ceremony with Sakyong Mipham Rinpoche, where they were all passed through the lhasang smoke. Two of the aspirations from the Children's Program were also read aloud, one reading: "First, I will love me for me more."
Simply put, the Being Brave Children's Program was magical, incredible, profound, silly, chaotic, perfect, and full of love in a sea of gratitude.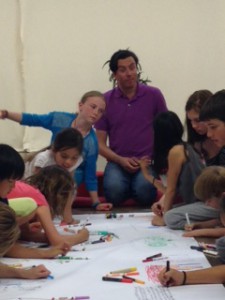 I heard an adult ask a child, after the program, "What did you do?" She made a noise like a low groan in the back of her throat and stared up smiling. Then she said, "when you ask that, every single thing we did comes into my mind all at once and I don't know which one to say." It was like that! We did so much, and were together in so many ways. We were happy and sad and loud and quiet.
At the beginning of the program, we decided we'd create some guidelines of how we wanted to be together over the weekend as a community. We put a big piece of paper in the center of the circle, and someone could offer up a guideline. Then we'd discuss it. Everyone had to agree or it would not be written down. And once things were written, they weren't set in stone. We could re-explore things. Add. Cross off. See what was working for us and what wasn't. By the end, we all agreed to be kind, speak gently and use kind words, be open, be respectful, listen to others, and have good will. The one guideline that we re-visited the most, and which never got written down because not everyone agreed was: "the bean bag chairs will be used only for jumping on."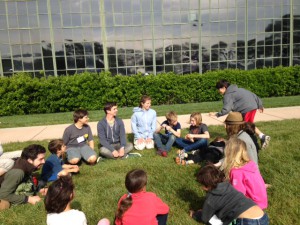 How we spent our time together was based on that simplicity. We practiced mindfulness and meditation. We did yoga. We made a lot of murals. We talked about bravery and fear. We had dyad practice. We did movement exercises. We talked about basic goodness. We talked about suffering. We acted silly. We built cushion forts. We played zafu soccer. We practiced sleeping. We read books and told stories. We felt, a lot. And shared how we were feeling.
We had some pretty amazing teachers, too. The children's program staff was mostly made up of Ziji Collective folks, even some from the East Coast. The Ziji Collective are people who all work with younger generations in various leadership capacities. We had yoga teachers, nurses, leaders of young meditator groups, and even our very own Shastri (thank you Nick Kranz). Loden Nyima, here from Gampo Abbey taught us Shamatha Yoga. The genuineness of our teachers was felt very directly in the space. Watching how they were with the children was so inspiring.
The Sakyong also came to visit. He had a lot of questions for the children about what they were doing, and he thanked them for being there.
When we were waiting in the room right before his entrance, I had asked them all how they were feeling. The response was unanimously, "Tired!" and, "When can we have free time?" After the Sakyong's departure, we did another check in. This time the response was, "happy, HAPPY, haaaaappppppyyyyy!" and, "calm, so calm."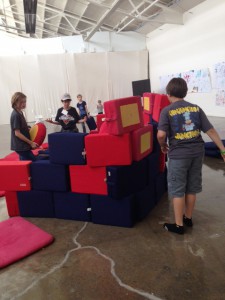 I feel like we created something really special this weekend. We could really see each other as human beings who had hopes and fears, and who wanted other people to be happy.
In the end, we were all really sad that it had to end. One of the boys asked me if this program happened on school days too because he hoped to come there instead of school. And another boy came up to me and said, "Leslie, I just wanted to tell you thank you for taking the time to teach this class. I have really loved being here."
To all of the families, teachers, children, and to the Sakyong, thank you so much for taking the time to come to the Being Brave Children's Program. I too have really loved being here.
~~
For more information on the Being Brave program, please click here.

Read an article about the Ziji Collective International Summit.
Post Tags:
Being Brave
,
California
,
Children
,
Pema Chodron
,
Sakyong Mipham
,
Youth & Families